LOOKING AT THE NEWS-POSSIBLE PHASE 2-
FIELD OPENING COULD BE JUNE..(29th.)
MGRS. WILL MEET AT THE FIELD THAT WEEK.
I WILL GET BACK TO YOU ON THE DAY AND TIME.
FIRST THE SUNDAY MORNING MGRS. THEN SCSL NIGHT
LEAGUE MGRS. MGRS> ONLY-THANK YOU.
I ALSO MUST HAVE PARK DEPT.(OK)
Hi Mgrs.
Field Opening June 29th.
Team Mgrs. I have Schedules Done Up:
1. July 5th. Start for Sunday Morning League
(Play a Full Schedule).
2. A July 6th. Start for the SCSL Night League.
IF ALLOWED 3 GAMES/EVENING.
********:TOTAL-130 Games******
Div. 1 & 3 (17 Games): Div.2 (18 Games)
Plus Total 18 Playoff Games.
(Top 3 Teams each Division);
*************************
3. IF ALLOWED ONLY 2 SCSL GAMES/EVENING
PLAY a TOTAL OF 90 GAME SCHEDULE.
PLUS 18 PLAYOFFS
******************************************
Still Have Openings in the WOODEN BAT LEAGUE.
******************************************
TEAM MGRS. GO AHEAD AND GET RAFFLES OUT
TO TEAM PLAYERS. MUST BE IN BEFORE JULY 1st.
SCSL NIGHT AND SUNDAY MORNING LEAGUE
ENTRY FEE WILL BE REDUCED.
AS SOON AS I SEE ALL TEAMS ARE BACK.
I WILL EMAIL AND PUT ON THE SCSL WEB SITE.
IF YOUR TEAM IS NOT COMING BACK
PLEASE COMMON COURTESY
LET ME KNOW.
THANKS JACK
cc/ MIB UMPIRES & SCSL OFFICERS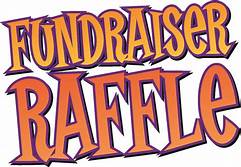 HI GUYS,
CONCERNING LEAGUE RAFFLE,PLEASE TRY TO GET TO
YOUR TEAM PLAYERS ,LOOKS LIKE A GO END OF JUNE.
THE PLAYERS CAN BUY OR START SELLING.
RAFFLE WILL NOT BE HONORED UNTIL ALL RAFFLE $$$
FROM ALL TEAMS IS TURNED IN AND I HAVE THE STUBS.
I NEED BEFORE JULY 1st. EACH PLAYER SHOULD HELP OUT.
DO THEIR SHARE,IT DOES COST $$$ TO PLAY THE GAME.
RAFFLE $$$ COVERS LEAGUE OPERATING EXPENSES.
THANKS , JACK
cc/SCSL OFFICERS
IT STILL WILL BE A PLAYABLE SEASON
ALL SCSL LEAGUES
****************
— NO MONEY $$$ WILL BE DUE AT THE NEXT SCSL MEETING.
UNLESS TEAMS WANT TO PAY-UP ENTRY FEE & RAFFLE $$
I DO UNDERSTAND THE $$$ DIFFICULTY
(Businesses Closed and Guys Out of Work).
ALSO WHEN MEETING IS HELD, AT THE FIELD,
I EXPECT JUST MANAGERS.
I WILL SCHEDULE THE SUNDAY MORNING LEAGUE FIRST,
THEN BRING IN THE SCSL NIGHT LEAGUE
IF POSSIBLE (A LONGSHOT) I HAVE A SCHEDULE
SCSL NIGHT LEAGUE
1. START JUNE 15th. (???)
130 Games - 18 Playoff Games
Entry Fee Would be Lower
**************************
THERE WILL BE A FULL SCHEDULE
SUNDAY MORNING LEAGUE
THERE WILL BE A FULL SCHEDULE
WOODEN BAT LEAGUE
FALL LEAGUE -START SEPTEMBER 12th.
ALL LEAGUES WILL BE A GO
JUST NEED FIELD
TO OPEN UP.
ONCE I GET CLEARANCE
ON THE OPENING THE FIELD.
I WILL CONTACT ALL MGRS.-- MEETING DATE
TOURNAMENT DATES:
WOODEN BAT -- SEPT.19th. & 20th.
TURKEY TROT --- OCT. 17th. 18th.
** NO CONFLICT WITH PATRIOTS GAME
Keep Checking SCSL Web Site - UpTo-Date Information.
Stay Safe & Healthy,
Hope To See Soon,
Jack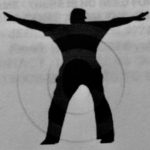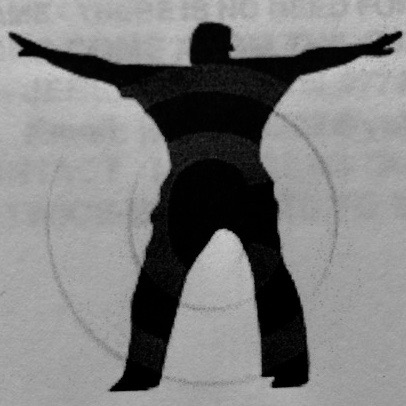 THE MIB UMPIRE'S ASSOCIATION MEETING
I WILL CONTACT THE GAME OFFICIALS
WHEN THE NEW MEETING DATE IS SET.
( IPC CLOSED & COVID 19)
JACK
The Down Light Pole And fixture has been
removed from the Field. Let's hope the city
erects a New Light Pole and its Fixture as
soon as Possible.I believe all the other
Lights will light up.They are each Connected
separately. We would have to maybe adjust
a Light Bulb from the Home Plate Pole and
the Left Field Pole to Light up that Area. WE will
see. I hope the city also repairs the Fence Damage.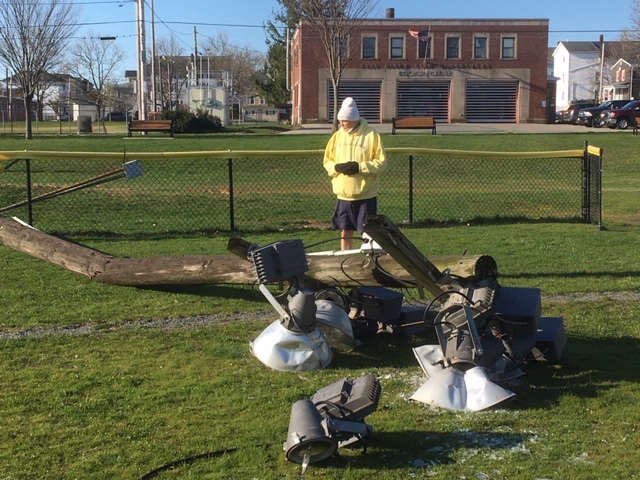 SCSL WEB SITE:
spsoftball-fr.com
Hi Mgrs.
Do not give up on Not Having an SCSL
Season. I have been working on Different
Schedules.Even with a Late Start,I believe
we can get in a Season of Slow Pitch
Softball at the Jack Hackett Softball Field.
Like you, I am waiting to see what develops.
I have done various League Schedules with different
Start Dates.
I will keep all Mgrs Informed to what is
going on.We know all Fields are Shut Down .
Keep Checking the SCSL Web Site and your
Email.
Stay SAFE & HEALTHY,
Hoping to See All Soon,
Jack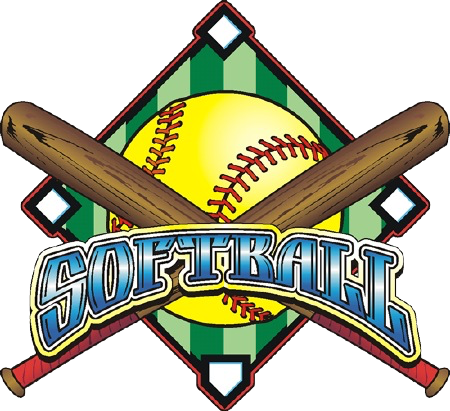 2020 SCSL Officers
Jack Hackett, Bill Santos, Armand Rebello,
Jeremy Ellis, Louie Tavares, Bob Hackett,
Peter Szady, Dave Botelho, Roy Vieira,
Frank Sousa and Natalie Hackett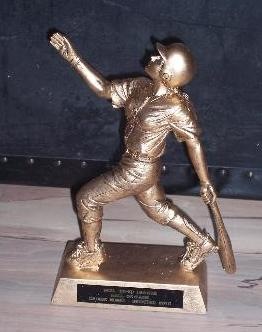 SCSL AWARD CEREMONY - SUNDAY - JUNE 14th.
AT THE FIELD - TIME; 4:30- HONORING
TEAMS & PLAYERS ON A GREAT SEASON.
THIS MIGHT HAVE TO BE MOVED
TO A LATER DATE -IF FIELD NOT OPEN.
I WILL CONTACT ALL MGRS.- AND
AWARD RECIPIENTS
A Special THANK YOU to our 2020 TEAM SPONSORS!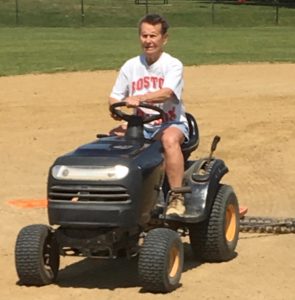 JACK NOW HAS HIS WIFE HELPING WITH THE INFIELD TRACTOR.
THEY DO THE FIELD EVERY MORNING(6 DAYS A WEEK)
SHE ALSO SWEEPS THE DUGOUTS, SWEEPS ALL THE MATS, CLEANS THE BUTT BUCKETS, EMPTIES THE DUGOUT BARRELS,PICKS UP THE PARK LITTER. UPDATES THE LEAGUE STANDING BOARD.ALSO PAYS THE GAME OFFICIALS .SHE IS A PLUS FOR THE SCSL. WITH ALL THIS BEING DONE WHAT TEAMS WOULD NOT WANT TO PLAY AT THE JACK HACKETT FIELD. ALSO THE LEAGUE HAS A VERY GOOD VETERAN UMPIRING CREW. GUYS WHO HAVE PLAYED THE GAME AND KNOW THE RULES.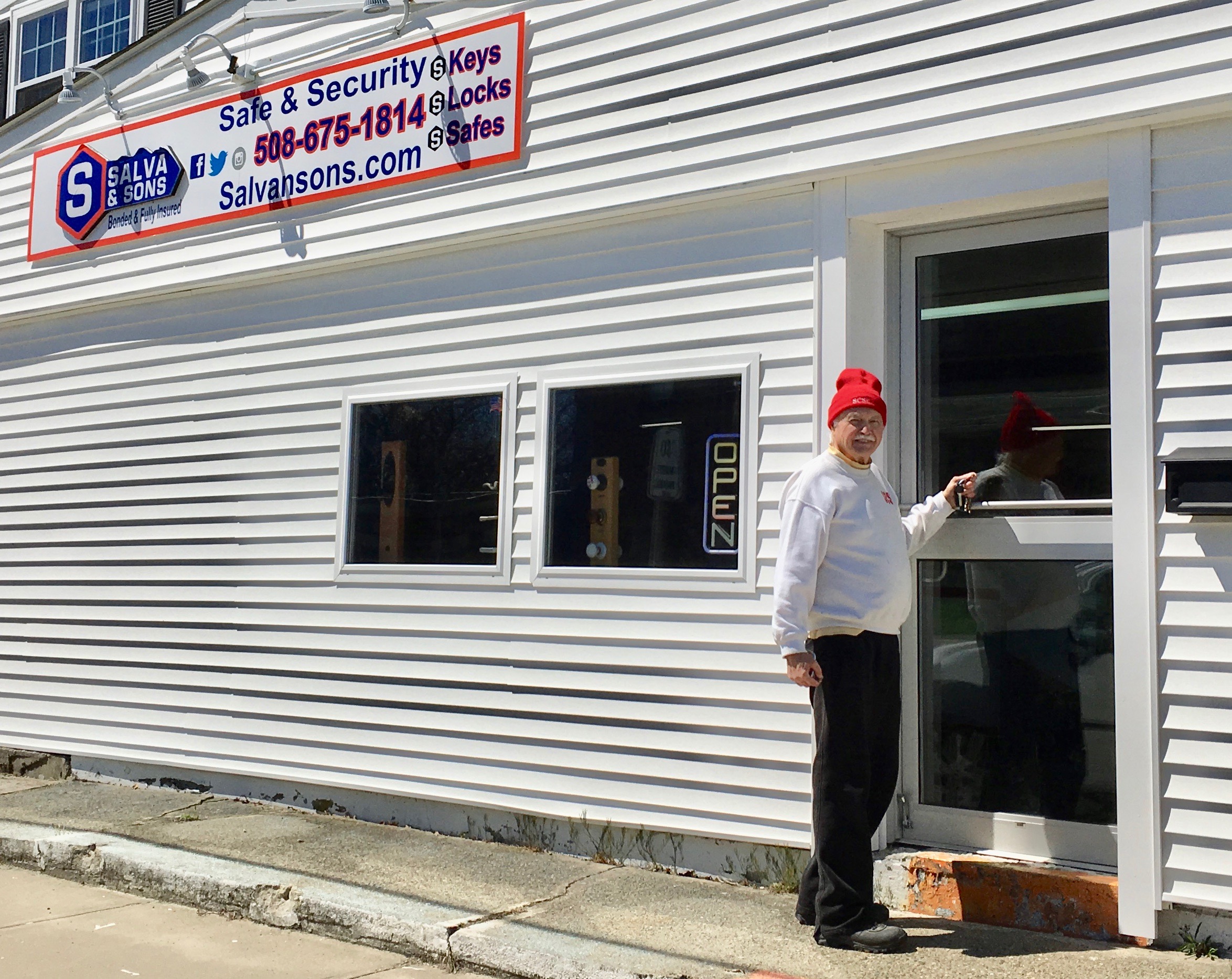 Jack Ordering New Keys for SCSL
OFFICERS AND GAME OFFICIALS.
SHED-TRACTOR-BARRELS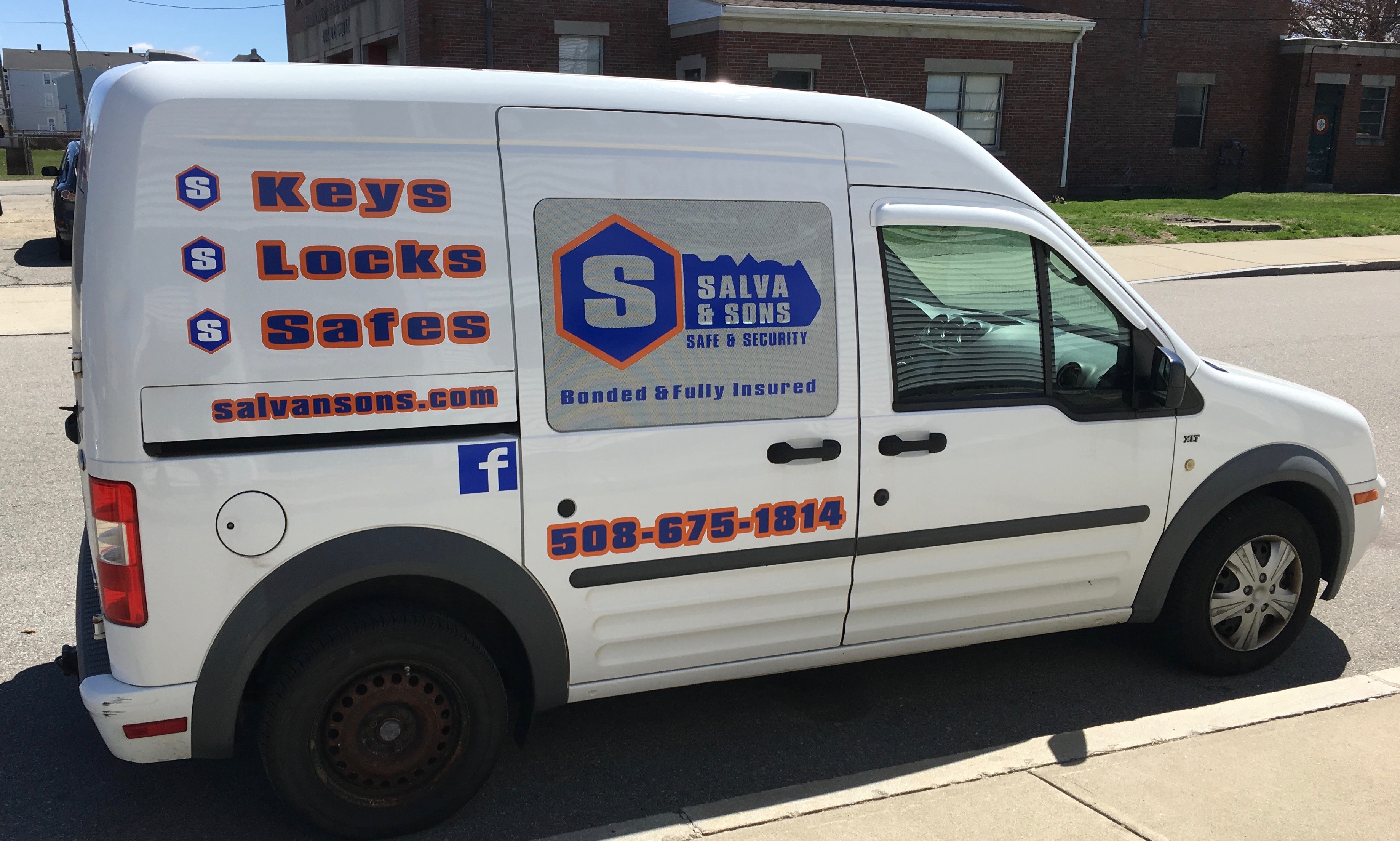 Bryan T.Salva the owner
has always helped out the SCSL.
Now he needs our Help with Parking
in front of his business.Please try not to.
It is needed for his Customers.
Thank You SCSL Officers.
************************
VANDALISM
AT THE JACK HACKETT
SOFTBALL FIELD
SMILE
YOU'RE NOW ON CAMERA!!!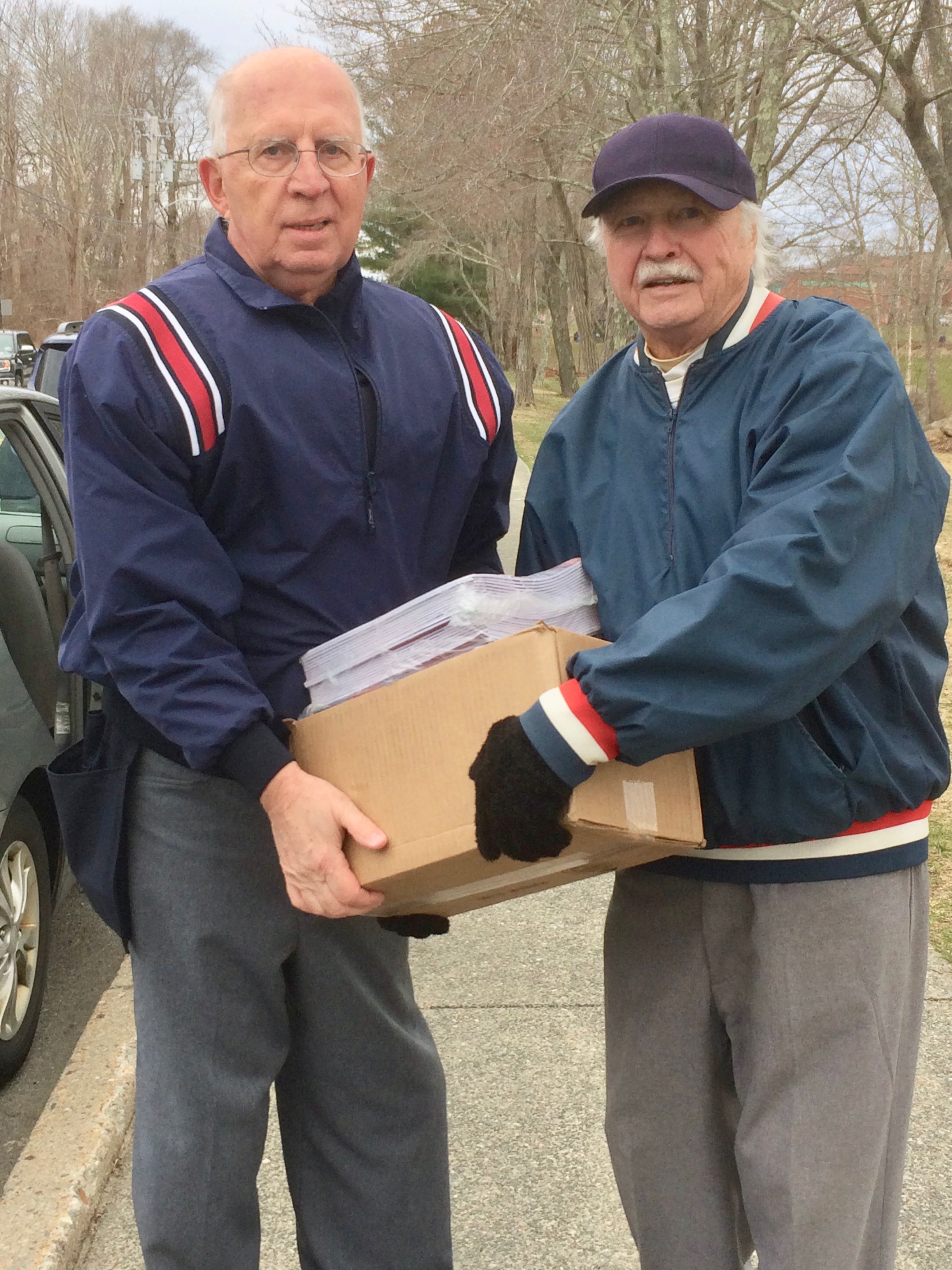 Jack receiving the 2019 USA Team
Rule Books and Scorebooks from
Southern AREA USA Commissioner Dennis Kozera.
Teams Register each Season , gets Books
Plus a Team Liability Insurance Coverage.
GREAT DEAL!!! 2019 - 23 TEAMS REGISTERING.
2019 PLAYING FIELD IMPROVEMENTS.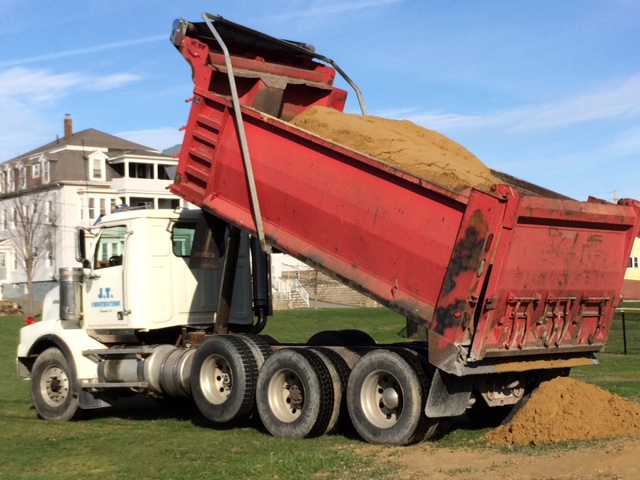 Infield CLAY being Delivered from STOUGHTON, MA.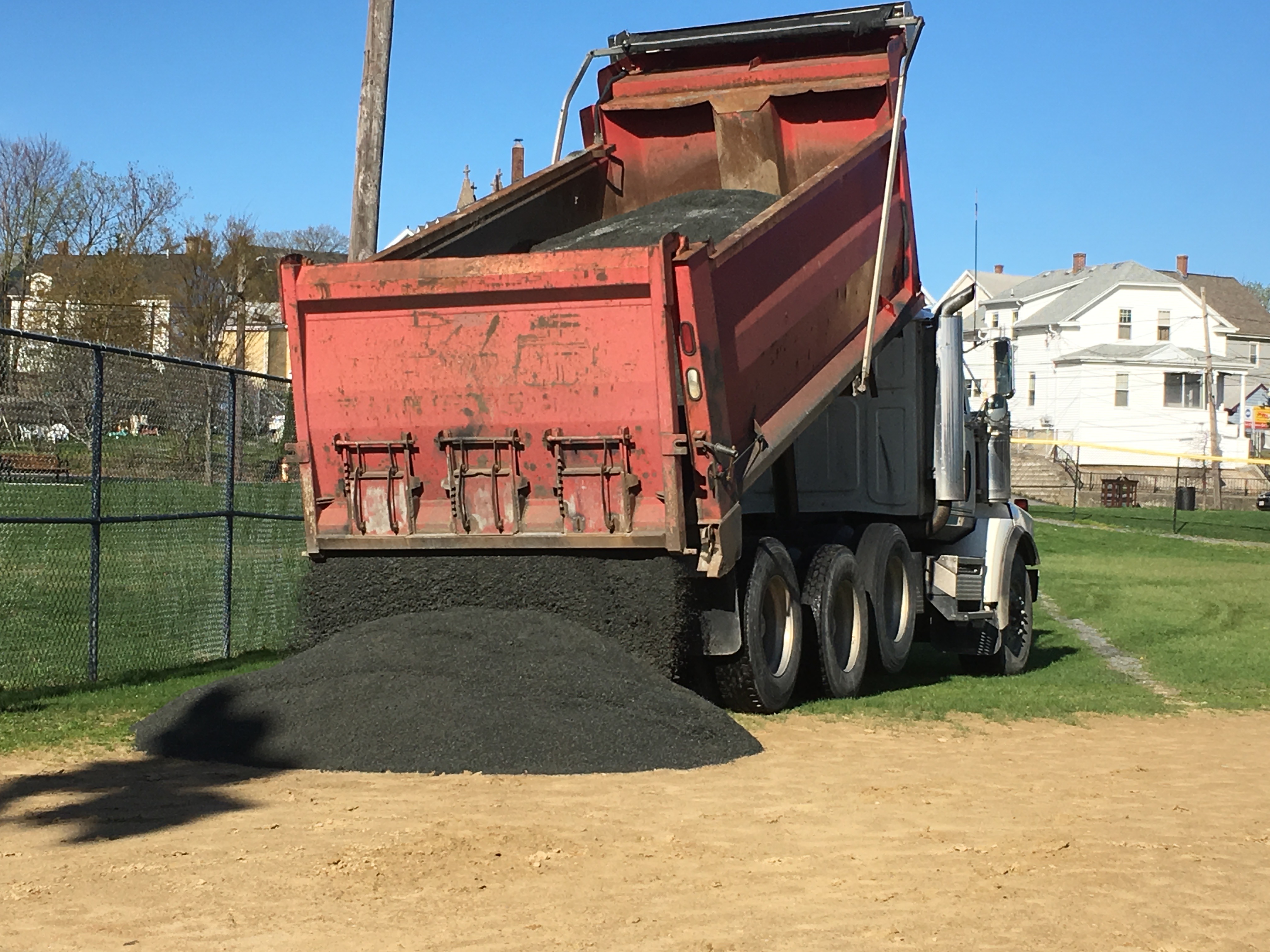 AAA MATERIALS BRINGING IN THE INFIELD CLA< LOAM AND STONE DUST FOR THE PLAYING FIELD.THE COMPANY DOES A GREAT JOB LASYING IT ON THE FIELD>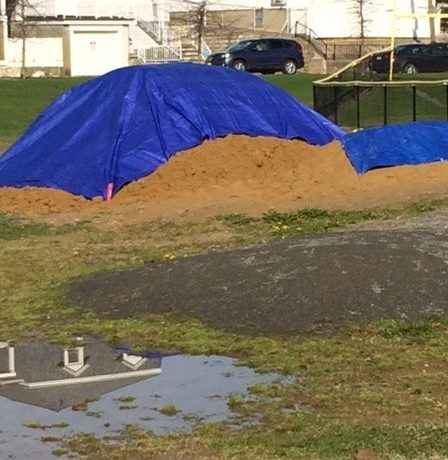 The Rain in the Month of April was
Unbelievable. I had to cover the
Clay so it would be Dry to Spread.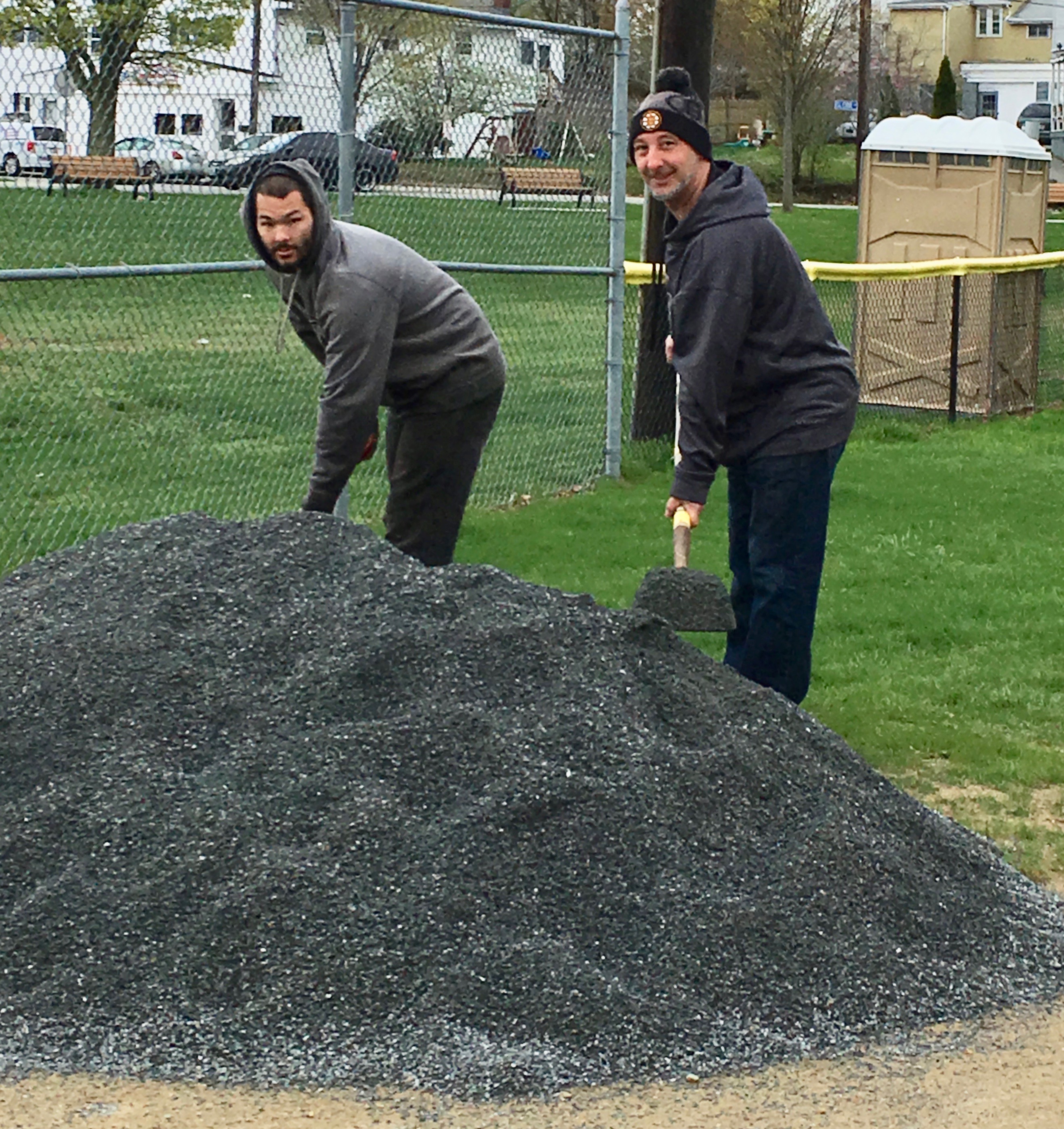 Darrell Finch Jr. and Mike Giarrusso
Filling in the Left Field Foul Line and Leveling it.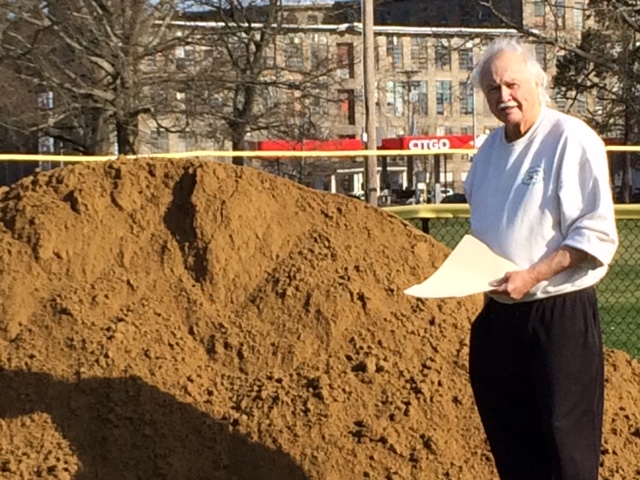 This should be enough for the Infield.
20 yards. of Blonde Clay-Wow Expensive.
Clay- Loam - Stone Dust - $1700.
Team's League Expense Account helps
pay for all the IMPROVEMENTS.
Truck delivered Loam for the 4 Bare
Outfield Spots. Stone Dust for Leveling
Both Foul Lines and the Backstop Area.
Landscaper RYAN CARVALHO Spreads
each each Season. He does a Tremendous job.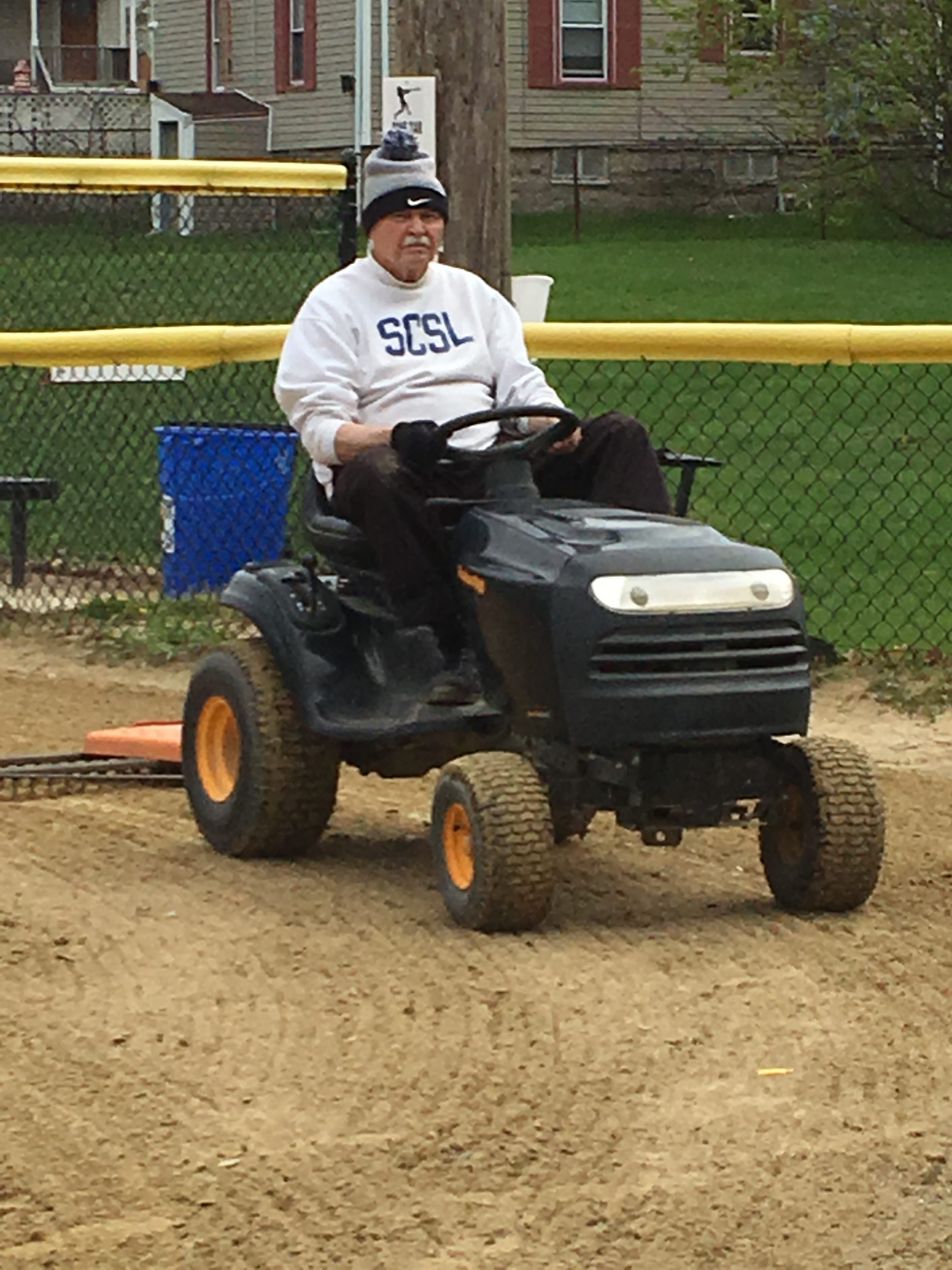 Director Jack Hackett Grading the Infield after
the INFIELD CLAY has been Spread. Looks Great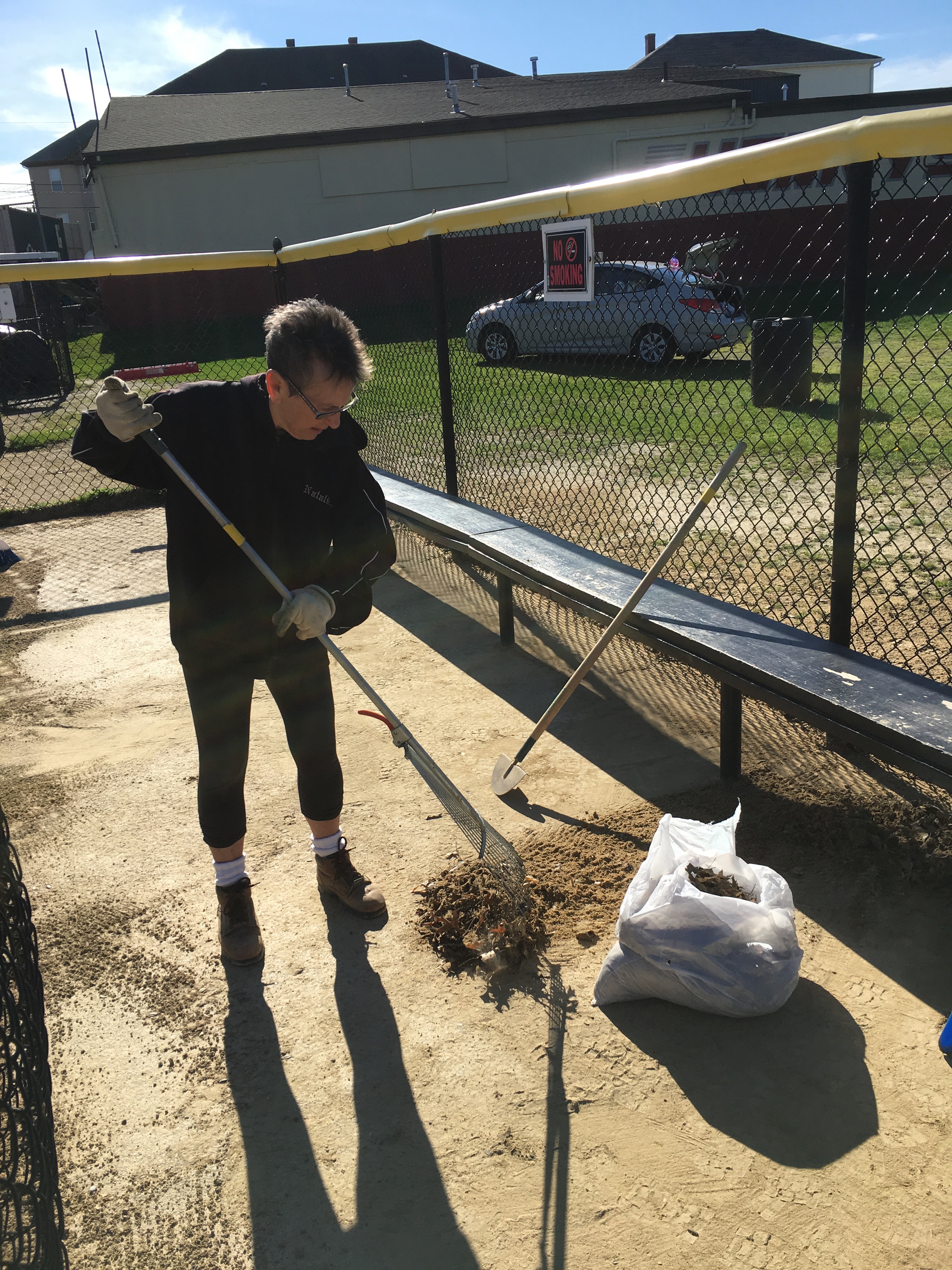 SCSL Officer Natali Hackett Cleaning up the
Dugouts of Leaves and Sand. Nice and Clean.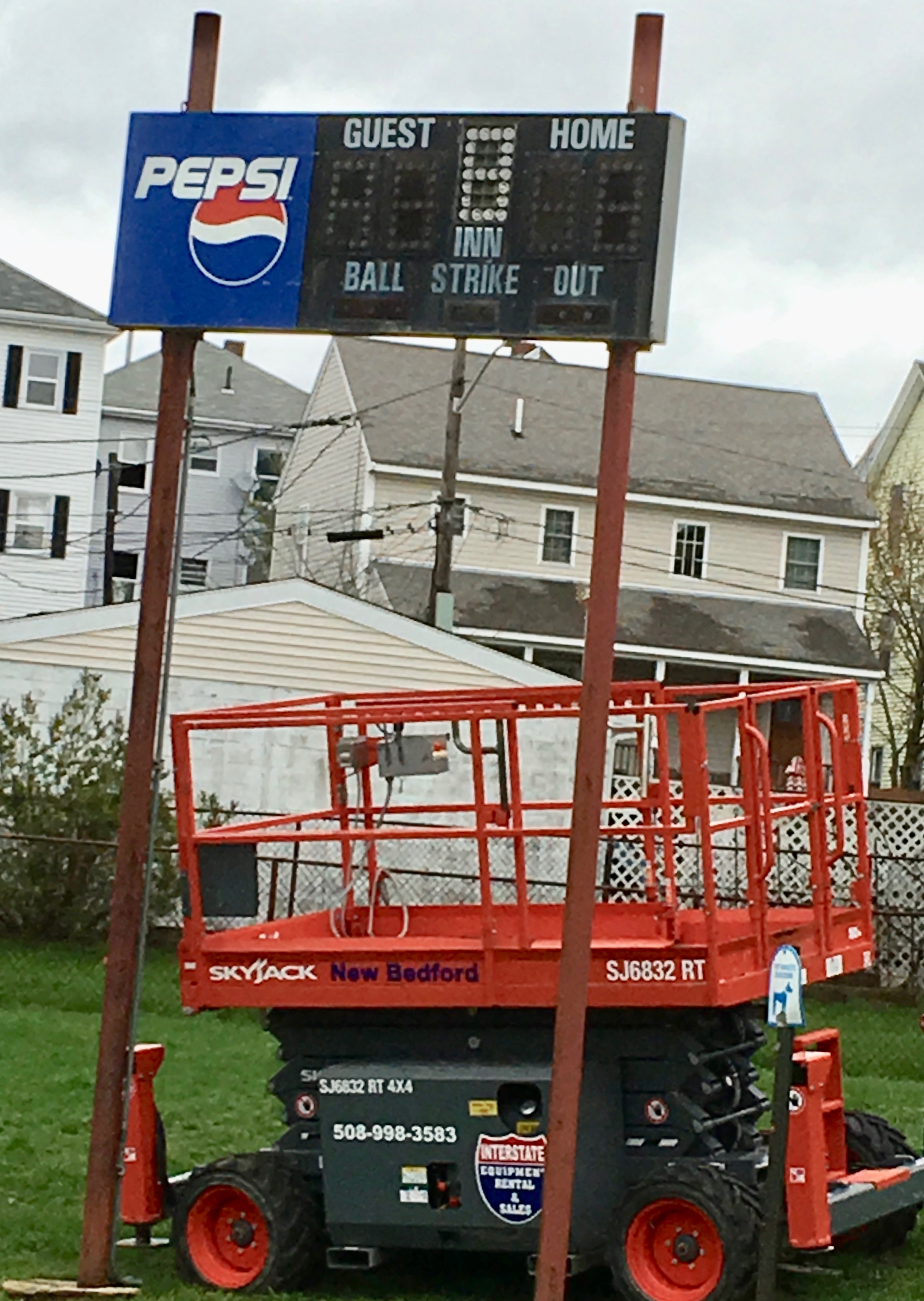 Rented a LIFT ($457) to Take down the
Old Scoreboard and Erect the
New Electric Scoreboard.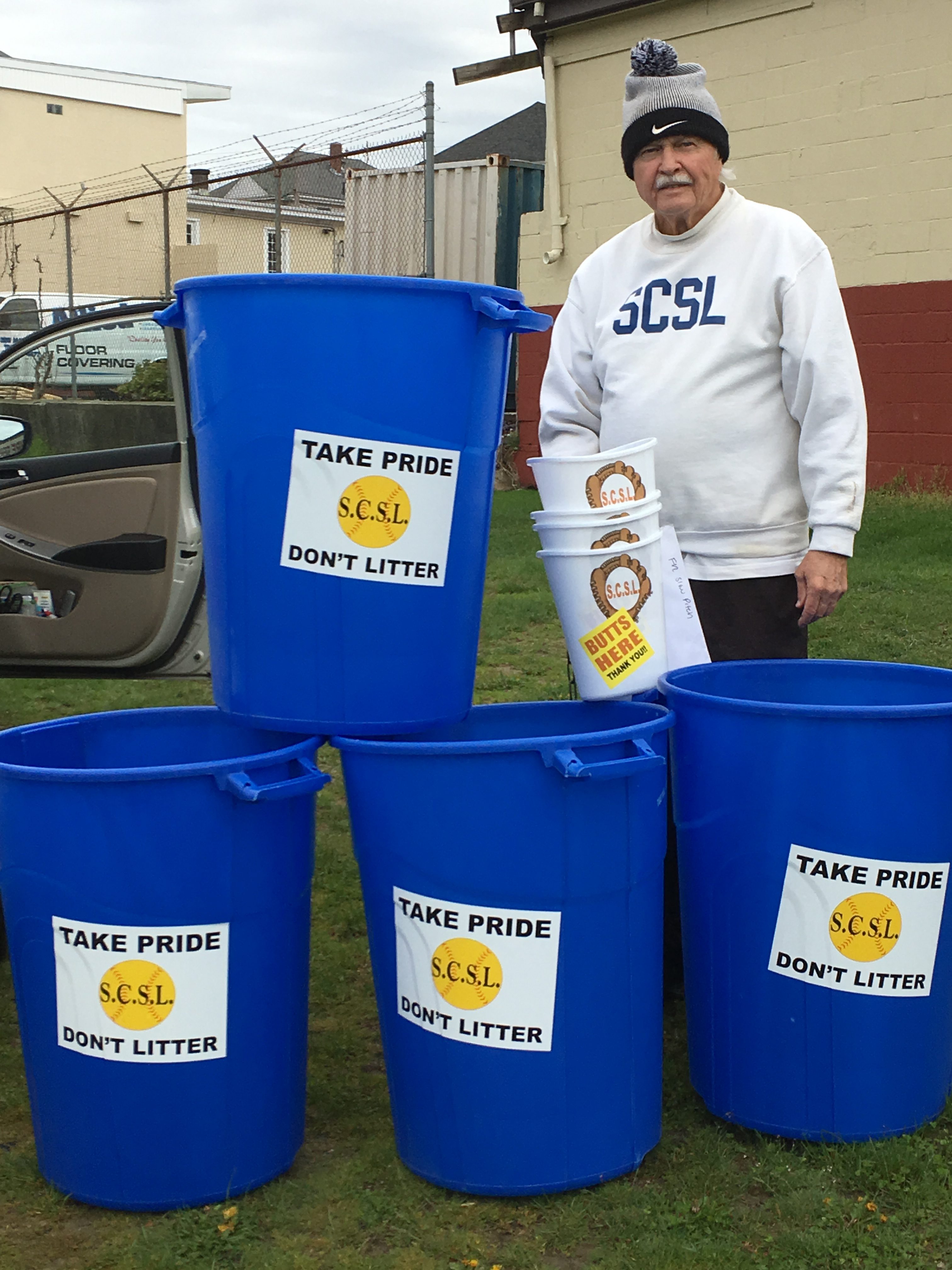 Director Jack Hackett putting New Barrels in the
Dugouts and New Butt Buckets on the Fence.
Keep the Playing Field FREE of LITTER. Hope the
Team Players do their Part and Help Out.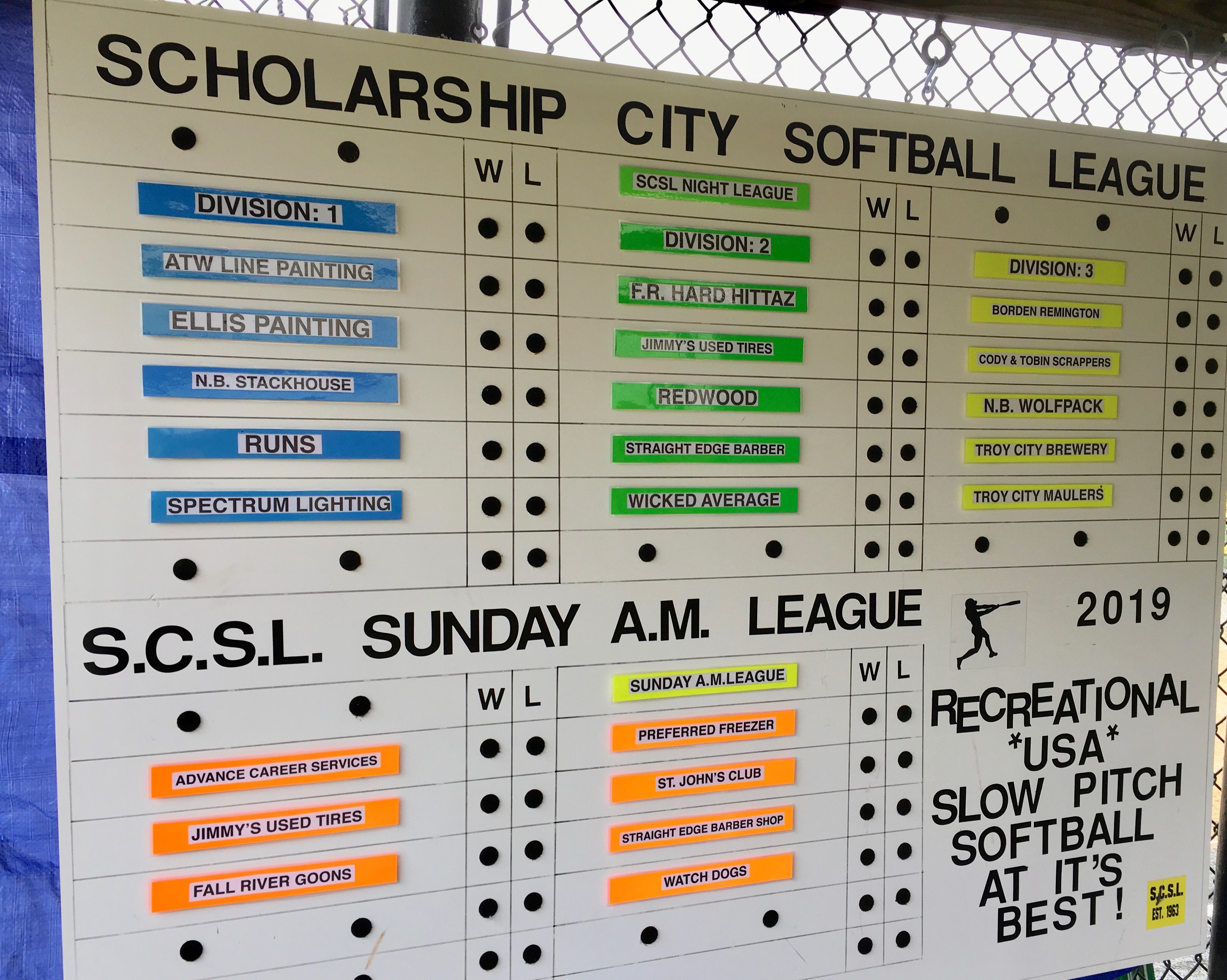 Natalie did the New SCSL Standing Board.
It is in the Storage Area.
15 Team Names - SCSL NIGHT LEAGUE.
7 Team Names - SCSL SUNDAY MORNING LEAGUE.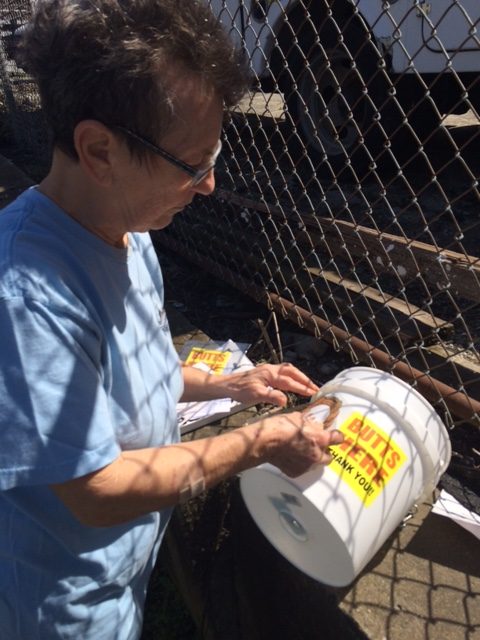 SCSL Officers Natalie Hackett putting
SCSL Labels on Butt Bucket and Sand in the Buckets,
Also puts the Litter Stickers on all the Field Barrels.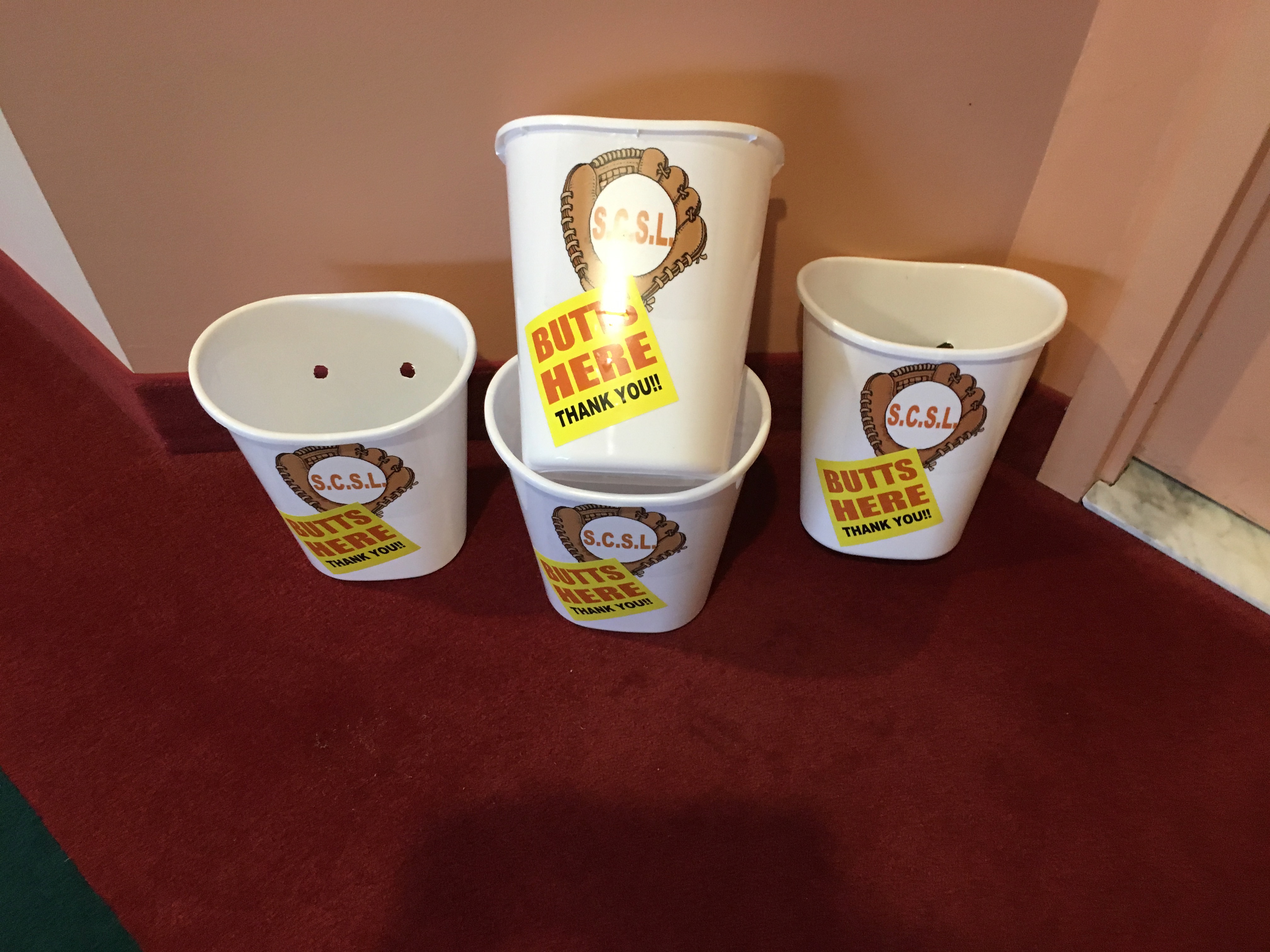 Natalie will be erecting the
Four New 2019 Butt Buckets -- Helps
keep the Field Area Clean of BUTTS.
PLEASE DEPOSIT IN THE BUCKETS.
DON'T LITTER-HELP OUT!!!
THANK YOU, SCSL OFFICERS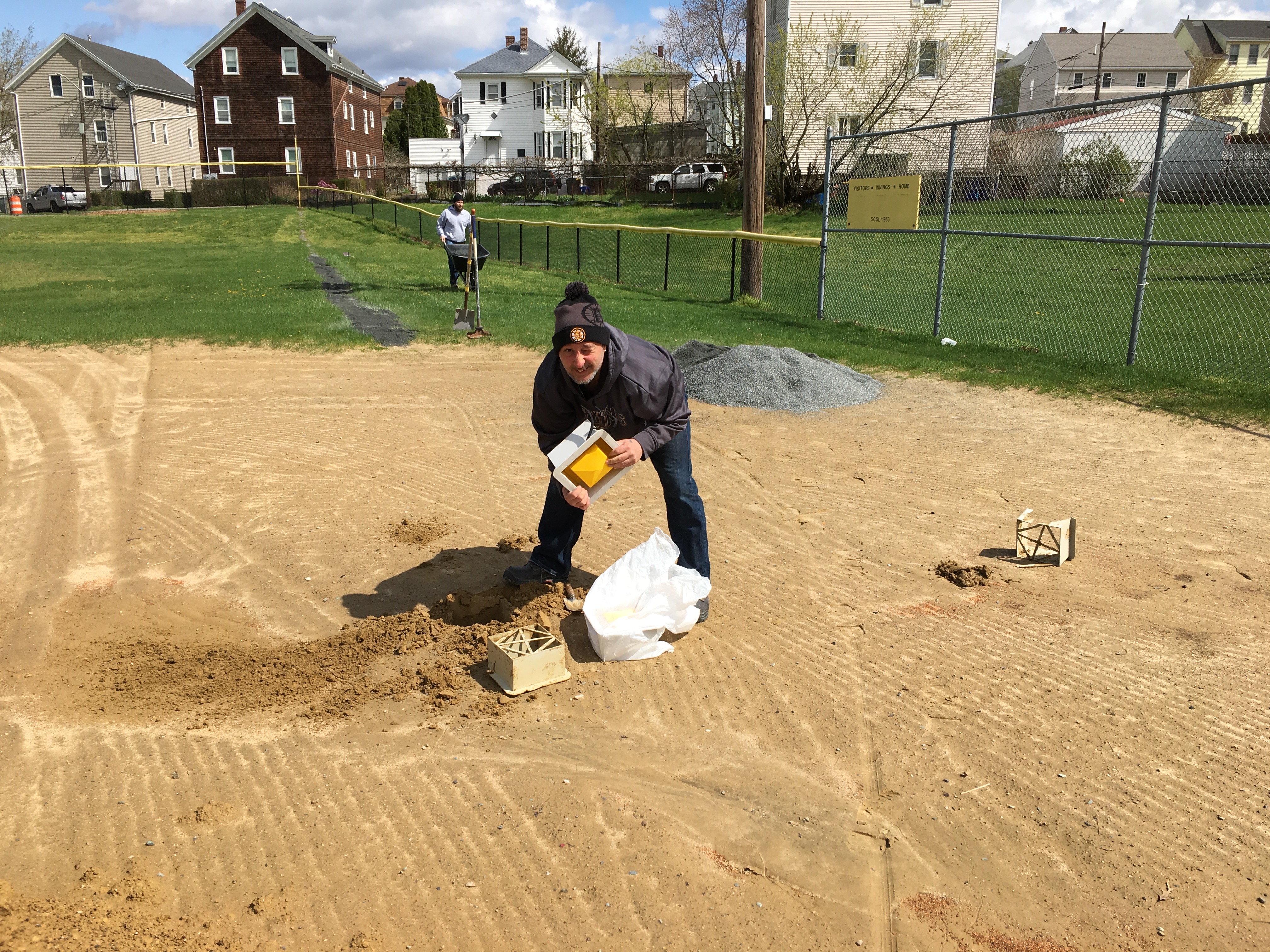 Mike Giarrusso putting in New Base Holders.
New Bases( $540). Each Season the League
purchases a New Set of Bases.The Bases get
a lot of Wear and Tear. Games played
May to November. A Long Season of
Running and Tagging the Bases.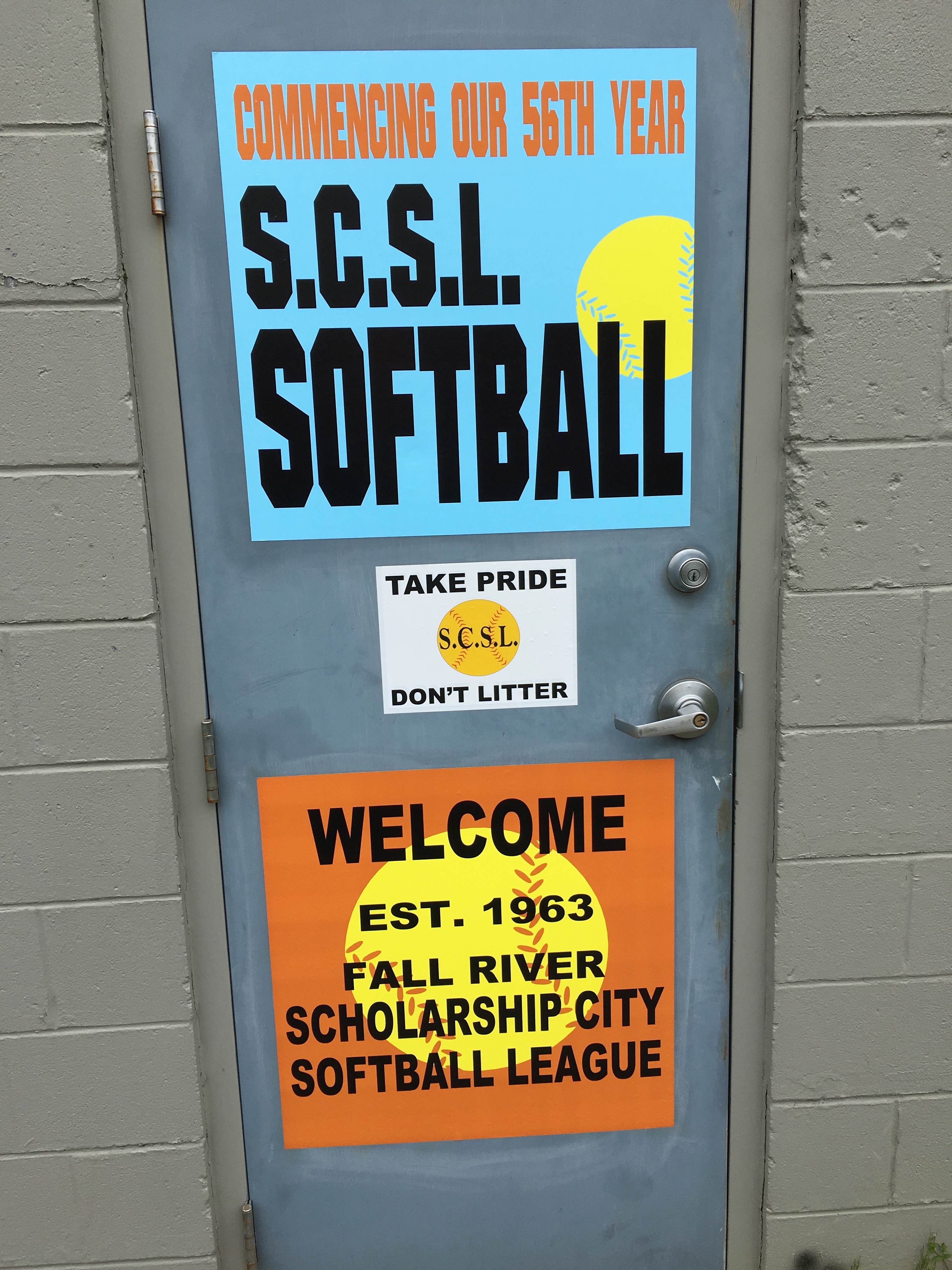 Christine Salvo put the New 2019
SCSL BANNERS on the Shed Door.
It is the 56th. Season of the SCSL.
WOW - HOW THE SEASONS FLY BYE.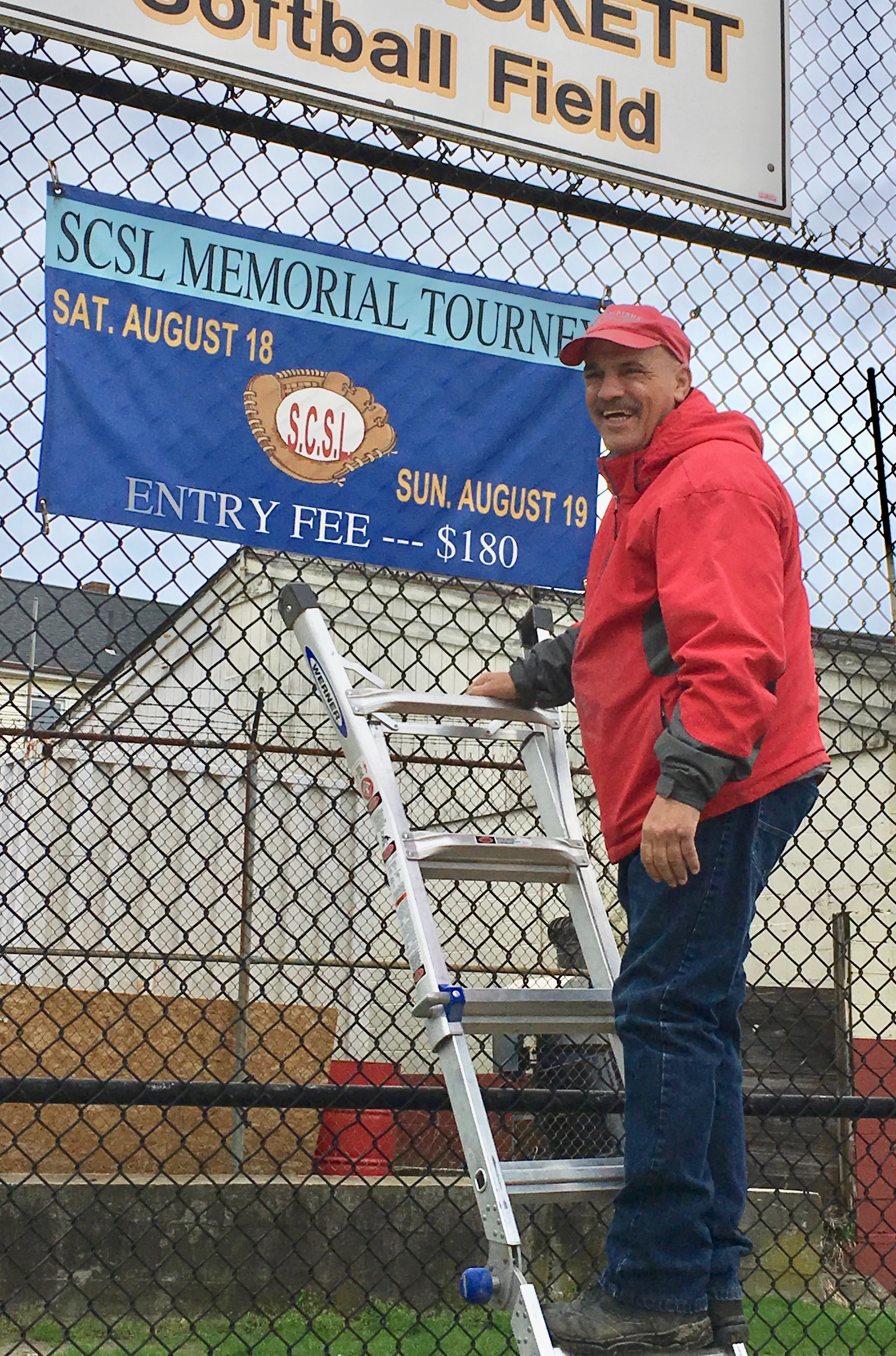 SCSL Officer and MIB Umpire Dave Botelho
putting up the New SCSL Banners.
2 New SCSL BANNERS:
********************
AWARD CEREMONY -JUNE 23rd.-SUNDAY 4:30p.m.
********************************************
SCSL MEMORIAL TOURNEY - AUG. 24th. & 25th.
REMEMBERING - GONE BUT NOT FORGOTTEN
SCSL Officers, Umpires, Mgrs., Players, Fans
Well,we got it on the Lift.
Now lets get it up on the 2 Poles.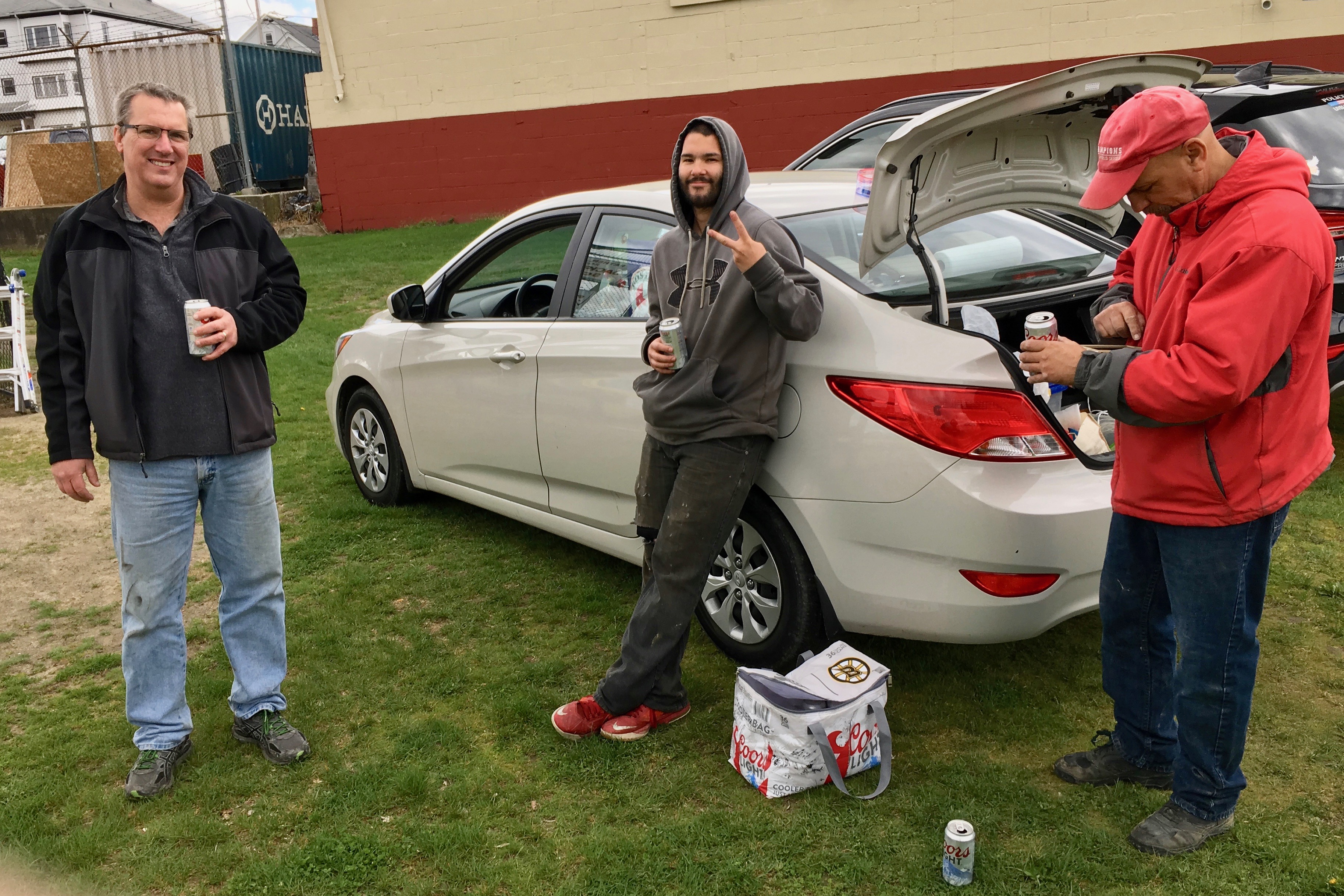 We always Enjoy Helping Jack out.
He Never forgets to Bring Bottle Water
and Especially the BEER.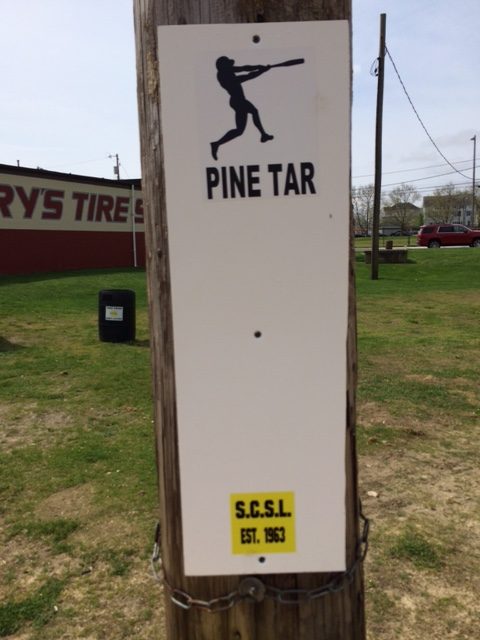 Two New Pine Tar Boards erected near
the On Deck Circle. Keep the Pine Tar off of
the Fences.
2 NEW PINE TAR BOARDS
FOR 2019 SEASON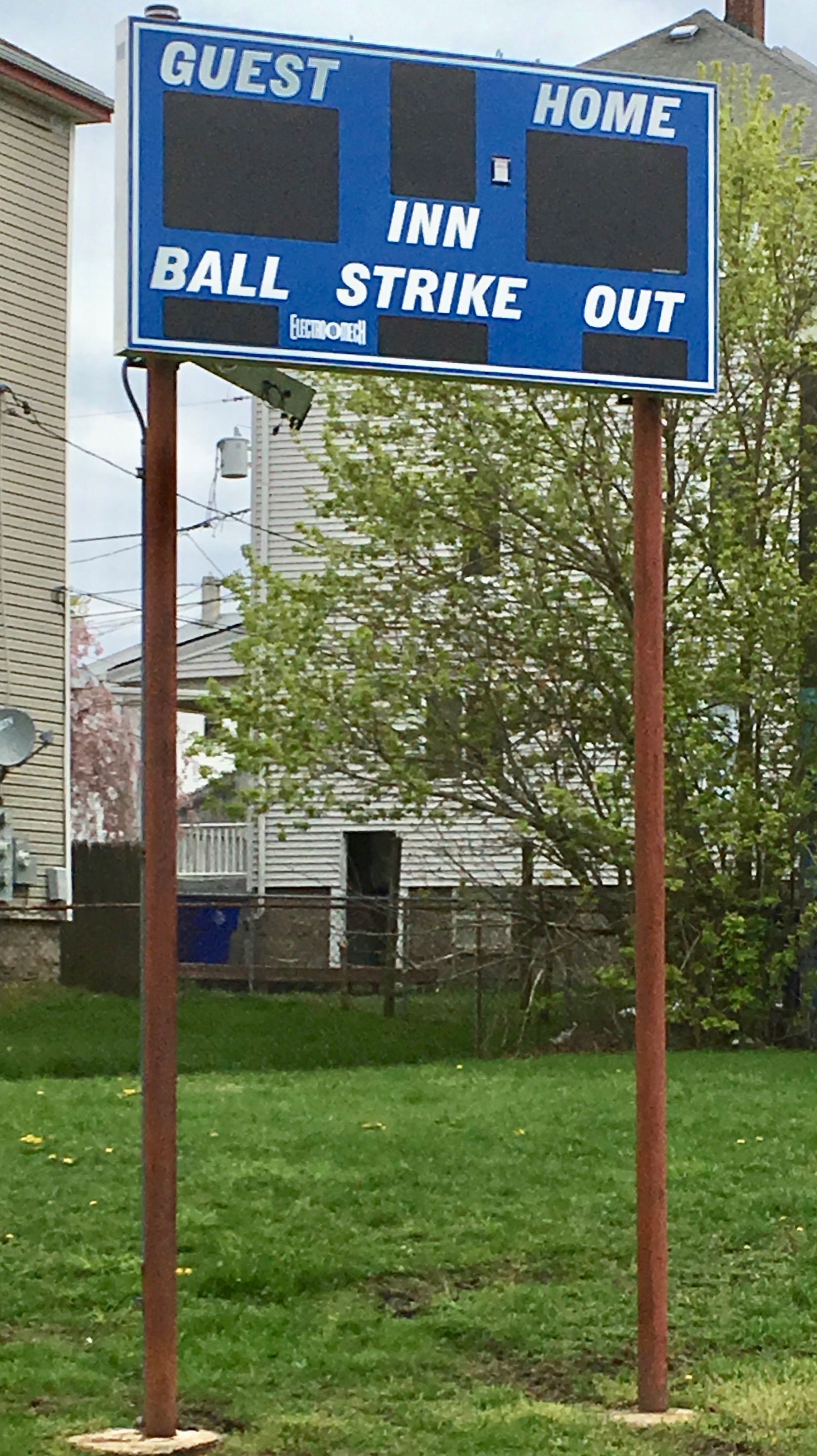 WOW - GREAT JOB GUYS.THANK YOU.
IT LOOKS GREAT.
EACH SEASON JACK TRIES TO BRING IMPROVEMENT
TO THE PLAYING FIELD.NEXT SEASON LOOKING
TO HYDROSEEDING THE OUTFIELD AREA. AND
PURCHASING A NEW FENCE GUARD.LET OUR
PLAYING FIELD BE THE BEST IN THE AREA.
THIS IS ALL DUE TO THE TEAMS THAT HELP
TO FINANCE THE PROJECTS.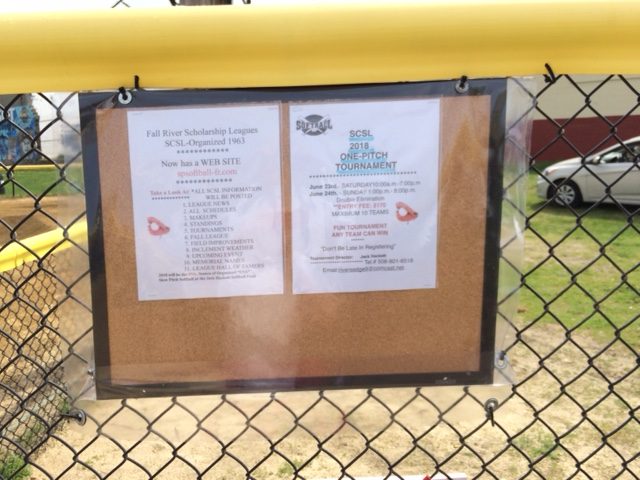 Two New Dugout Cork Boards in each,
Listing Upcoming SCSL Events and Important
League Information. Mgrs. and Players Please
Read. Thank You Jack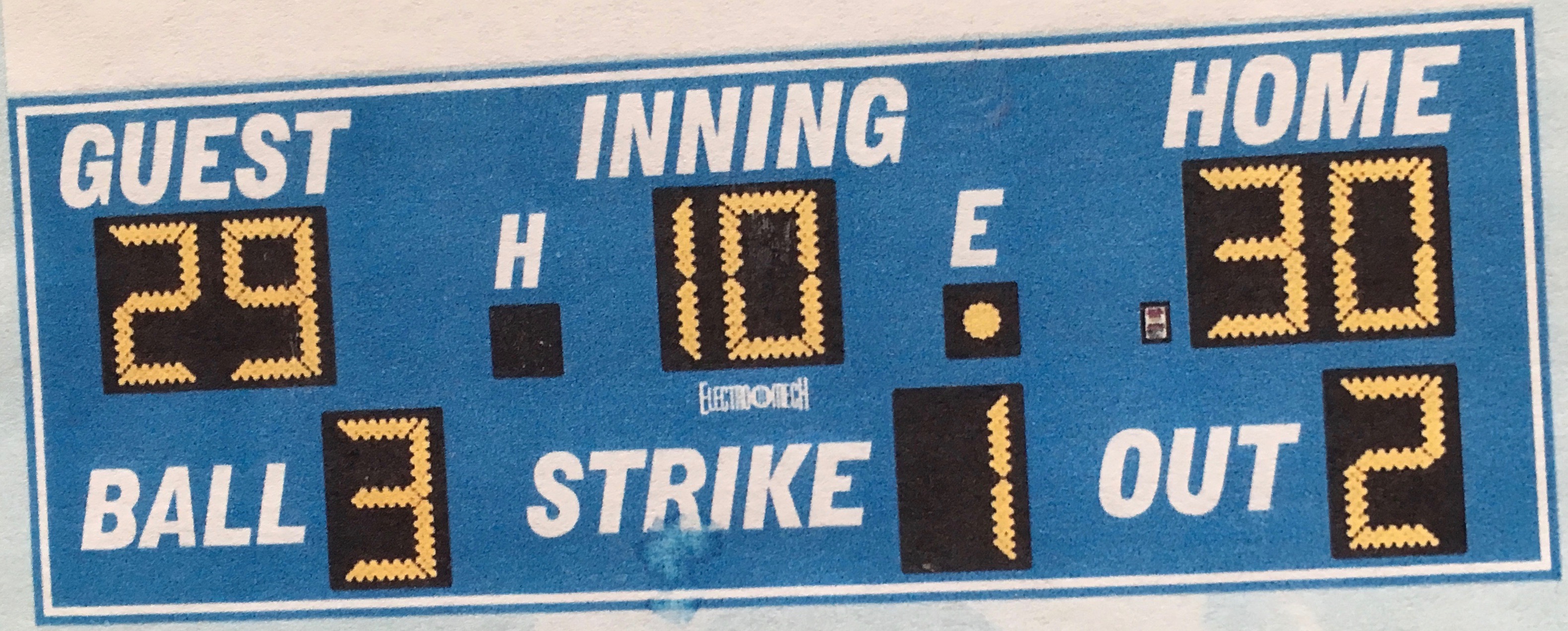 New Electric Scoreboard Erected.
Once all League Team Players do their
Share and Purchase 1 Raffle and All
the $$$ is Collected. An Electrician will
be Hired to Hook it Up.
Expect all Teams to HELP OUT
with the Necessary Funds Needed.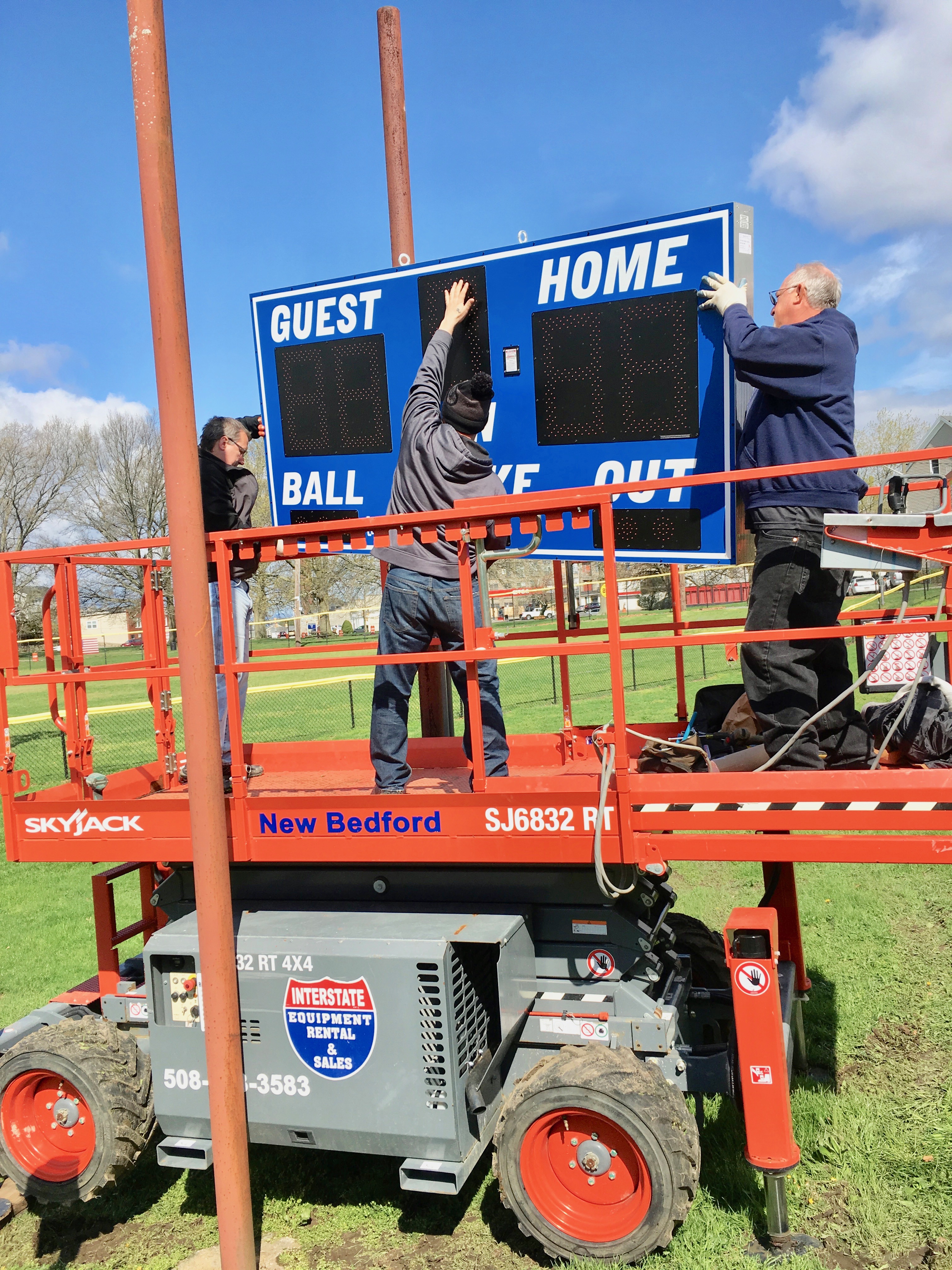 Dave Colon supervised the Whole Job. Here Mike and Bryan are lending a hand
They did a Tremendous Job getting the Old Board Down and the New One Up.
NO EASY TASK. SCSL IS THE ONLY SOFTBALL FIELD IN THE AREA WITH 2 ELECTRICAL SCOREBOARDS.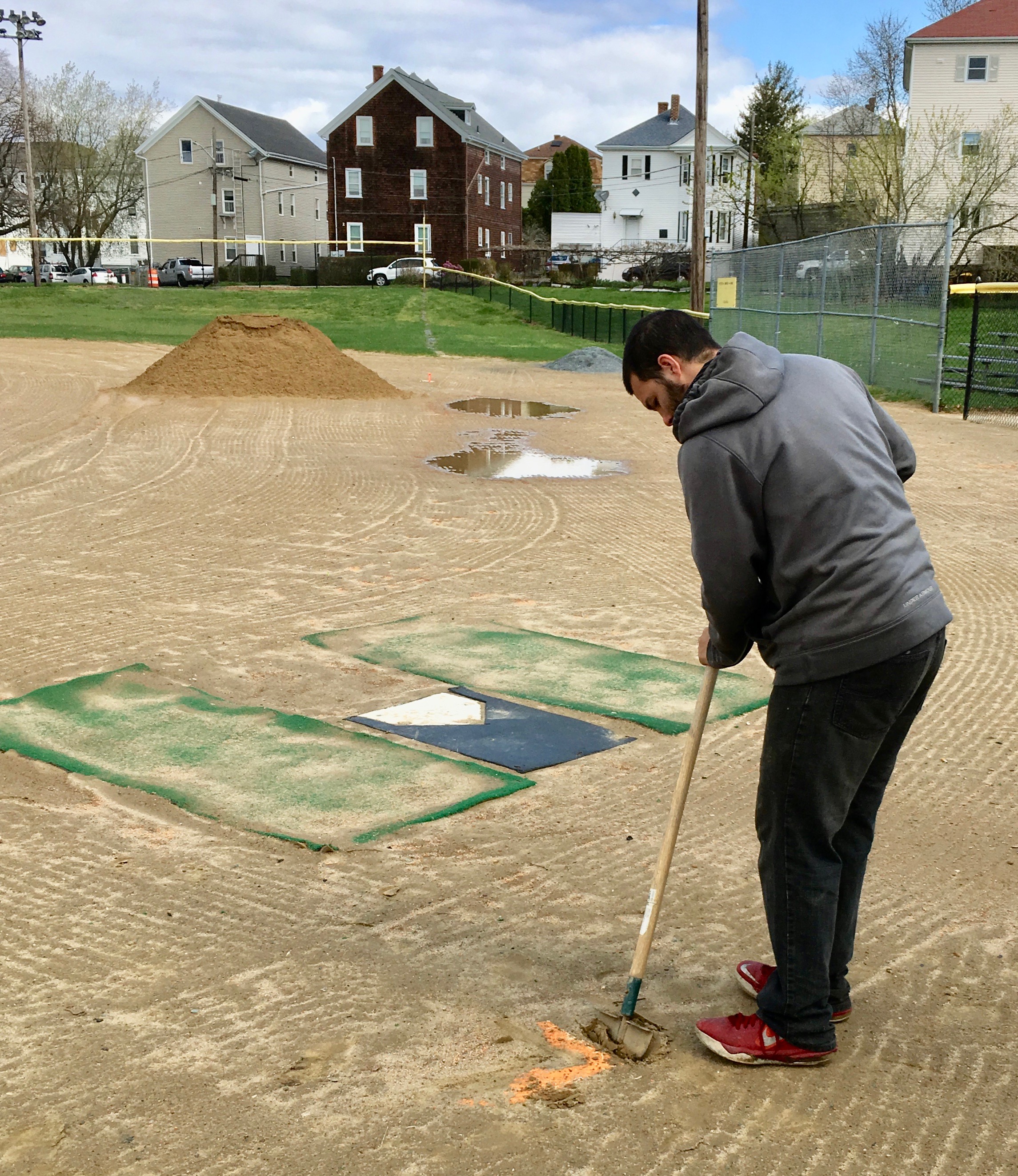 Darrell Finch Jr. was a Big Help.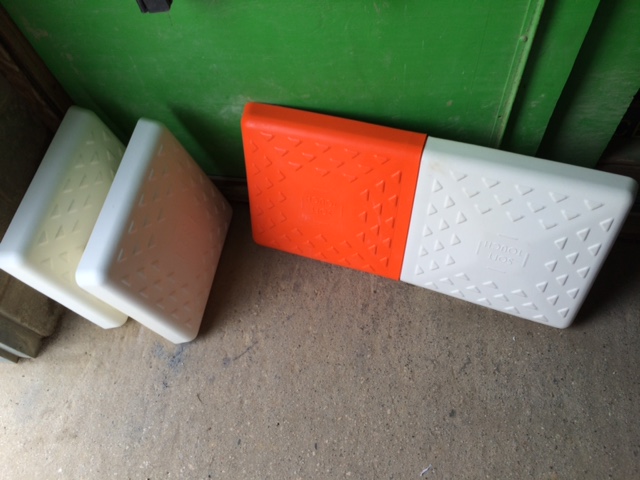 New Bases are in. Safety Base at First.
GREAT - LESS INJURIES. League also
uses a Safety Plate. Great to be able
to go to work the next day.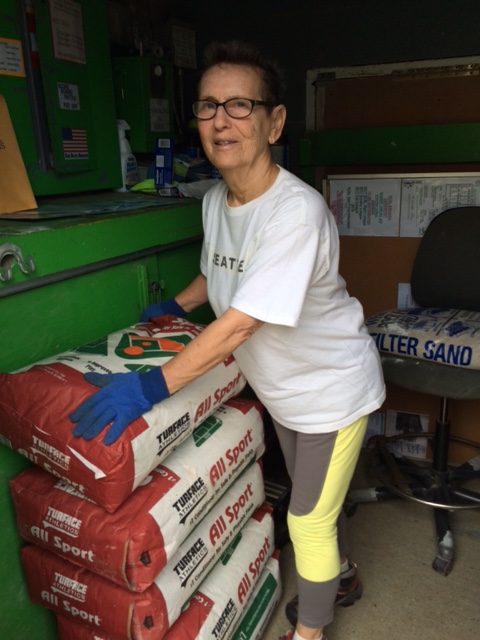 Natalie loading up the Storage Area with
Bags of Speed Dry.Getting ready for those
Rainy Days and Puddles.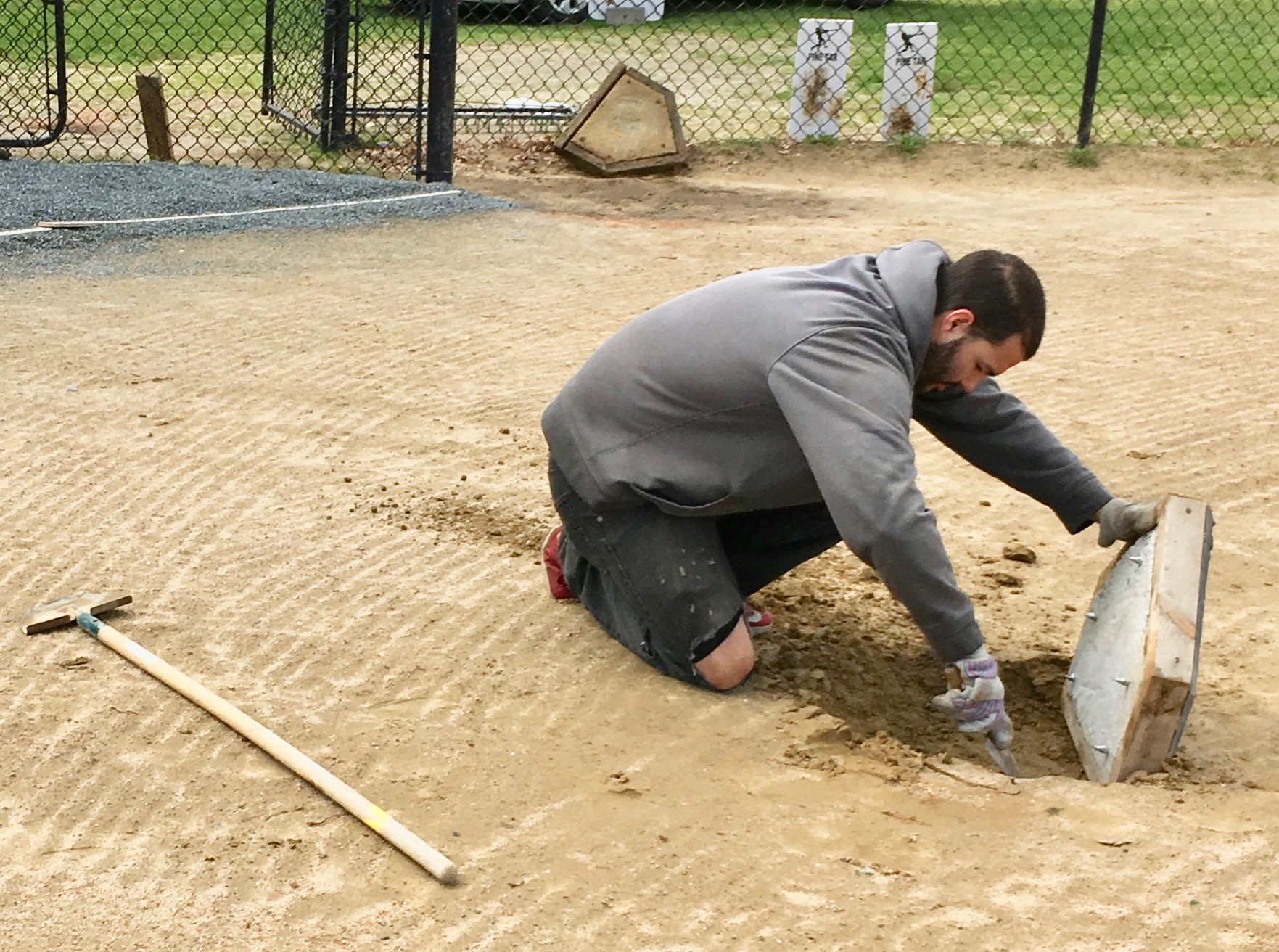 Darrell Finch Jr.is putting in a
New Safety Plate.Limits Injuries
to the catchers and Runners
at Home Plate.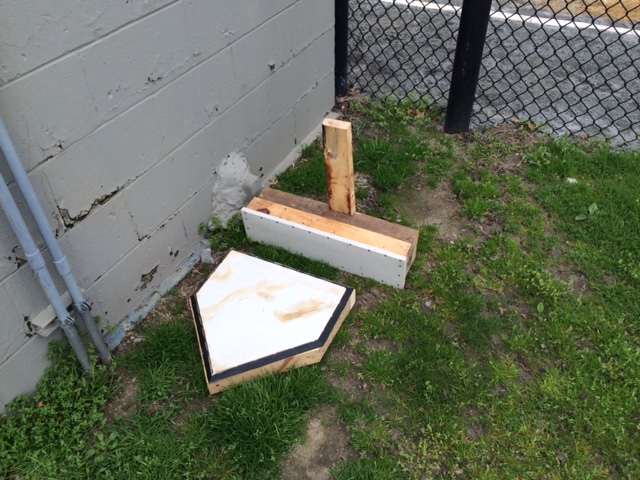 Every Season A New Plate and Pitcher's
Mound is Needed. Thank You to the
Fall River Park Department.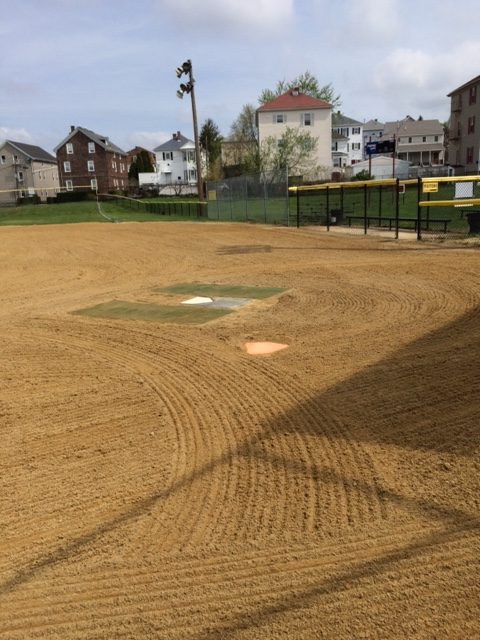 Another Great Safety Feature at the Field.
Turf Mats - No Holes in the Batters Boxes
No Tripping getting out of on a Hit Ball.
Safety Plate - No Inuries between Catcher
and the Runners. Get to go to Work the Next Day.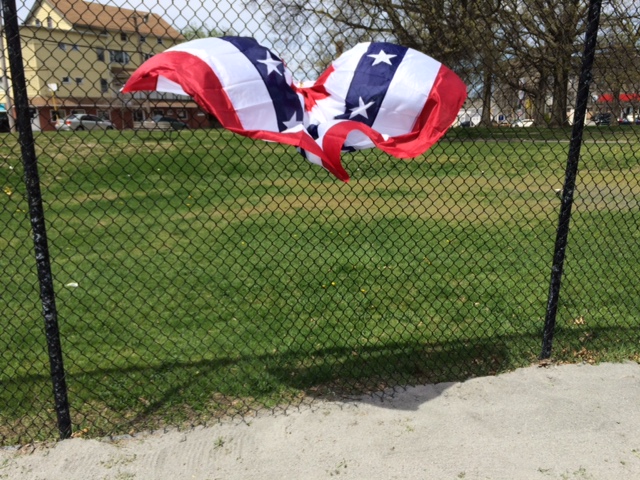 Two New Flag Bunting on the Outfield Fence
and Three on the Backstop. USA the Country
We Love. Brightens Up the Field.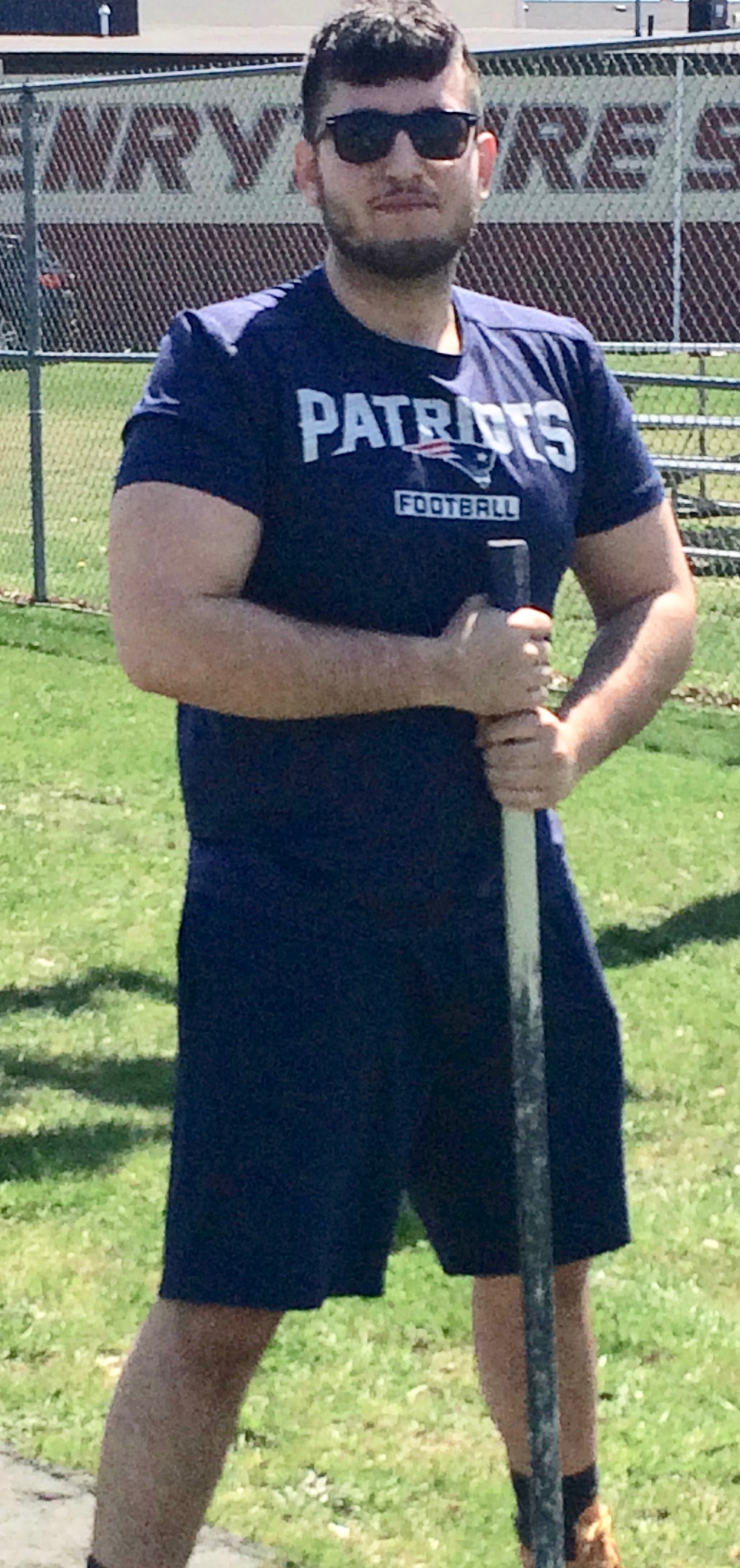 Chris "Topher" Salvo(Strong Guy ) will be Pounding
down the Stone Dust on the Foul Lines.
Saturday-May 4th. Ready to Line the Chalk Line.
Fair or Foul Ball ???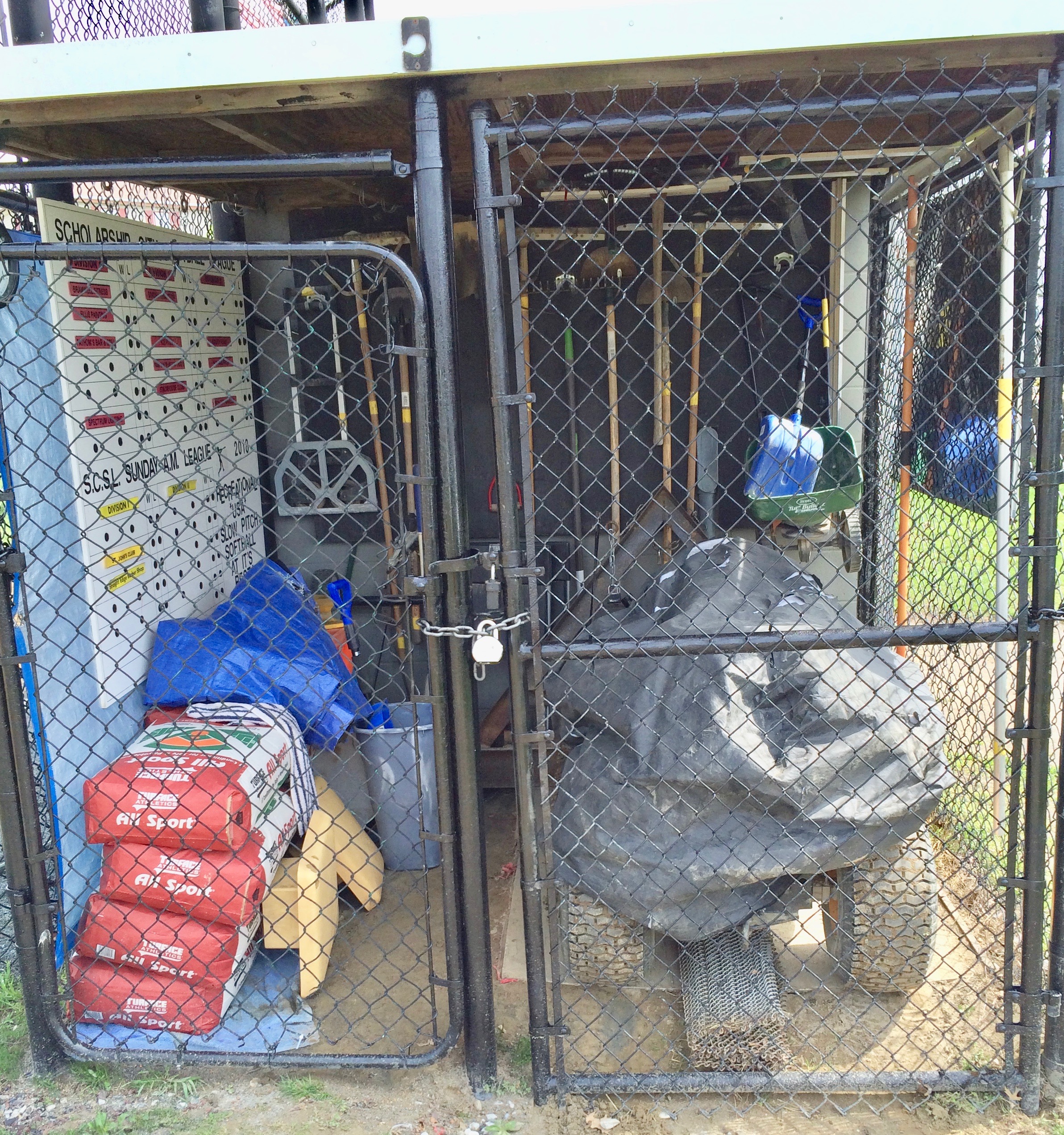 All Set for the Season: Bags of Lime,
Bags of Speed Dry, Tractor, Standing Board,
and all Field Tools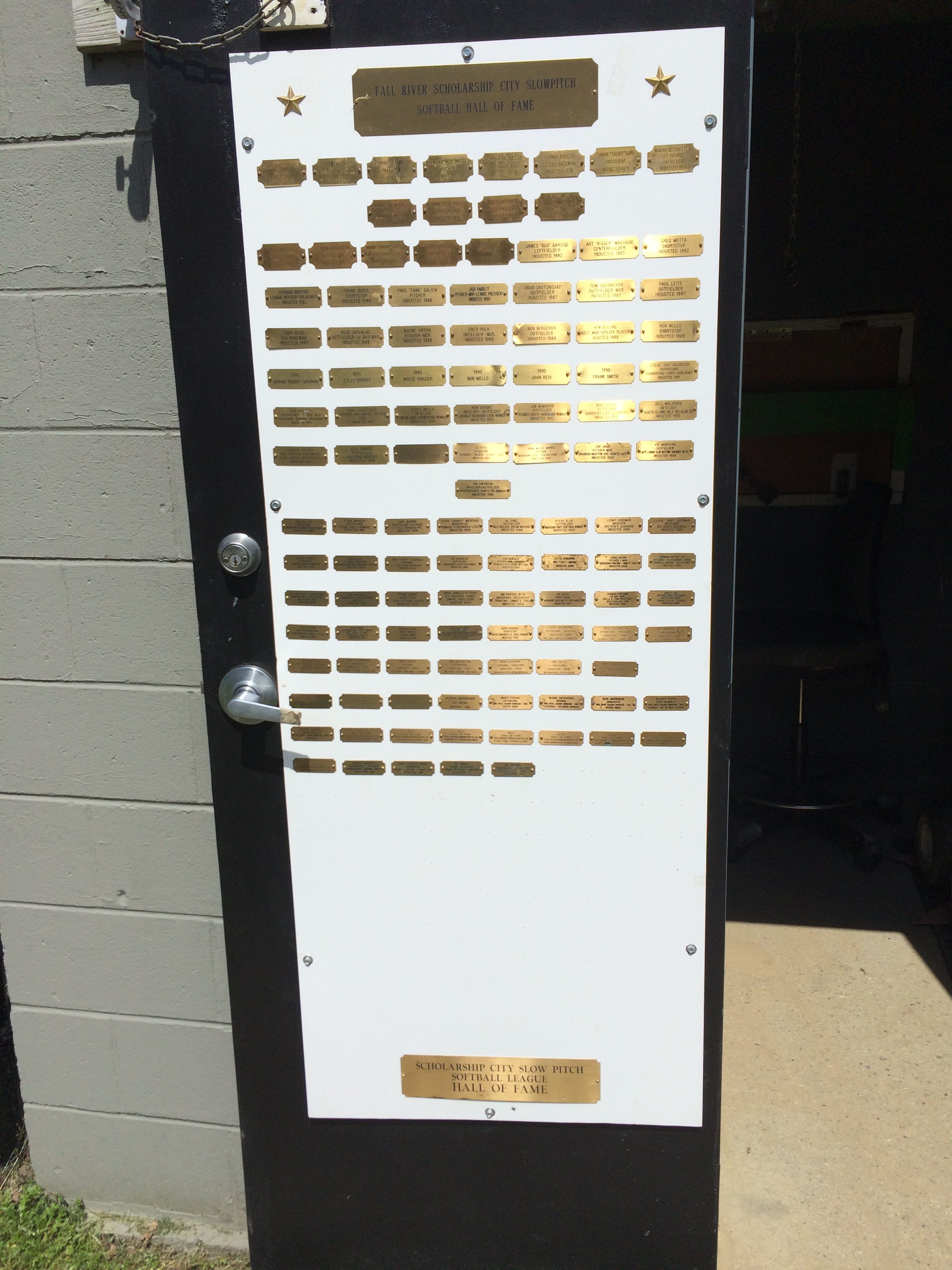 The SCSL Hall of Fame Plaque at the Field.
2020 Season - June 14th... there will be
SIX New INDUCTEES.*** Well Deserved.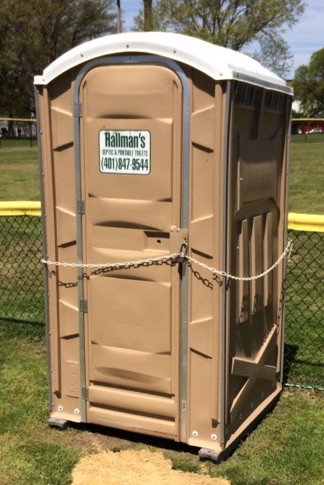 The Porter John is Set-Up.
What would the Players
do without one???? HELP!!!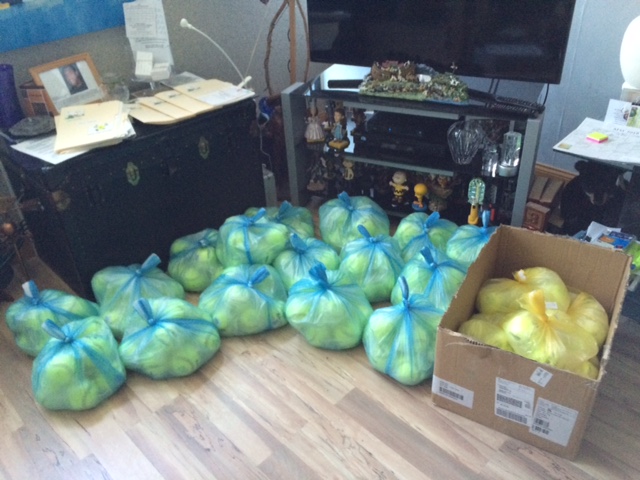 Here are the Softballs, Bagged and
Ready to Distribute on 5/2. Nice job Natalie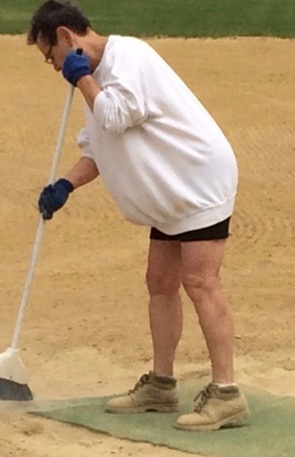 2 New Home Plate Turf Mats will be installed
for the 2019 Season ($404)- EXPENSOVE
-Natalie during the week SWEEPS the 2 TURF
MATS for that Evening Games.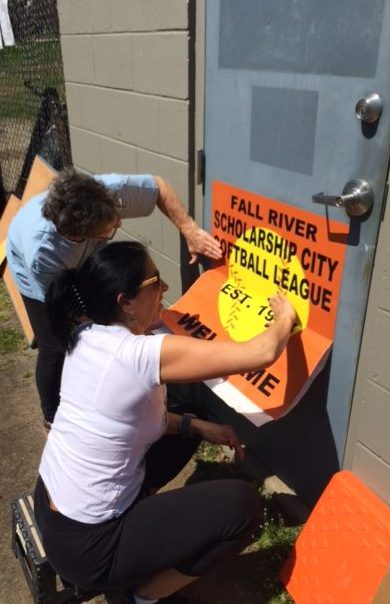 Natalie and Christine putting up the
New 2019 SCSL BANNERS. Not Easy.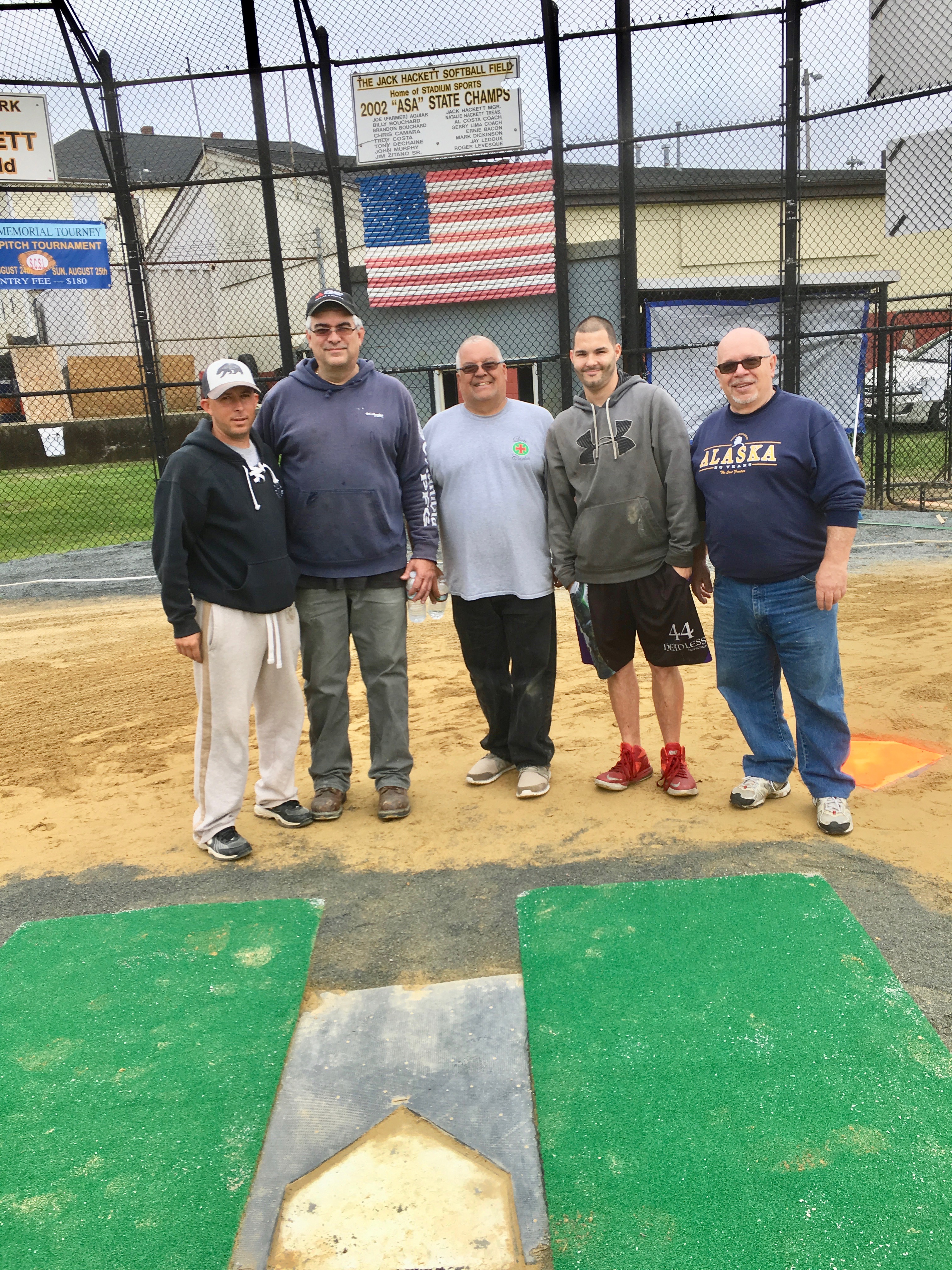 SCSL OFFICER LOUIE TAVARES,MIB Umpires FRANK SOUSA,
& JOE RICARDO, Player DARRELL FINCH JR. Roy Vieira.
Missing fom Photo DAVE BOTELHO & NATALIE HACKETT
TOPHER SALVO.
Field workers on May 4th.
Laid New Turf Mats down.
Filleds Stone Dust on Both Foul Lines.
Chalked the Foul Lines and safety Line.
Repainted The Dugout Benches. - Natalie did
Grated (Tractor) the Infield. Laid Old Mats as Coaches Boxes.
Put Up the Foul Pole Flags.
Erected 2 Dugout Cork Boards and Large Cork Board9SCSL NOTICES)
RAIN-RAIN-START THE SCSL SUNDAY MORNING
LEAGUE-MAY 5th; CANCELLATION.
WOW-WHAT A WAY TO START.
IT WAS ALSO CLEAN-UP DAY OF LITTER AT ALL PARKS
IN THE USA. GREAT TO HAVE HELP AT OUR PARK.SHE
DID A GREAT JOB. JACK THANKED HER.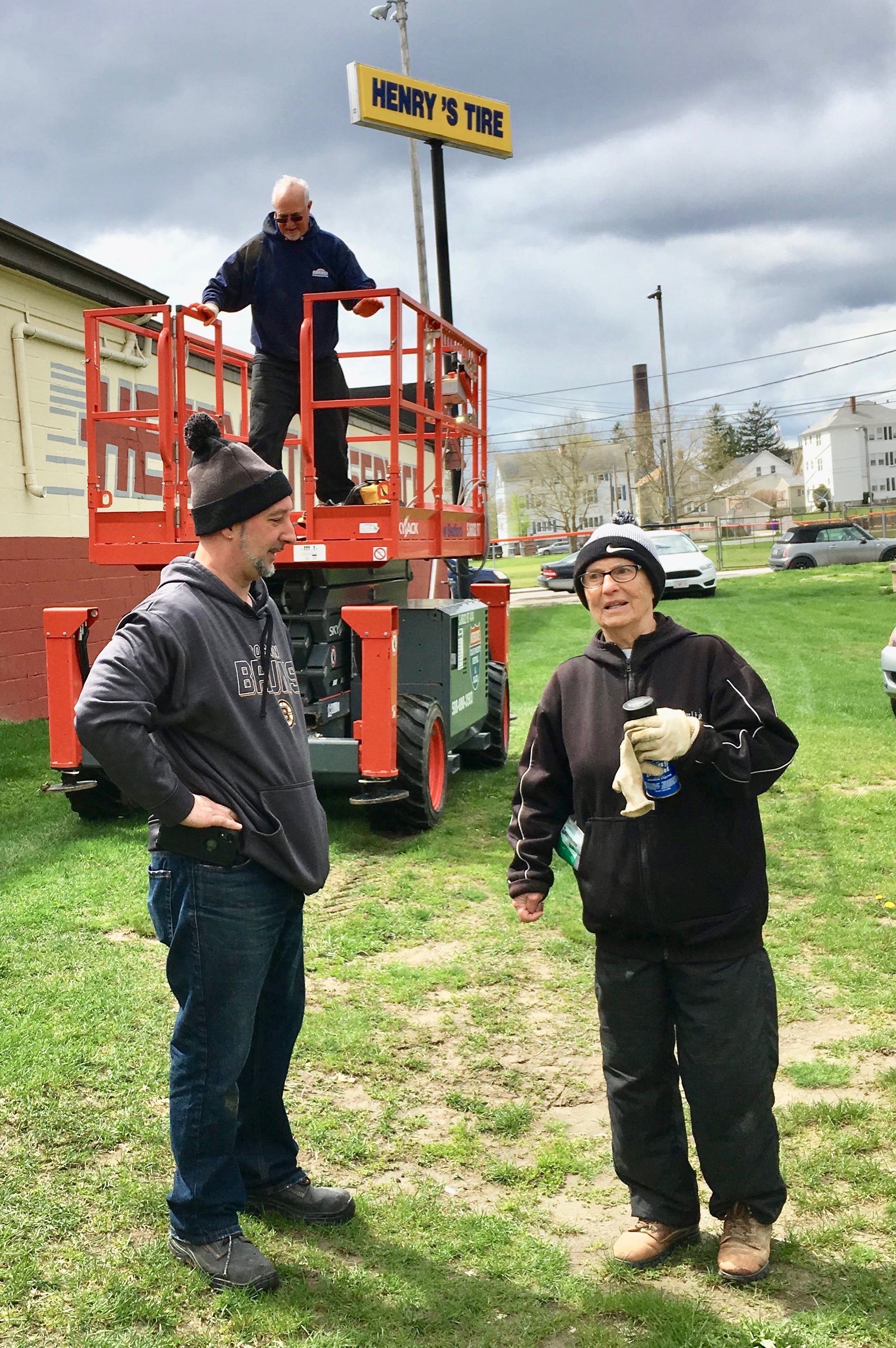 Well Mike it was a lot of Work.You Guys did a Great Job.
So did you Natalie. All worked as a TEAM.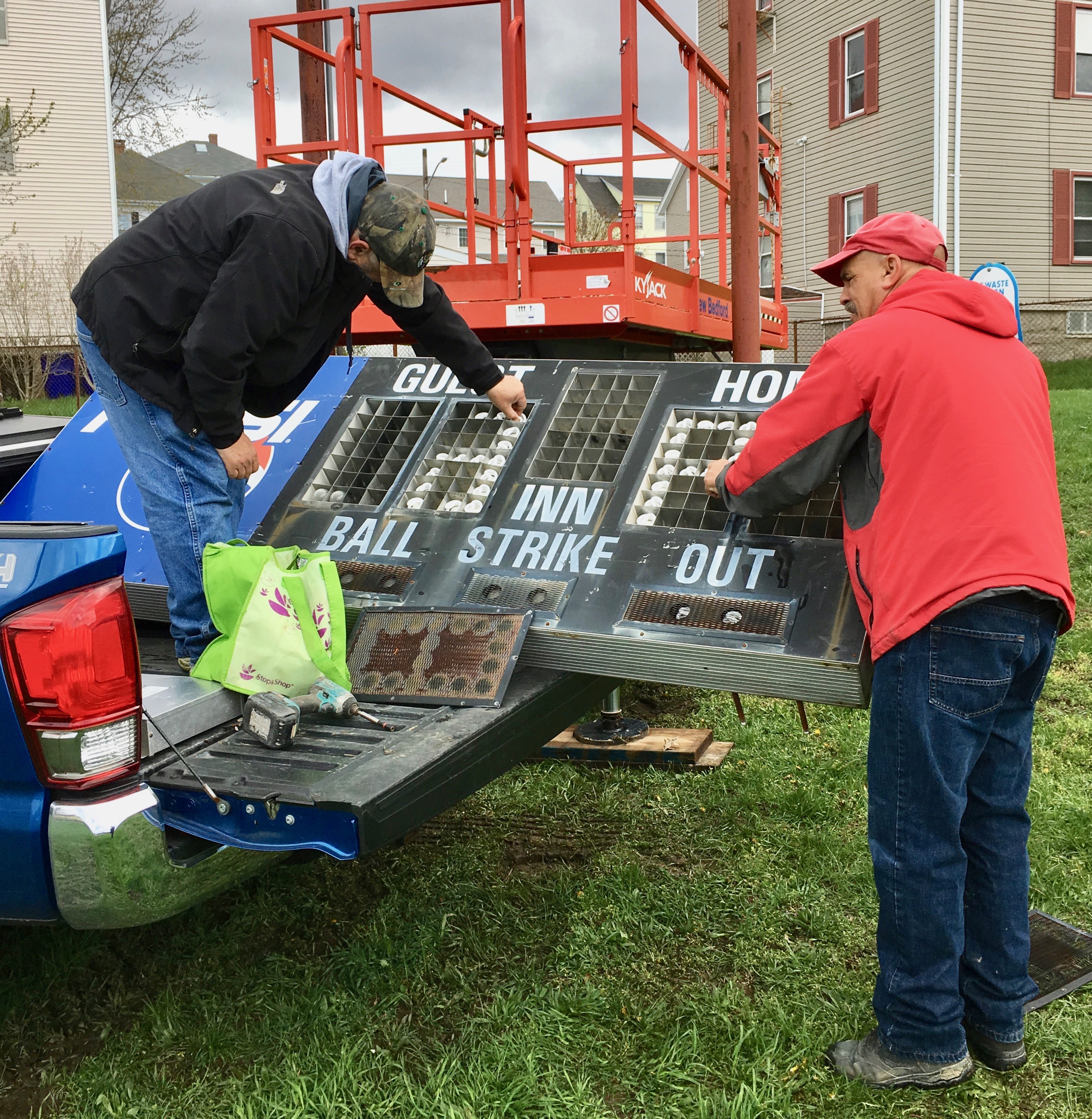 SCSL Officer Dave Botelho and Joe Aguiar
removing the Energy Bulbs that Jack bought
last season ($160)-the Old Board needed more
then BULBS. Joe also took the Old Scoreboard to be
RECYCLED.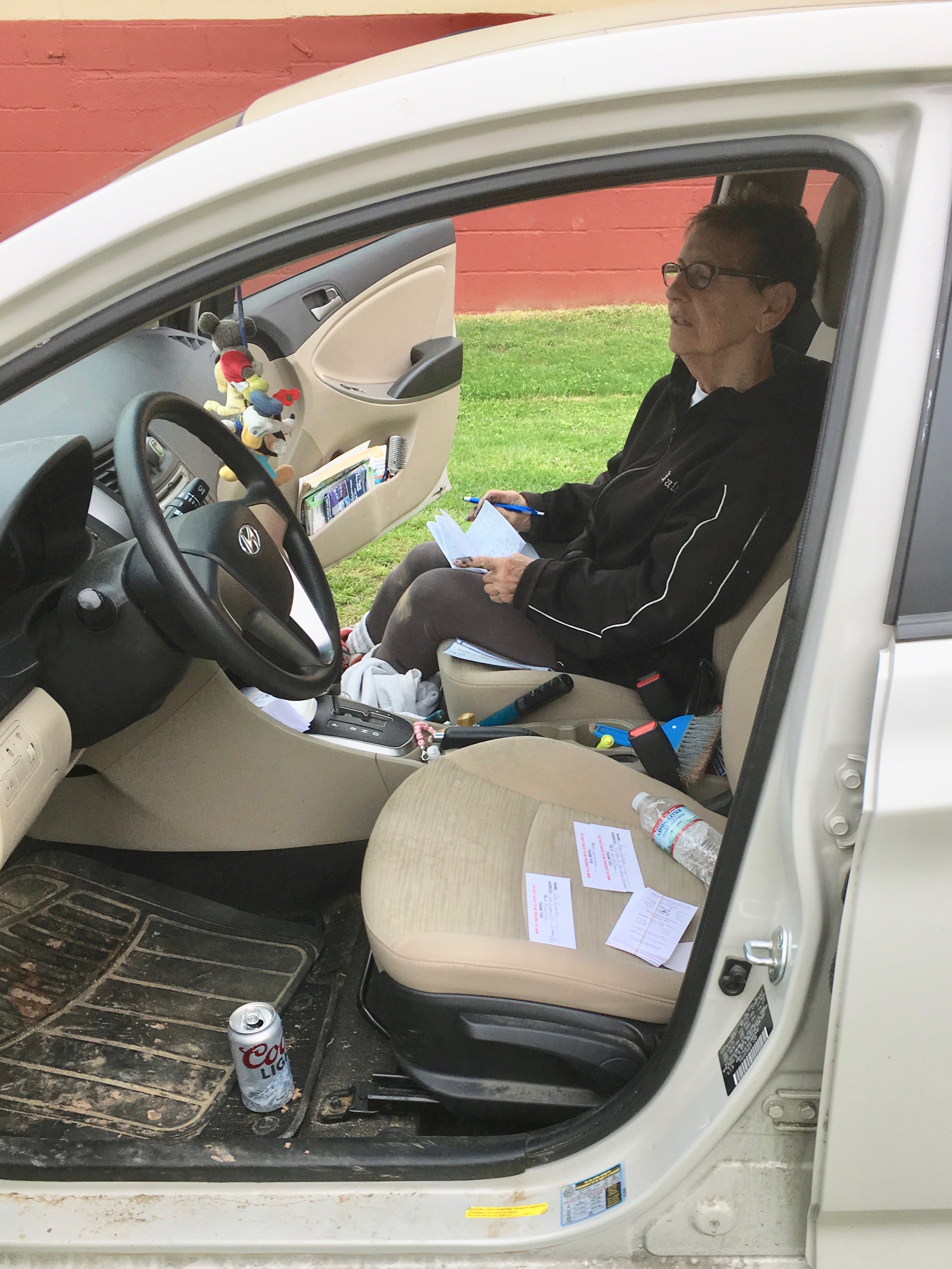 Natalie Writing out 7 Checks to Pay the
Work Crew for their Dedicated Hard
Field Work. They did not want any $$$, But Jack insisted,
ONE HAND WASHES THE OTHER. HE WAS SO HAPPY
THAT THEY WERE THERE TO LEND A HELPING HAND.
FIELD LOOKS GREAT.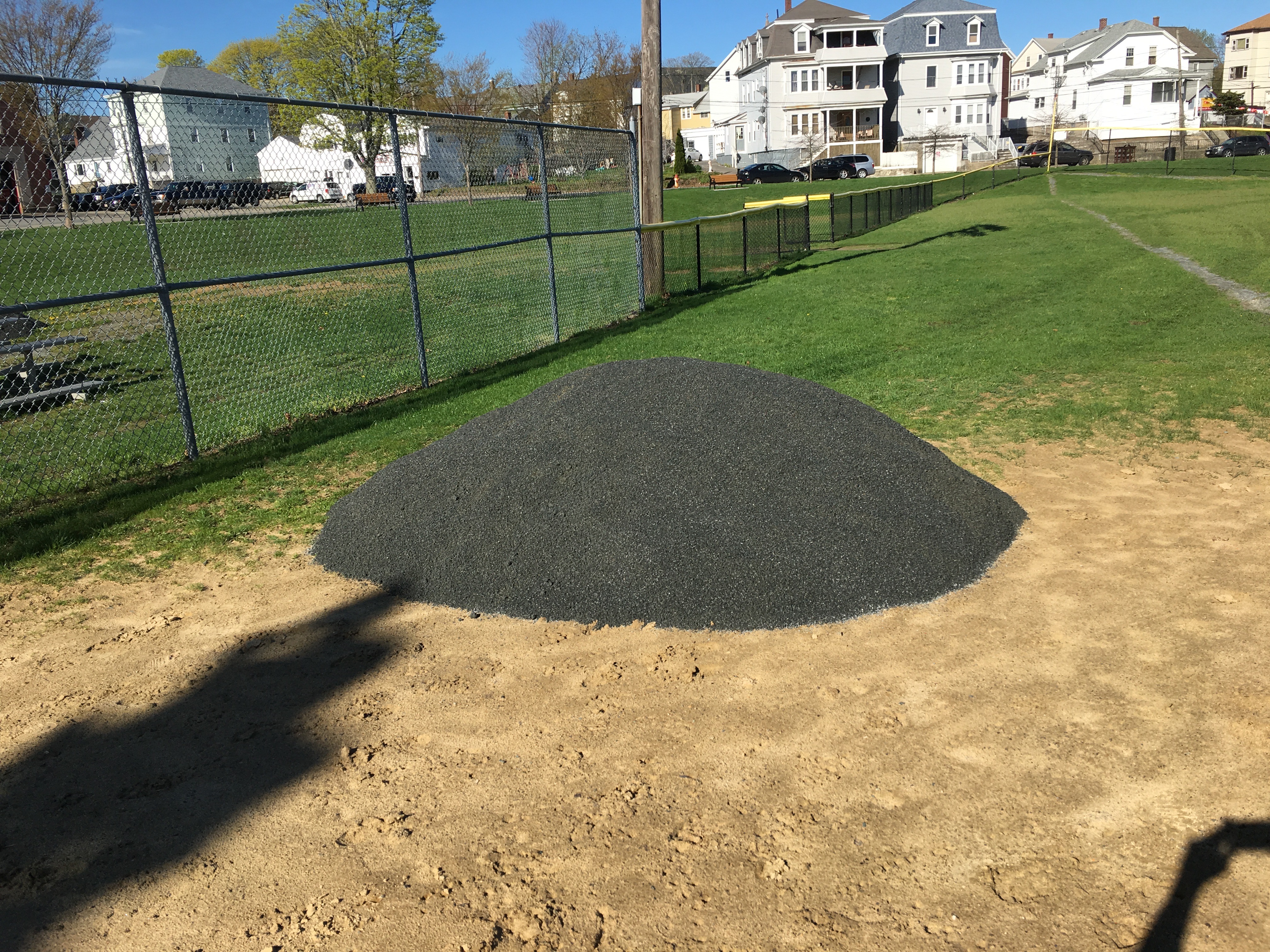 A GREAT BIG "THANK YOU"
TO SCSL OFFICER LOUIE TAVARES FOR REMOVING THE
REST OF THE STONEDUST FROM THE THIRD BASE AREA.
IT WAS KIND OF TOUGH FOR JUST MY WIFE AND I TO DO.
LOUIE IS ALWAYS THERE TO HELP OUT THE SCSL.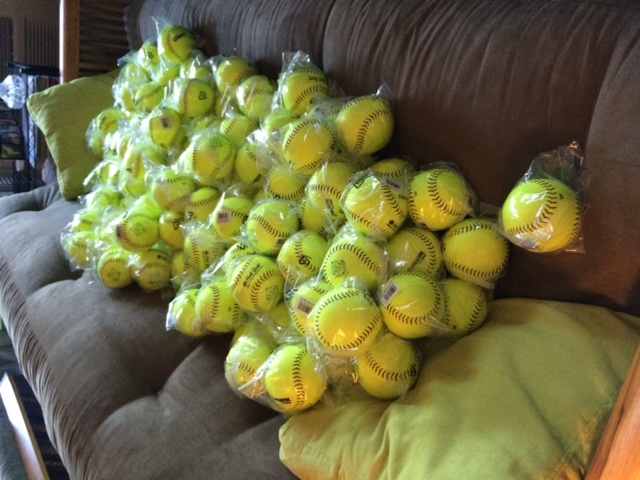 Team Balls for the Season 25 Dozen
I have to get them to the Teams.
Who is going to Count them and Bag them???
I know Who--My wife NATALIE
She is Always there to Help.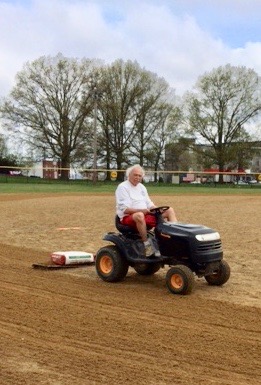 During the Season Jack and Natalie (I plan to get her
Driving the Tractor in 2019) make it a point to Drag
the Infield for the Gamesthat Evening. The Field is in
TIP-TOP SHAPE.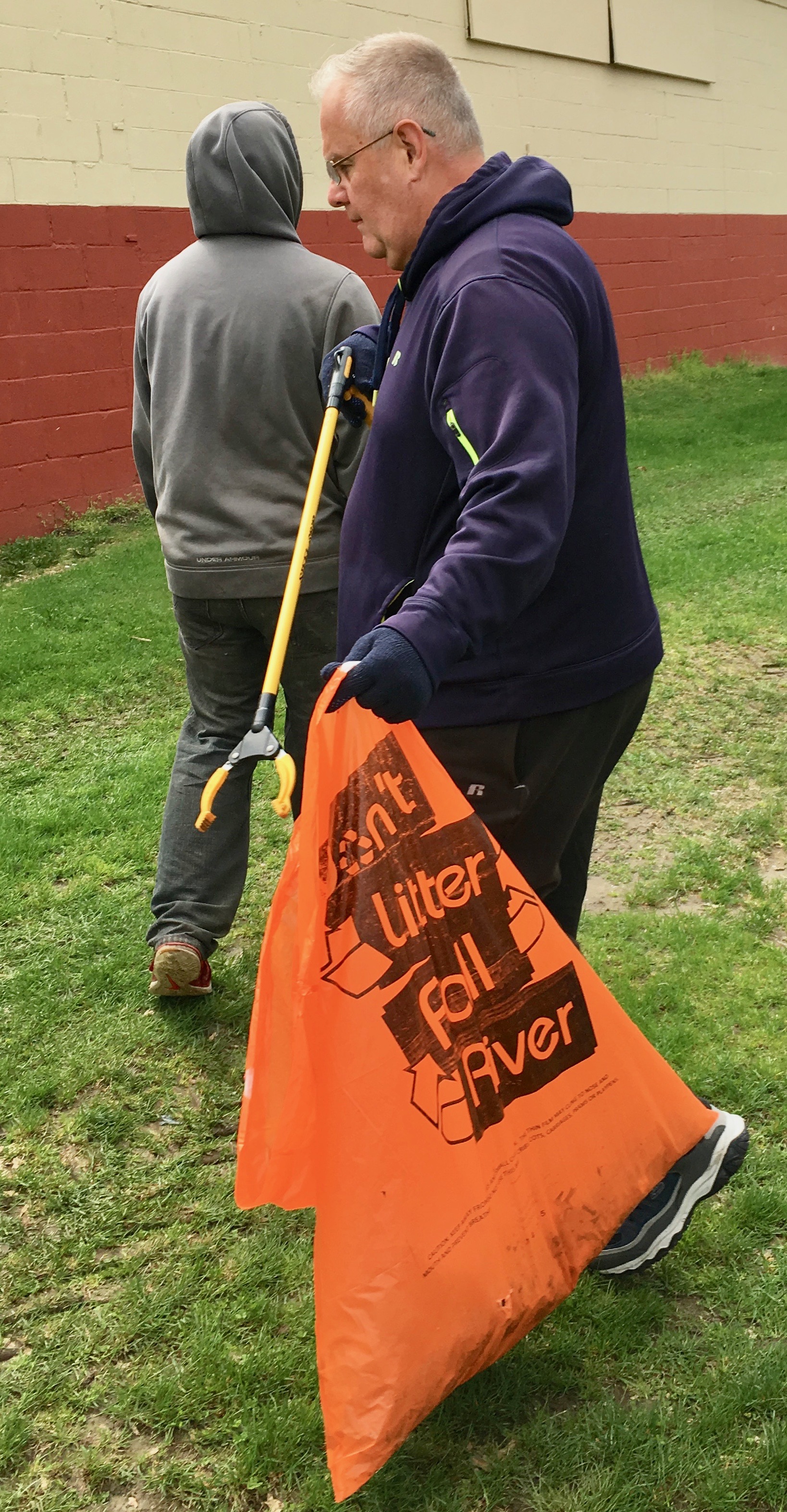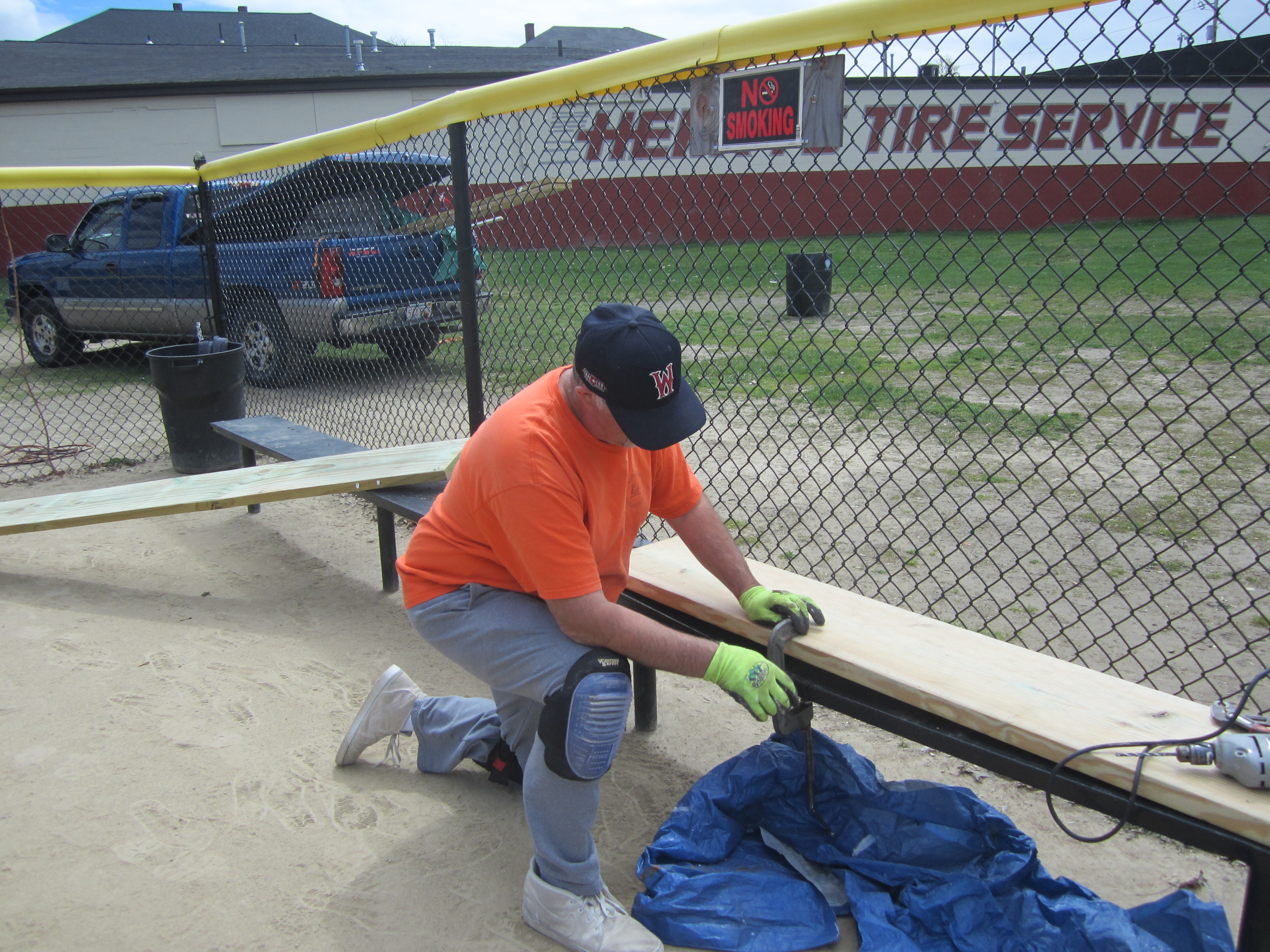 Dave Conlon fixing the Dugout Benches.
He did a TREMENDOUS JOB.
"THANK YOU"
The Benches will be REPAINTED for
the Upcoming Season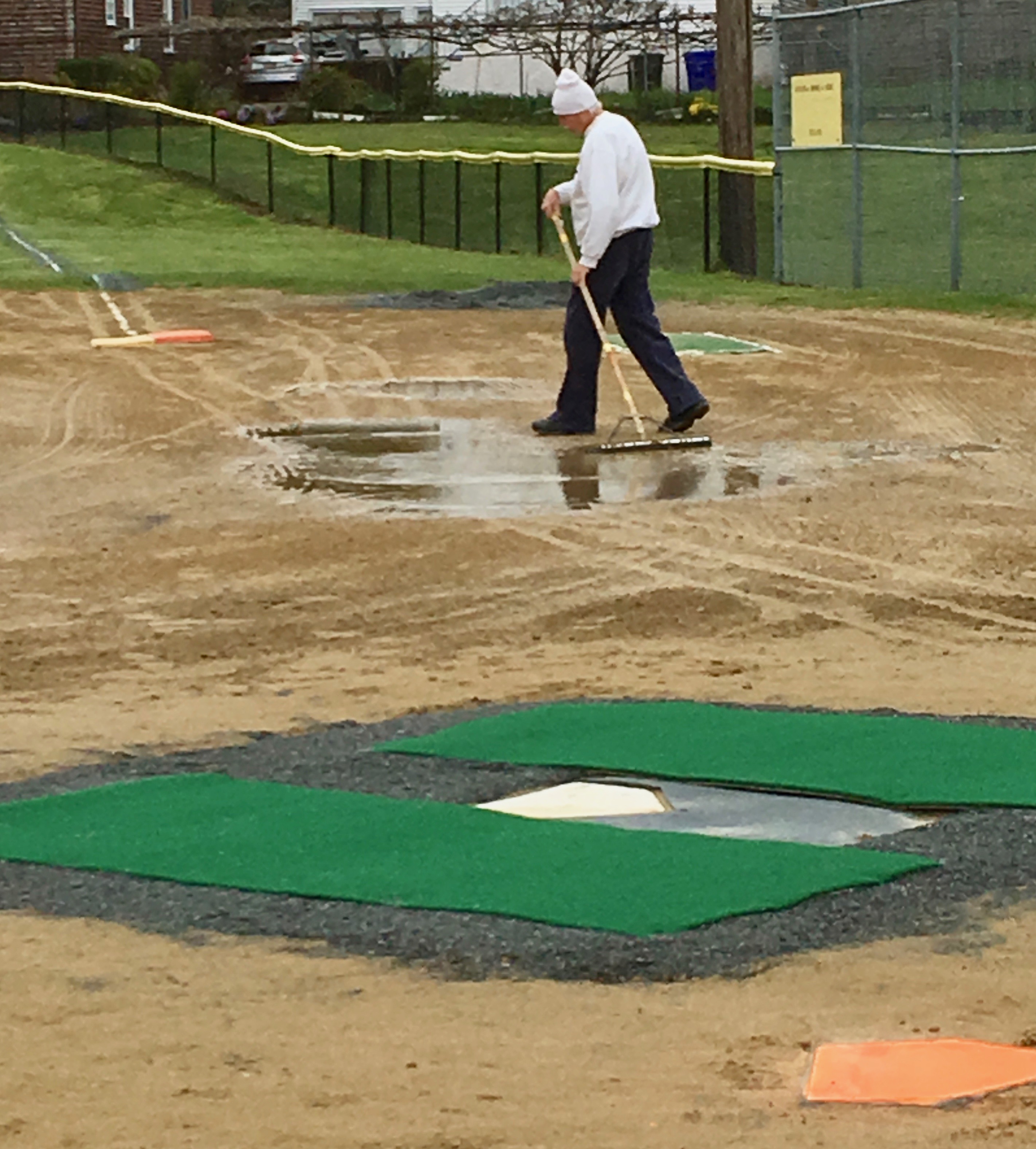 JACK WAS SQUEEGEEING THE WATERED DOWN FIELD ON MONDAY -MAY 6th. THE SCSL NIGHT LEAGUE OPENING UP THAT EVENING.A TOUGH WAY TO START THE SEASON.
WEATHER WISE IT HAS BEEN A TERRIBLE SPRING.
THANKS TO NATALIE AND JACK'S HARD WORK THE GAMES WERE PLAYED.
HERE COMES SOFTBALL
by LLOYD (SKIP) SHERMAN
***********
I say this Mates.with a Grin
Softball Season's to Begin.
So grab a Ball , grab your Bat
Tie your Cleats and Don your Hat,
Take the Field, hit the Grass
The Summer Season soon will Pass.
Let's all try to Crank One Out,
So the Outcome won't be in Doubt.
Through Slumps and Losses
Don't get down,We got the Team
That will Win the Crown.
OUR FRIEND SKIP PAST AWAY IN THE 2018 SEASON.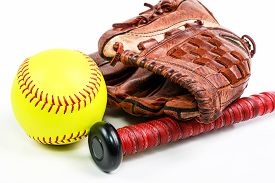 This Poem is Dedicated to the
Upcoming Season ( 2020) of the
Fall River Scholarship City Slow Pitch
Softball Leagues, the 57th. Season
of Organized USA Softball.