SCSL HALL OF FAME INDUCTEES-Established in 1977
"Outstanding- BallPlayers-Umpires-Officers -Mgrs-Fans"
1977– * Ted Darcy-*Ray Laferriere-*Ray"Moe"Massey-*Fred Fernandes.
1978-Alex Almeida-Tom Duclos-Morris"Skeeter"St.Pierre-Norman Bazinet Sr.
1979-*Norman"Jose"Folster-Roger Laferriere – * Robert Massey-Frank Lake.
1980-Jack Driscoll-John Kardosz-*Manny"Rabby"Raposa-Ron Rapoza.
1981– * Bert Goulet
1982– *Art "Rigger"Machado-Greg Motta-*Jim Garside
1983- * Fernando Martins(League Officer)
1984-1985 No Inductees-Not Enough Votes Acquired.
1986-Paul "Tank"Galvin-Frank Bigos-Jack Hackett
1987-Tony Rego-Paul Leite-Tom Cournoyer-Doug Castonguay
1988-Fred Polk – * Wayne Orton- * Doug Carvalho
1989-* Ken Golding – * Bob Bergeron-Ron Mello
1990– * Bob Mello( League Officer)-Steve Conroy- * Frank Smith- *  *Adrian"Buddy"Dauphin- * John Reis- * Ovila"Moose"Frazier  – * Steve Courcier-George Petrin(League Officer)-Bob Hackett(League Officer) – Dave  Liversedge(League Officer)
1991 & 1992 -No Inductees-Not Enough Votes
1993-Jim McMahon-Ken Garant-Bill Walkden-Bob Pierce (OF)
1994-Richie Mello-Bill Santos
1995-Frank Ferraz-Ed Fitta-John"Moose'Morris
1996-Joe Argo-Joe Monteiro-Jim Swanson
1997-Bob Ollila-Steve Mercier
1998-Al Pinel- * Gary Marino- Steve"Dibsey'Medeiros-
1999– * Lenny Sherman-LLoyd'Skip"Sherman-Steve Klex
2000-Russ Boulay-John Martini-*John"Pappy'Tacovelli
2001-Lou Goncalo-Steve Winarski-Joe Carvalho
2002-Jeff Mitchell-Norman Bazinet Jr.– * Grayton Waite-Ernie Bacon
2003-Frank Hobbs-Doug Janelle-Jim Raposa
2004- * Jerry Lima-Norman Fontaine-Gilbert Cunha-Gerry Potvin-Rick Ramos
2005-Patrick Ahaesy-Mark Ferreira-Bill Bouchard
2006-Tony Dechaine-Bill Gaudreau-Ed Greene Sr.-Tom Marcoux
2007-Carl Ferreira-Jim Zitano-Bob Pierce(P)
2008-Joe Silva-Bob Lacroix
2009 ASA Umpire Fran Desmarais
2010-Laurie Nunes-First Lady Inducted SCSL Co-ed League.
2011-Ronnie Hedge-Brian Bishop-
2012–ASA UMPIRE * ARTHUR HENDERSON
2013– Manny Papoula- Ken Medeiros – Mert Caton – Mark Dickinson – Manny Novo
2014– Bill Berlo, Roger Gaydou, Pater Lachapelle , Mark Medeiros
2015 – Cathie Karl Noversa – Kelly Roy Sale – Roger Lepage  –  * Roger Levesque
2016.- Mike"Turtle" Rego, Ed Souza , Joe Teixeira , Keith McElroy
2017-1018: Robbie Afonso,, Jeremy Ellis, Natalie P.Hackett, Tim Lima, Scott Maitoza, Armand Rebello , Robert "Skip"Tallman, Carl Thornton
2019 – Kerri "Rodrigues" Bartie  , *John Corbishley ,Darrell Finch , Ryan "Moose" Frazier,Dave Oliveeira, Joe Ricardo, Tom Silva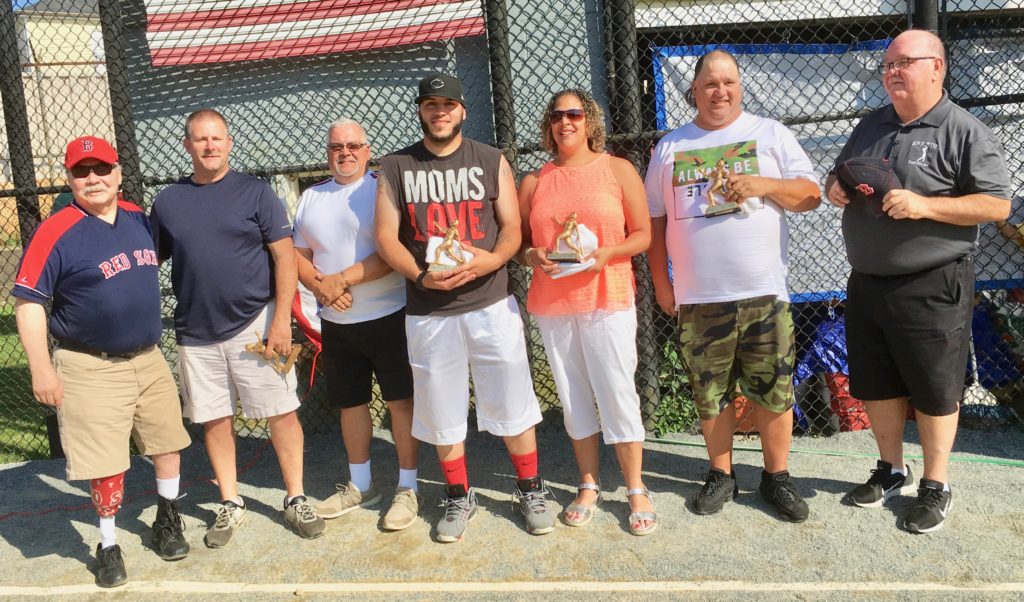 2019 FALL RIVER SCHOLARSHIP CITY SLOW PITCH SOFTBALL LEAGUES HALL OF FAME INDUCTEES. TOM MARCOUX ,DAVE OLIVEIRA ,JOE RICARDO, RYAN "MOOSE" FRAZIER, KERRI"RODRIGUES"BARTIE , DARRELL FINCH , JERRY "GRIZ" POTVIN.
MISSING FROM THE PHOTO TOM SILVA.
MARCOUX AND POTVIN WERE REPRESENTING THE JOHN CORBISHLEY FAMILY,
HE WAS INDUCTED POSTHUMOUSLY.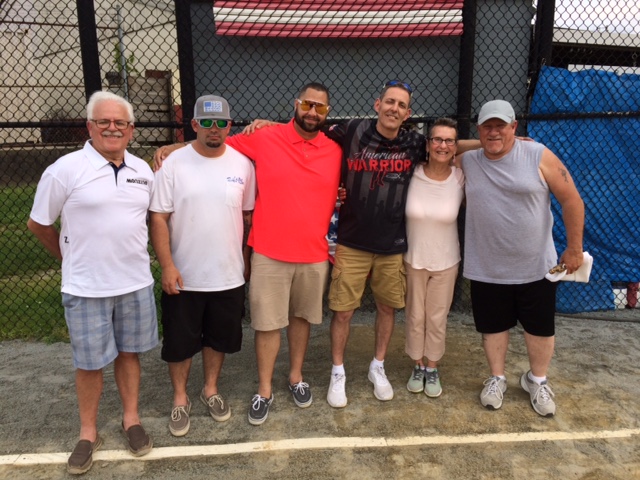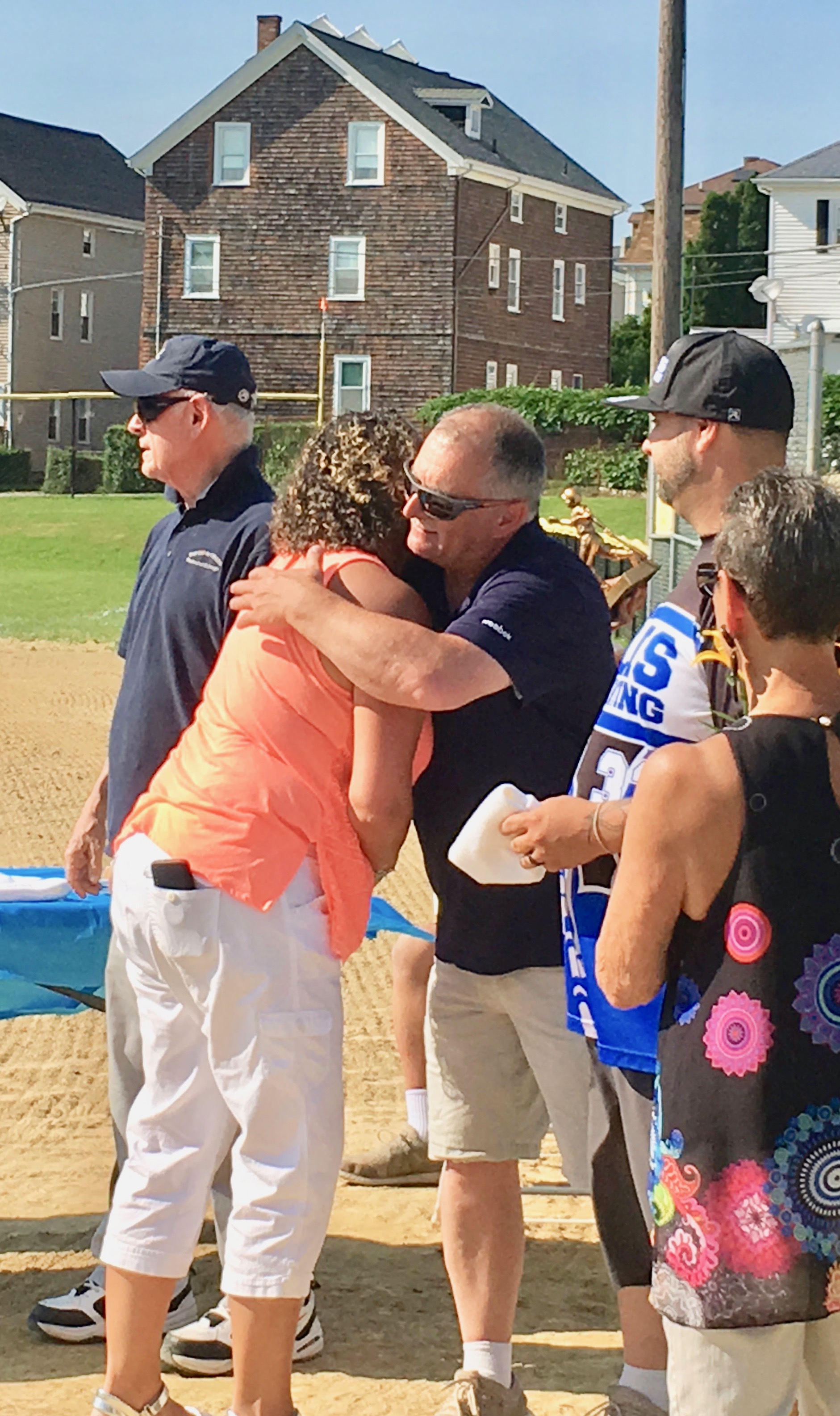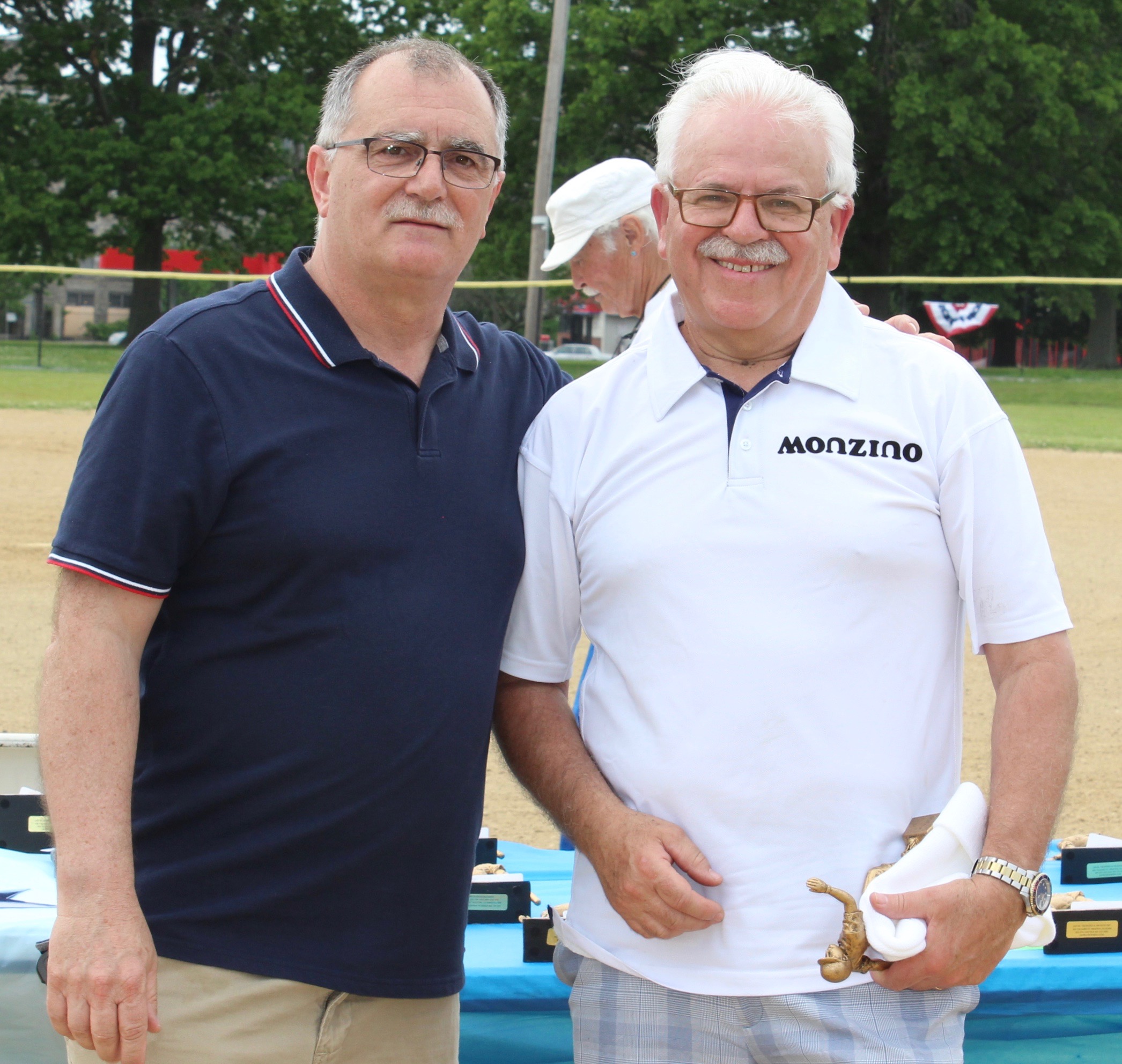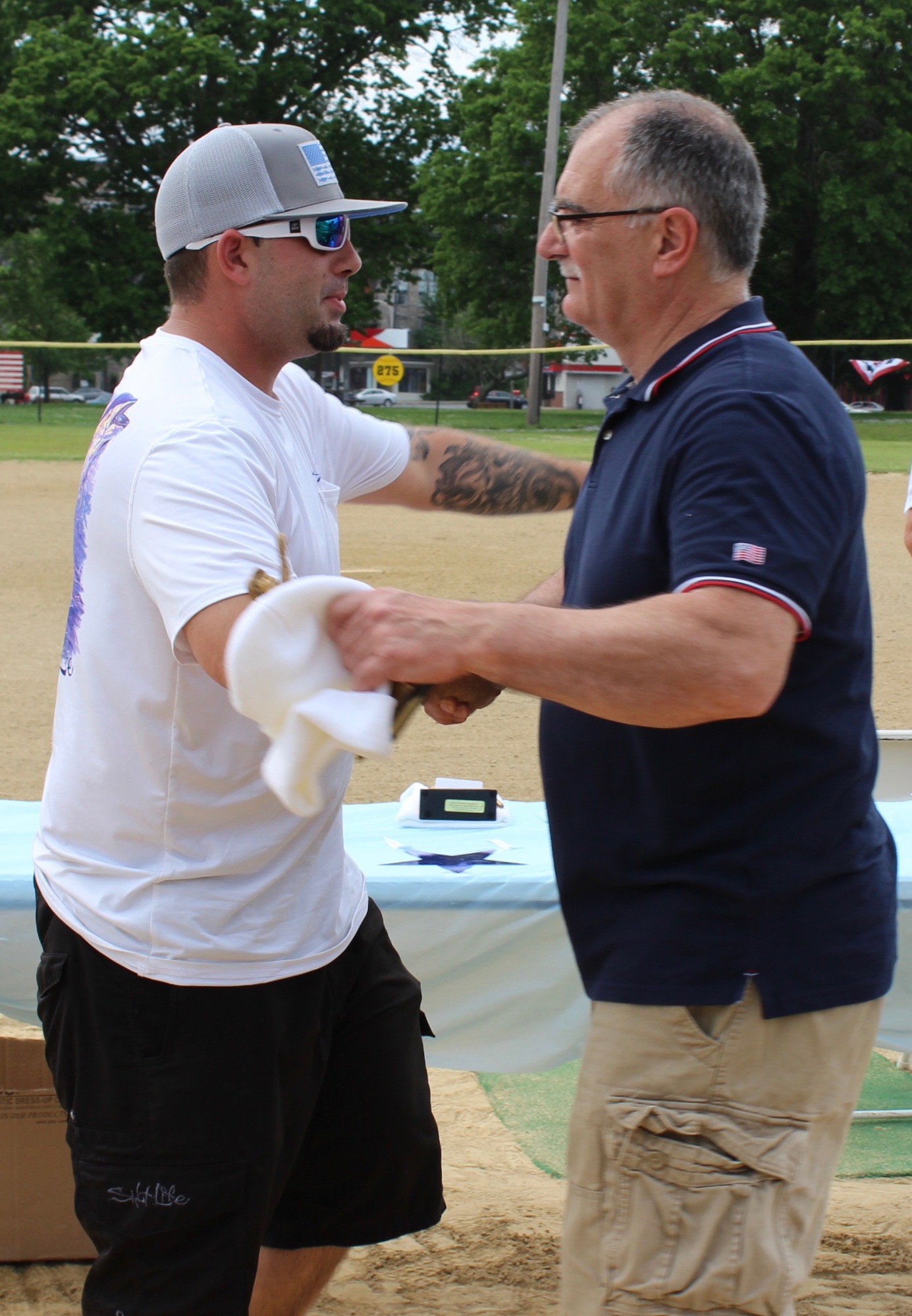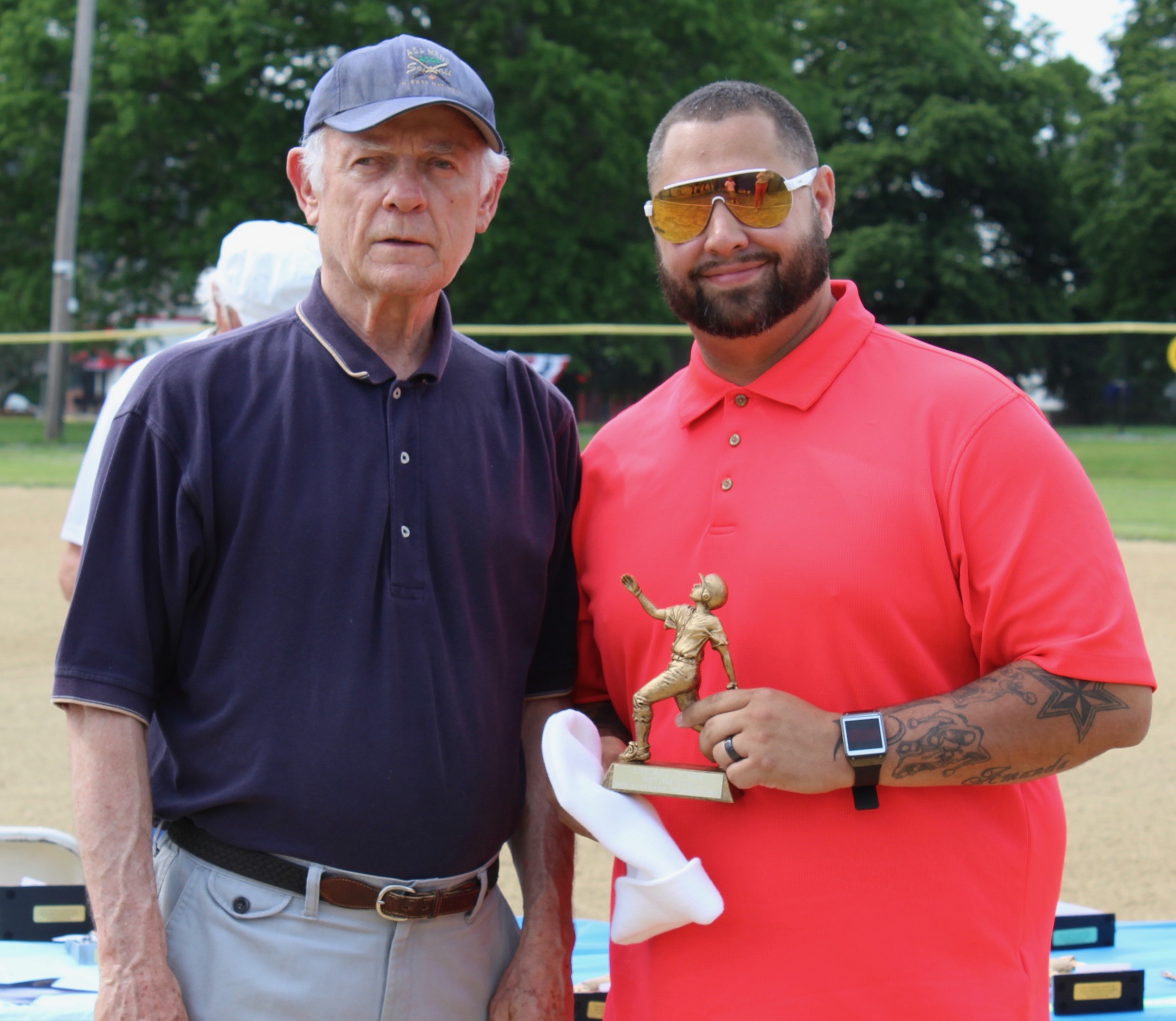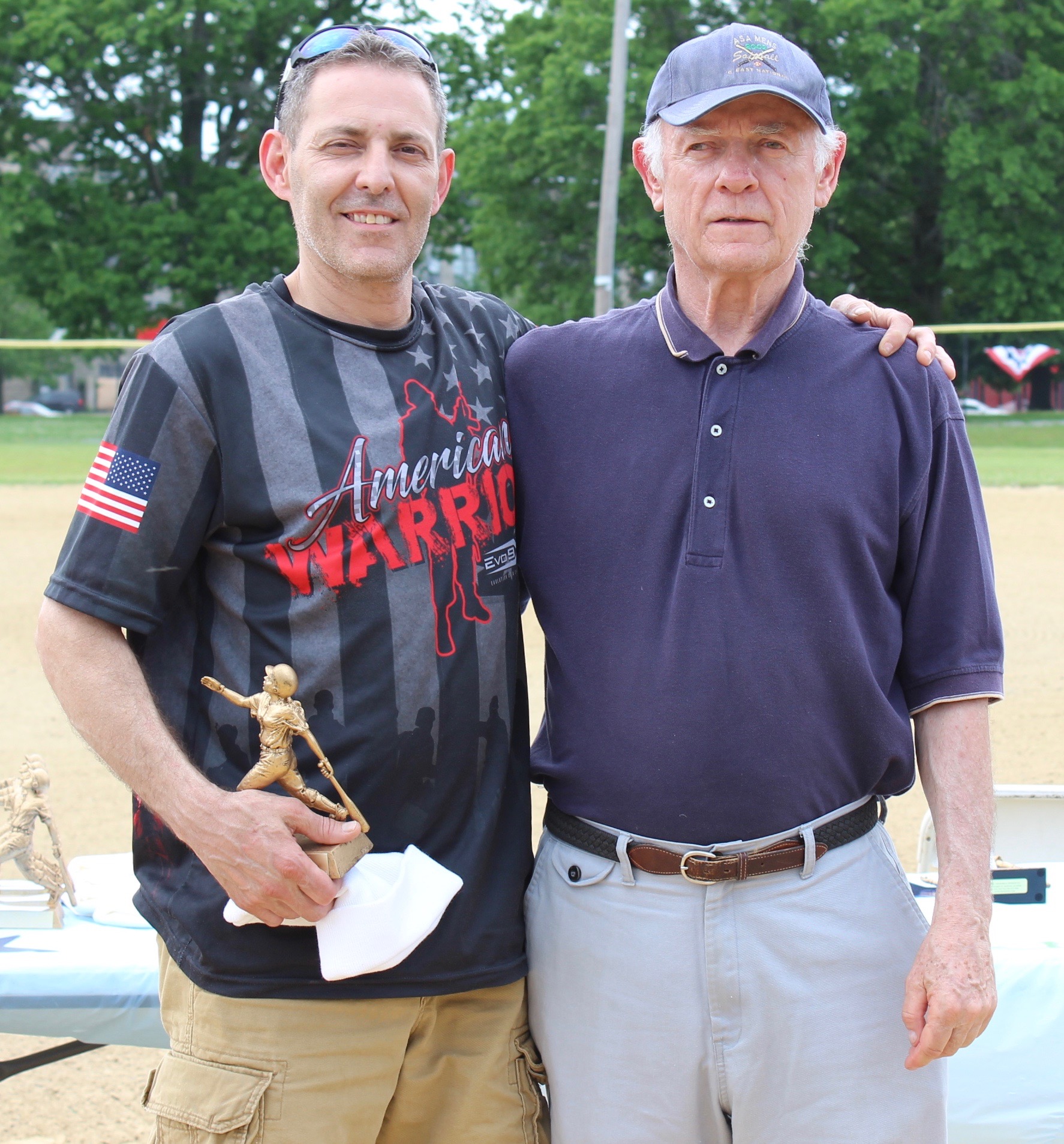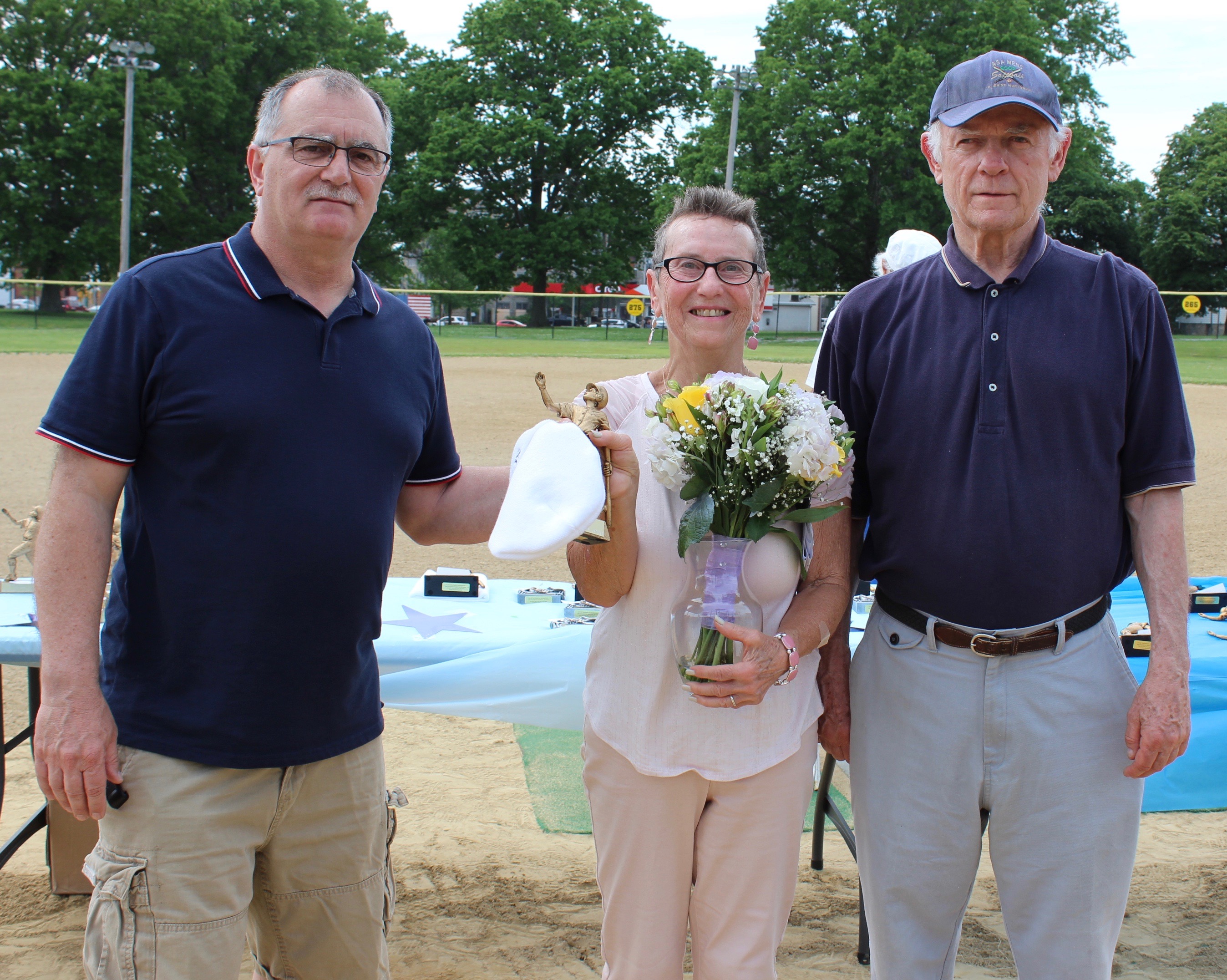 My Wife Natalie has been involved as my Partner in Organizing the SCSL , being the Treasurer and doing the Field Work Improvements for many (27 ) Softball Seasons. Every morning during the season she is at the field getting it ready for Game Time. She puts a 100% effort into making the Field named after Her Loving Husband the BEST SOFTBALL FIELD and LEAGUE in the FALL RIVER AREA . A lot of people state where would Softball in the City be without Jack Hackett-- Well the TRUTH is where would it be without HIS WIFE.
At the 2018 SCSL Award Ceremony held on Saturday - JUNE 2nd.
IT WAS A GREAT HONOR TO WELCOME THE ABOVE INDUCTEES
INTO THE SCSL HALL OF FAME "A WELL DESERVED HONOR"
THANK YOU TO BILL SANTOS AND BOB HACKETT FOR THEIR ASSISTANCE
IN PRESENTING THE AWARDS.