IN 2022 - 7 INDUCTEES INTO
THE SCSL/AXIS HALL OF FAME
*****" WELL DESERVED"******
SCSL/AXIS FALL RIVER SCHOLARSHIP CITY USA WOODEN BAT SLOW
PITCH SOFTBALL LEAGUE'S HALL OF FAMERS INDUCTED IN 2022.
WELCOME - WELL DESERVED.— DIRECTOR JACK HACKETT
AXIS BAT OWNER LOU LEDOUX, DON RIOUX(SPECIAL AWARD) ,
TONY ARRUDA, CHRIS LaFONTAINE, DALE LaCOMBE SR. ,
RICKY'CHEEKS" PACHECO, DON DISANTI, DALE LACOMBE JR.
ACCEPTING POSTMORTEM FOR HIS UNCLE DAVID"ROCKY" LaCOMBE
******* MISSING FROM PHOTO JUSTIN CARVALHO *******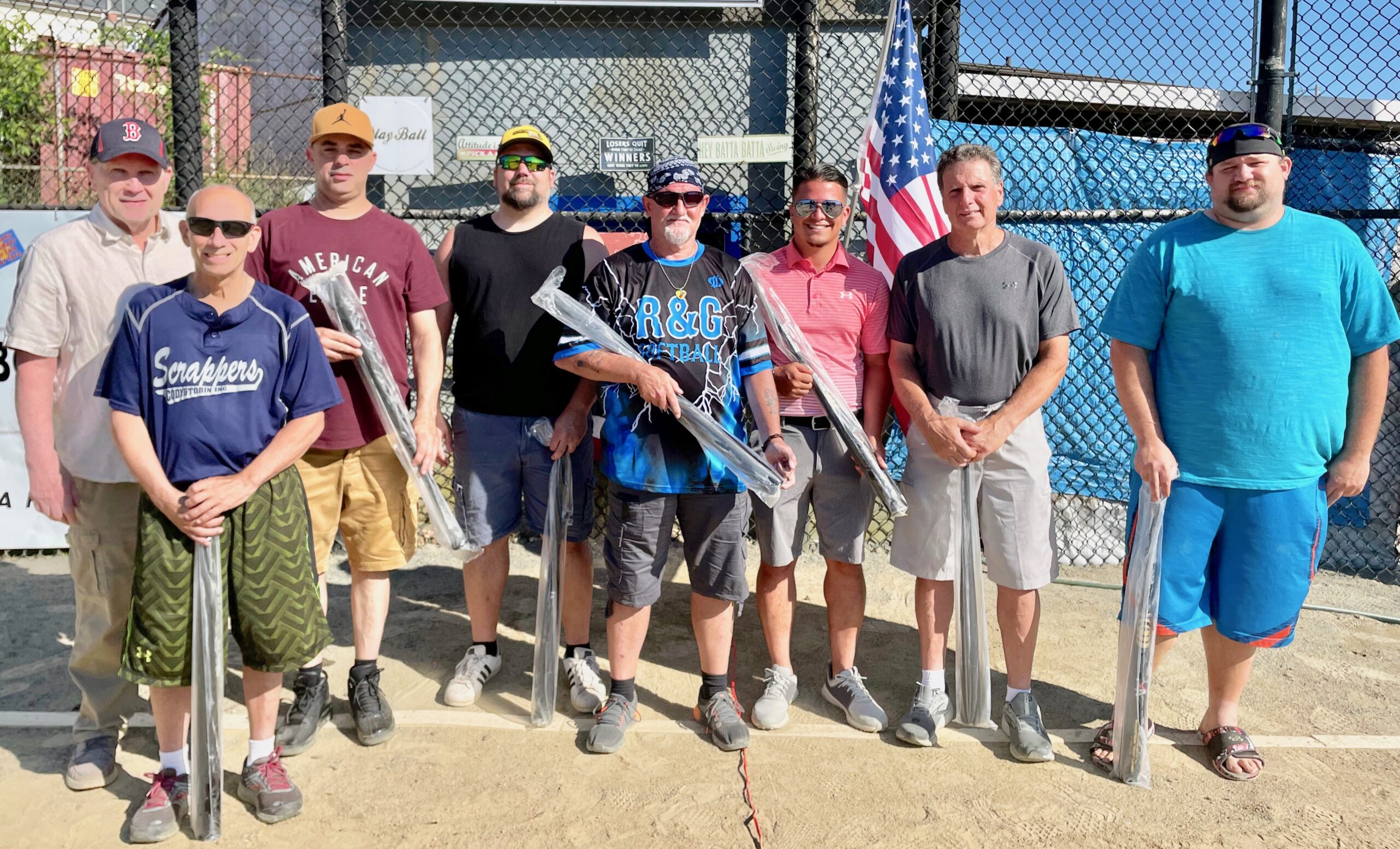 I WOULD LIKE TO ASK THE AUDIENCE TO HOLD THEIR APPLAUSE UNTIL ALL THE RECIPIENTS ARE
INDUCTED.BEFORE I START TO INTRODUCE THE 2022 SCSL
HALL OF FAME INDUCTEES
I WANT TO SAY THANK YOU TO AXIS BATS COMPANY OWNER LOU LEDOUX FOR HIS OUTSTANDING AWARD DONATION TO THE INDUCTEES-THANK YOU LOU. ALSO THE INDUCTEES WILL HAVE A THEIR NAME PLATE
ON THE SHED SCSL AWARD PLAQUE.
*****************
WHEN I SAY YOUR NAME COULD YOU PLEASE STAND:
OUR FIRST INDUCTEE CHRIS LaFONTAINE HAS BEEN MANAGING A TEAM IN THE LEAGUE ,PLUS PLAYING FIRST-BASE FOR MANY SEASONS. TEAM HAS WON MANY SPORTSMANSHIP AWARDS, TEAM ALWAYS MAKES THE PLAYOFFS-2017 CAPTURED THE DIV.3 CHAMPIONSHIP, HE HAS ALSO BEEN THE RECIPIENT OF THE MIB UMPIRES SPORTSMANSHIP AWARD. CHRI'S TEAM - HIM AS MANAGER HAS OVER THE SEASONS BEEN A PLUS TO THE SCSL. A TRUE GENTLEMEN WHO LOVES MANAGING AND PLAYING
THE GAME OF SLOW-PITCH SOFTBALL.
THUS IT IS AN HONOR TO WELCOME
CHRIS LAFONTAINE
INTO THE 2022 SCSL HALL OF FAME
A WELL DESERVED HONOR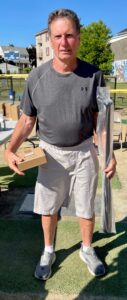 PLEASE STAND:
OUR NEXT 2022 SCSL HALL OF FAMER INDUCTEE
IS DON DISANTI. HE HAS PLAYED IN THIS LEAGUE FOR MANY,MANY SEASONS-ONE OF THE SCSL OLDEST PLAYERS. PLAYING OUTFIELD AND DOING A GREAT JOB ON DEFENSE(HAS A SURE GLOVE AND STILL HAS THE RUNNING SPEED.)TEAMS HE PLAYED FOR JIMMY's Z, PLUMBING SUPPLY, A1 PUB, GENTLEMEN"S QUARTERS AND NOW CODY & TOBIN SCRAPPERS.
HIS TEAMMATES ADMIRE HIM FOR HIS ALL OUT HUSTLE AND TREMENDOUS SPORTSMANSHIP ON THE PLAYING FIELD. HE HAS PERSONALLY CAPTURED SPORTSMANSHIP AWARDS . HE LOVES PLAYING THE GAME,HAS BEEN A LOYAL PLAYER TO THE SCSL. ALSO I FORGOT TO MENTION, IN HIS YOUNGER DAYS, HE DID POSSESS POWER AS A HITTER,NOW HE IS HAPPY WITH JUST THE BASE HITS. HIS MANAGERS MIKE "TURTLE"
REGO AND JOE TEIXEIRA WILL NOT LET HIM RETIRE.THEY KEEP TELLING HIM - DON YOUR TO YOUNG TO LEAVE THIS GAME OF SLOW-PITCH SOFTBALL. MY COMMENT TO DON-"YOU ARE A GREAT GUY". THANK YOU BEING A BIG PART OF THE SCSL.
IT IS MY HONOR TO WELCOME
DON DiSANTI
INTO THE 2022 SCSL HALL OF FAME
A WELL DESERVED HONOR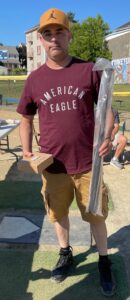 PLEASE STAND:
THE NEXT 2022 SCSL HALL OF FAMER INDUCTEE IS
TONY ARRUDA . HE HAS BEEN A MANAGER AND PLAYER IN THE SCSL FOR MANY,MANY SEASONS. HIS TEAMS HAVE ALWAYS PLAYED IN DIVISION 1, HE PLAYS FIRST BASE-TOUGH ON DEFENSE(GREAT GLOVE) AND A GOOD HITTER. 2014 LEAGUE & PLAYOFFS CHAMPS. IN 2015 TEAM FINISHED RUNNER-UP IN 2007-2012 -2018. TONY'S TEAM AND HIMSELF PERSONALLY HAS
CAPTURED MANY TEAM AND INDIVIDUAL SPORTSMANSHIP AWARDS FROM LEAGUE OFFICERS AND THE MIB UMPIRES. HIS PLAYERS LOVE PLAYING FOR HIM. HE IS A GREAT TEAMMATE-COMES TO PLAY-GIVES 100% HUSTLE ON THE FIELD AND IS A
VERY GOOD MANAGER. A PLUS FOR THE SCSL. A TRUE
 GENTLEMEN ON AND OFF THE FIELD.HE HAS DEMONSTRATED OVER THE SEASONS HIS LOVE OF PLAYING THE GAME OF SLOW-PITCH SOFTBALL. TONY'S TEAM AS OF TODAY IS THE TOP TEAM IN THE
NEW SCSL/AXIS WOODEN BAT NIGHT LEAGUE.
THUS IT IS AN HONOR TO WELCOME
TEAM MANAGER & PLAYER
TONY ARRUDA
INTO THE 2022 SCSL HALL OF FAME
A WELL DESERVED HONOR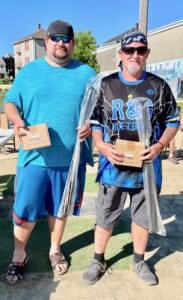 NOW I AM GOING TO COMBINE 2 HALL OF FAME INDUCTEES;
PLEASE STAND DALE LaCOMBE Sr.
DALE LaCOMBRE Jr. Accepting for His Uncle;
Postmortem : DAVID "ROCKY" LaCOMBE
YES BROTHERS-GREAT GUYS-LOVED THE GAME OF SLOW-PITCH SOFTBALL. BOTH PLAYED FOR MANY SEASONS IN VARIOUS AREA LEAGUES AND TOURNAMENTS.
DALE LACOMBE SR. , ALSO UMPIRED FOR AWHILE. HE PLAYED AND MANAGED. HIS BROTHER ROCKY(BEST KNOWN AS) ALSO PLAYED AND MANAGED. THEY ALWAYS HAD A SMILE ON THEIR FACE AND WERE TRUE SPORTSMENS ON AND OFF THE FIELD. THEIR BIG TEAM IN SCSL WAS IN THE SUNDAY MORNING LEAGUE - TEAM ST. JOHN'S CLUB . THEY WON MANY LEAGUE CHAMPIONSHIPS AND PLAYOFFS. ALSO DID GREAT IN PLAYING TOURNAMENTS. BOTH HAVE WON SPORTSMANSHIP UMPIRE'S AWARDS-MANAGER OF THE YEAR AWARDS. PLAYERS LOVED TO PLAY FOR THEM. WHY/ BECAUSE THEY KNEW THE GAME AND WHAT IT TAKES TO BE 
A CONSISTENT WINNER. THEY BROUGHT A LOT OF BUSINESS TO THE ST. JOHN'S CLUB. AFTER A WIN, THE TEAM DID KNOW HOW TO CELEBRATE.
ONE THING I WILL ALWAYS REMEMBER WAS WHEN DALE SR. APPROACHED ME AT THE FIELD ONE MORNING AND PRESENTED THE SCSL A NET DONATION IN "ROCKY'S NAME"TO ME THAT IS A GREAT BROTHER. NETTING WILL BE UP NEXT SEASON.
IT IS AN HONOR TO WELCOME
DALE LaCOMBE SR.
&
 POSTMORTEM - DAVID "ROCKY" LaCOMBE
INTO THE 2022 SCSL HALL OF FAME
A WELL DESERVED HONOR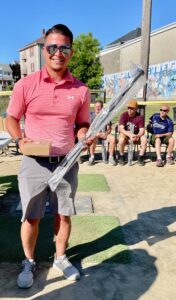 THE NEXT 2022 SCSL HALL OF FAME INDUCTEE IS
RICKY 'CHEEKS' PACHECO
PLEASE STAND: CHEEKS IS AN OUTSTANDING PLAYER ON DEFENSE AND OFFENSE. GREAT GLOVE AND GREAT HITTER.YOU NAME THE SLOW PiTCH LEAGUE-FALL RIVER, TIVERTON, BRISTOL, SOMERSET HE HAS PLAYED IN IT. STARTED IN THE SCSL 2009-(13 SEASONS).PLAYED FOR MANY LEAGUE AND PLAYOFF CHAMPION TEAMS-WE GOT THE RUNS,REVOLVE,FALL RIVER TATTOOS, ST. JOHN'S CLUB. HE HAS ACCUMULATED 5 LEAGUE MVP AWARDS AND 3 MVP PLAYOFF AWARDS.
IN VARIOUS TOURNAMENTS HE WAS MVP 4 TIMES.
EVERY TIME I SEE HIM PLAY, HE HAS A VERY COLORFUL UNIFORM. EVERY TEAM MANAGER IS AFTER HIM TO PLAY FOR THEIR TEAM. GREAT GUY ON AND OFF THE FIELD,ALWAYS HAS A SMILE. NO ARGUING WITH OTHER TEAM OR UMPIRES HE COMES TO PLAY AND ENJOY.
IT IS AN HONOR TO WELCOME
RICKY " CHEEKS" PACHECO
INTO THE 2022 SCSL HALL OF FAME
A WELL DESERVED HONOR

THE NEXT 2022 SCSL HALL OF FAME INDUCTEE IS
JUSTIN CARVALHO. HE IS A PLAYER AND MANAGER.
HIS TEAMS OVER THE SEASONS HAVE WON MANY LEAGUE & PLAYOFF CHAMPIONSHIPS IN NIGHT LEAGUE-FALL LEAGUE-SUNDAY MORNING LEAGUE.
TEAMS -WE GOT THE RUNS-REVOLV REAL ESTATE,F.R. TATTOOS.HE HAS WON AN MVP AWARD. HE IS A VERY GOOD PLAYER-FIRST BASE-AND HE CAN HIT THE LONG BALL. SOME GAMES HE WOULD SIT THE BENCH TO LET OTHERS PLAY.IN 2021 HIS TEAM FALL RIVER TATTOOS WERE UNDEFEATED IN THE SCSL NIGHT LEAGUE-BECAME THE FIFTH TEAM IN 59 SEASONS TO ACCOMPLISH THAT FEAT-
CONGRATULATIONS. HE IS A TRUE SPORT ON AND OFF THE FIELD,LOVES PLAYING THE GAME. OVER THE SEASONS HIS TEAM WAS A PLUS FOR THE LEAGUE-ONE OF THE TOP TEAMS ON OFFENSE AND DEFENSE IN SLOW PITCH SOFTBALL IN THE AREA.
IT IS AN HONOR TO WELCOME
JUSTIN CARVALHO
INTO THE 2022 SCSL HALL OF FAME
WELL DESERVED HONOR