DIV.1 - TEAM SAND DEMONS
*** MANAGER TOM ALVES ***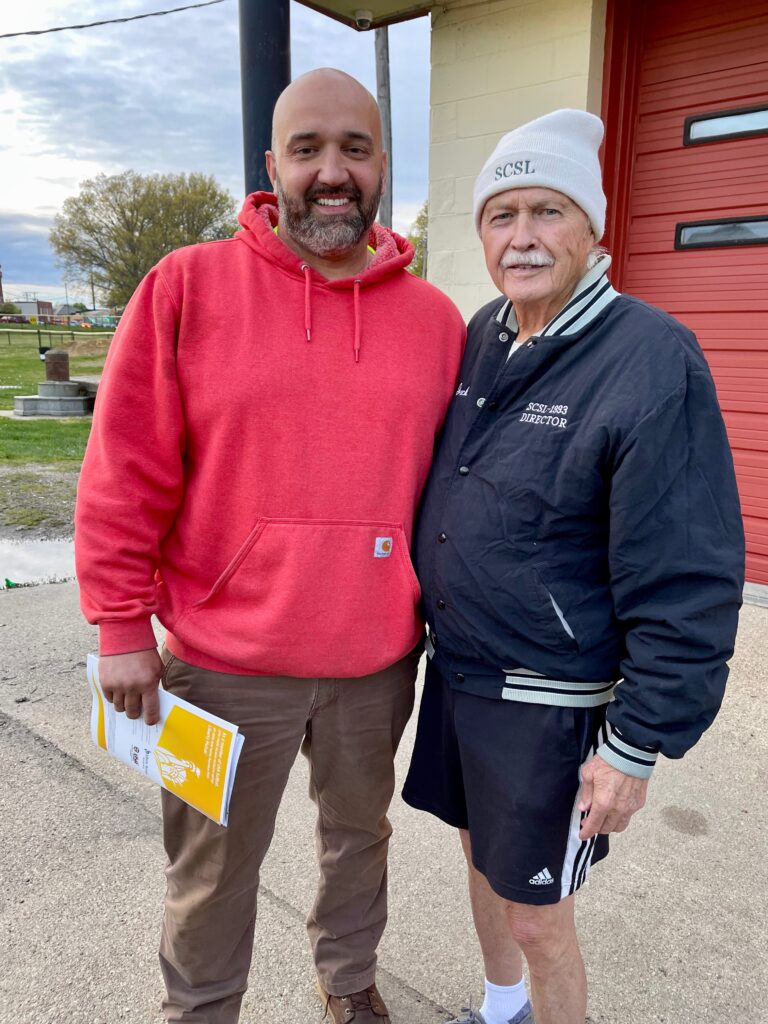 Tom Alves and Jack Hackett. He is the MGR. OF THE
TEAM SAND DEMONS . HE IS THE TEAM's PITCHER.
LAST SEASON HIS TEAM WON THE DIV.1
-PLAYOFFS. LEAGUE PLAY THE TEAM
WON; 18 & LOSS: 6.
TEAM PLAYERS ARE A PLUS FOR THE SCSL/AXIS.
GLAD TO HAVE THEM IN THE NIGHT LEAGUE.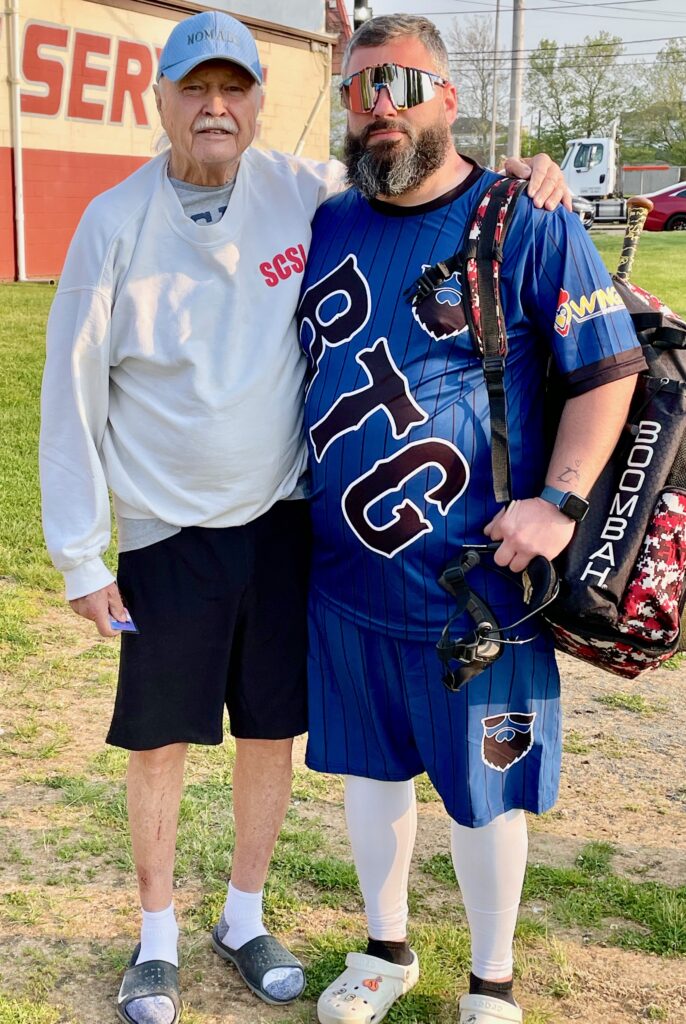 Jack with Manager Scott Beland
Scott Manages the TEAM
"RTG SOFTBALL"
Along with Fellow Manager
Dale LaCombe Sr.
Scott Loves the game ,he puts a lot into
getting the Sponsorship,Players and
the TEAM"S Sharp Looking Uniforms.
He is Especially Overjoyed that his SON
plays on the Team. 2022 the Team Won
the Div.2 Playoffs.SCSL Officers Enjoy
having theTeam compete in the
SCSL/AXIS NIGHT LEAGUE.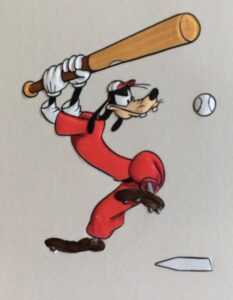 DOES NOT MATTER IF IT IS
A WOODEN BAT-
I AM STILL A
HOME RUN SLUGGER.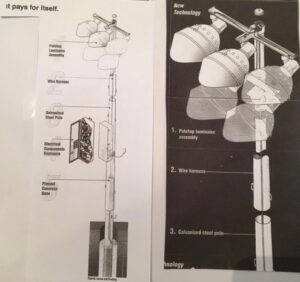 JACK & NATALIE AND
COMMITTEE MEMBERS
WON A $400,000 CPA GRANT
FOR A NEW METAL POLE
LIGHTING SYSTEM. JACK HAS
BEEN NOTIFIED OUR FIELD
IS NEXT TO GET DONE. GREAT
"ENJOY READING"
********************
FALL RIVER SCHOLARSHIP CITY SLOW PITCH SOFTBALL LEAGUE;
1963 — 2022 - 59 SEASONS
League First President /Organizer was Hall of Fame FastPitch Softball
Pitcher TED DARCY
I,Jack Hackett, got involved with the League in 1966 - I have been a Player, Team Sponsor,Team Manager, Umpire,Umpire/Chief,Area ASA (USA) Deputy Commissioner,Tournament Director. Officer Involvement
for 57 Seasons. I HAVE LOVED EVERY MINUTE OF IT.
League First Played - had No Lights - Used Liberal Field - Lower Kennedy Field - Abbot Court and Father Kelly Field. Play 1 Game/Evening. Mush Ball and Wooden Bats.
The most Teams the League had was 24 - 3 Divisions.There was No
Tiverton or Somerset League back then.
Over the 59 Seasons We have Loss 206 SCSL/AXIS FAMILY MEMBERS. I Personally had Contact with all of them. Great People.
Gone but Not Forgotten. A Great Big Thank You for the Success they brought to the League as Officers,Umpires, Managers, Players and Dedicated Fans. They are Missed."RIP"
HALL OF FAME 1977- 2022
*******************************
THE SCSL HALL OF FAME STARTED IN 1977(NOW 46yrs Later.)There is a Plaque on the Shed Door with all the Inductees-Tells the Story of This LEAGUE & ITS' SUCCESS - Now Going Into Its' 60th
SEASON.
INCLUDES GREAT OFFENSIVE & DEFENSIVE PLAYERS, SUCCESSFUL WINNING MGRS. TEAM PLAYER SPORTSMANSHIP, LEAGUE OFFICERS, AND OF COURSE LEAGUE UMPIRES . ALL THOSE WHO HAVE CONTRIBUTED TO MAKING THE LEAGUE A
GREAT SUCCESS OVER THE SEASONS.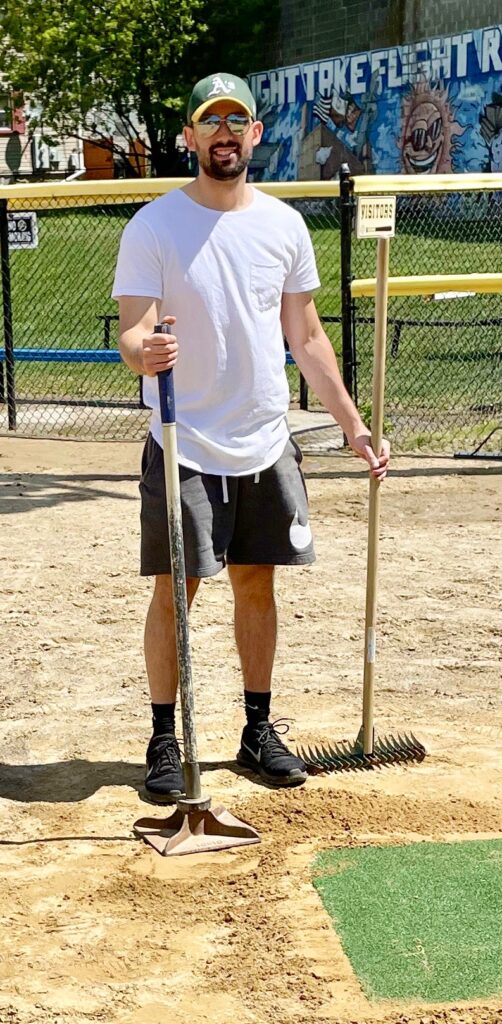 BRANDON ELLIS:
SCSL/AXIS MANAGER,PLAYER AND 2023 LEAGUE OFFICER.
HE IS THE MANGER OF THE TEAM;
UN-ATHLETICS.
HE ENJOYS RUNNING A TEAM AND
COMPETING WITH THE WOODEN BATS.
THE TEAM HAS WON MANY AWARDS -UMPIRE"S SPORTSMANSHIP
PLUS PLAYER SPORTSMANSHIP. DIRECTOR JACK HACKETT IS GLAD
TO HAVE HIM ON BOARD AS AN OFFICER. HERE HE IS WORKING ON
THE FIELD GETTING IT READY FOR THE SEASON.HE IS A PLUS FOR THE SCSL/AXIS LEAGUES.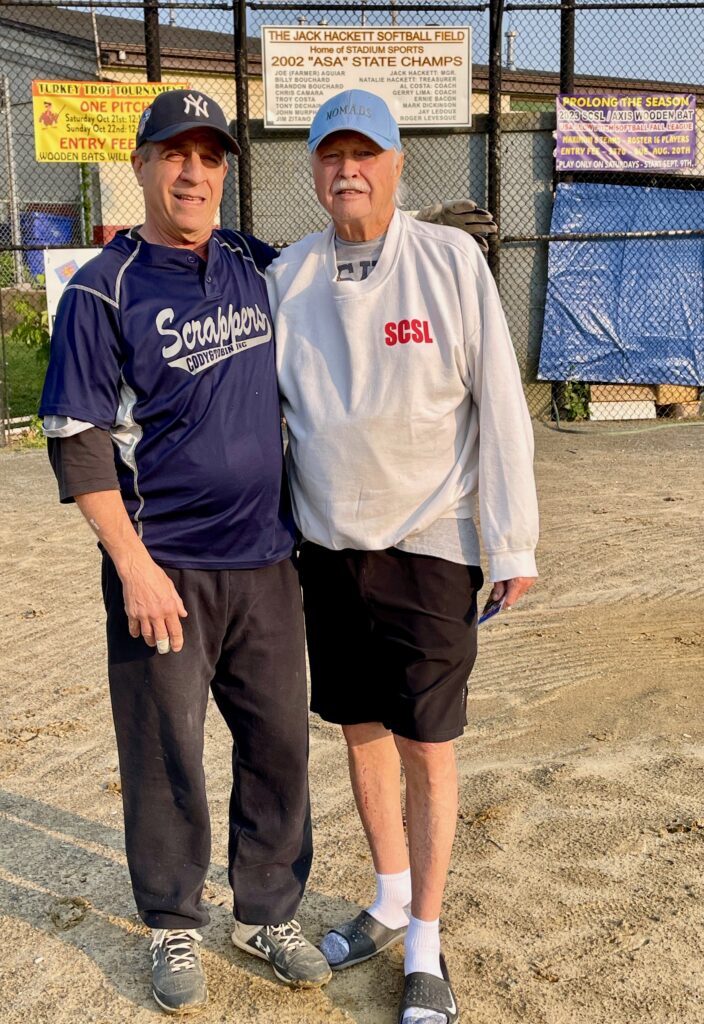 Mike "Turtle" Rego and Jack Hackett.
He loves going by the Name "TURTLE'.
He has been in the League for over 30 Seasons.
Mgrs. With Joe Teixeira- The SCRAPPERS
( Spectucular Painting).TURTLE and JOE were
Inducted into the SCSL Hall Of Fame
(2016)- WELL DESERVED. The Team has the
Oldest Players(50 & 60) Competing. They give
a 100% Hustle - Win or Lose They Enjoy
Playing the Game and the Competition.
The Team over the Seasons has Captured
Many AWARDS. The Teams a PLUS for
the LEAGUE.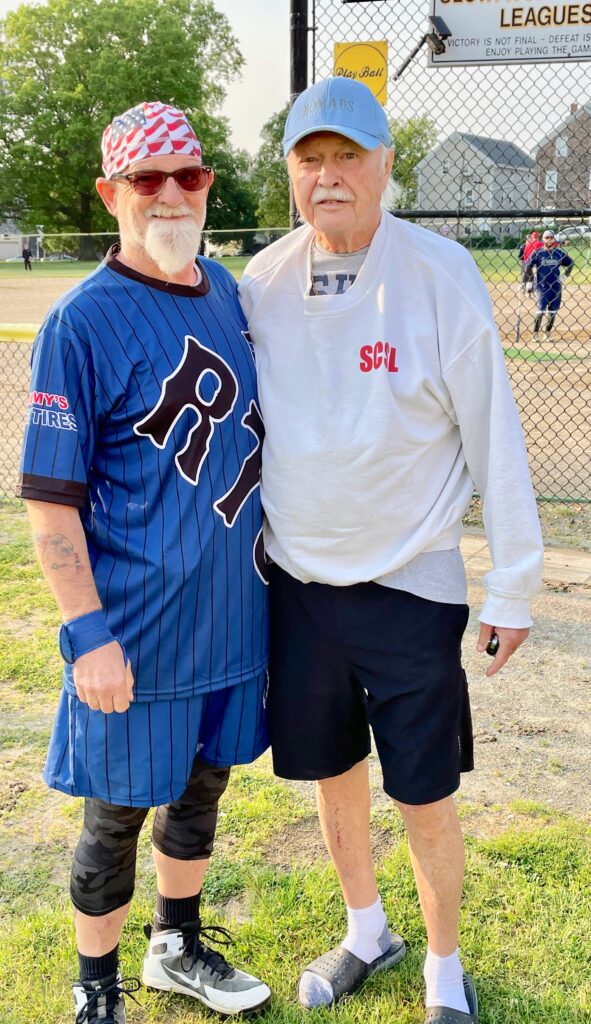 JACK with VETERAN Manager DALE LaCOMBE SR.
He has been a MANAGER, PLAYER AND ONE TIME
a GAME OFFICIAL. HE AND HIS LATE BROTHER
DAVID"ROCKY_ (Postmortem) were BOTH
INDUCTED the Hall Of Fame (2022).Their
Team ST. JOHN'S Club Were a Perennial
SUNDAY MORNING LEAGUE & PLAYOFFS
CHAMPS for many, many SEASONS.Another
highlight is that Now He is playing with his
Son Dale Jr. He Enjoys MANAGING with SCOTT
the "RTG SOFTBALL SQUAD"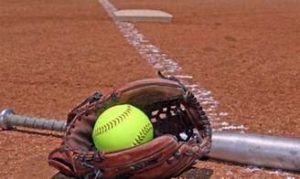 SLOW PITCH SOFTBALL
IS A GREAT GAME.
DEFENSE & OFFENSE
ANYTHING CAN HAPPEN.
ANY TEAM CAN WIN.

****GAME BALL****
CATCH-THROW-HIT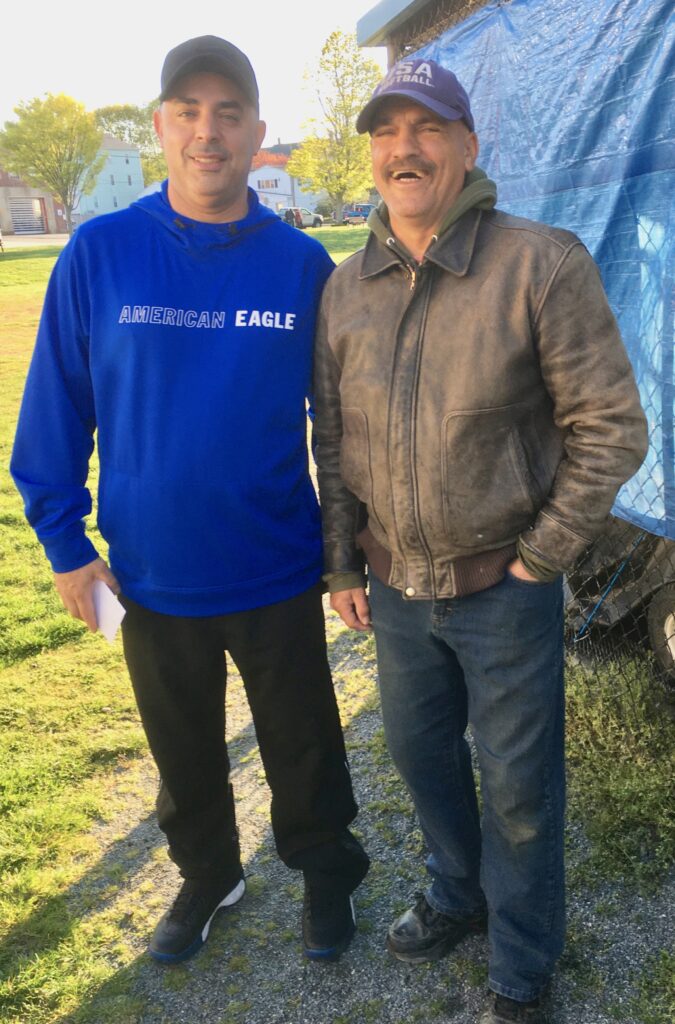 Manager Tony Arruda with SCSL/AXIS Officer
and Game Official Dave Botelho. Tony manages the
Team-Spectrum Lighting. Team has played in the
League for many, many Seasons. One of the Top
Squads.Team has Won Many Various Awards over
the Seasons. A Big Honor for Tony was his
Induction into the SCSL Hall Of Fame(2022) as
a Manager and Player. WELL DESREVED. He is
a Good Defensive First-Basemen and gets his Hits.
The Team comes to Play and Enjoy the GAME and
their Comrade with their TEAMMATES.
****************************************
Manager Joe(Tex) Teixeira of Scrappers.
He runs the Team with Mike'Turtle' Rego
He plays Infield and does a Good Job.
He loves playing the Game. He is liked by all
his Teammates. In 2016 he was Inducted into
the SCSL HALL OF FAME. A Well Deserved
Honor. Mike and Joe have the Oldest Team
(AGE WISE) in the League. The Team does its'
SHARE of Winning Game. The Team has been
in the SCSL for Many,Many Seasons.
TURLE ,TEX AND THE PLAYERS ARE
a PLUS for the LEAGUE.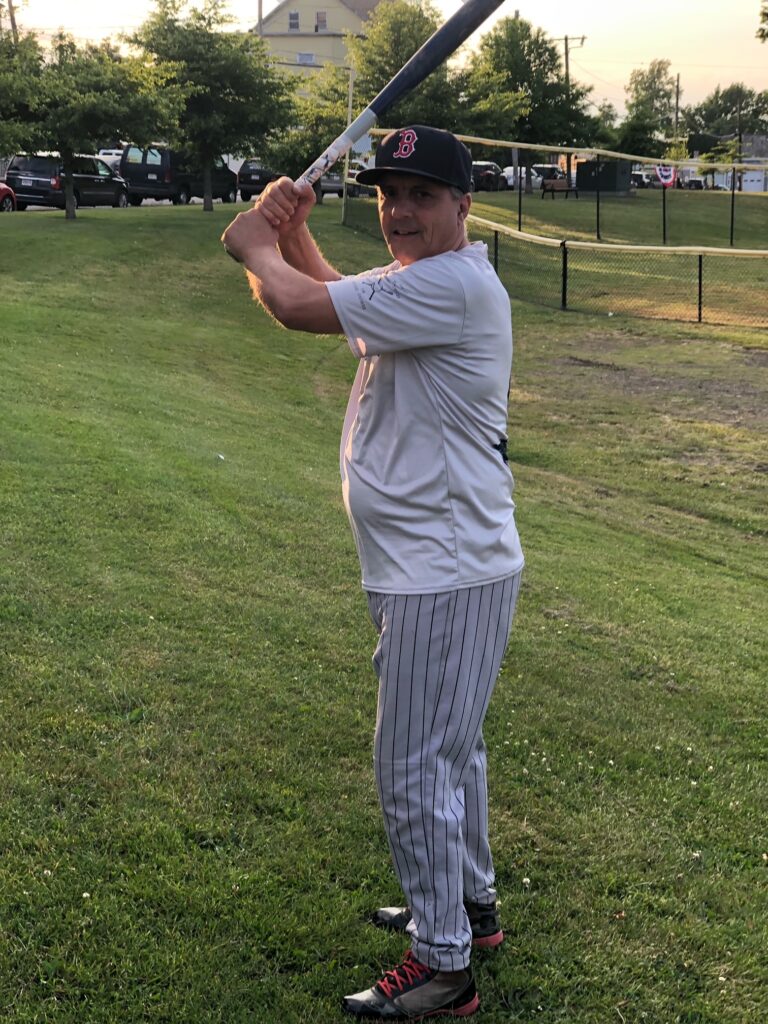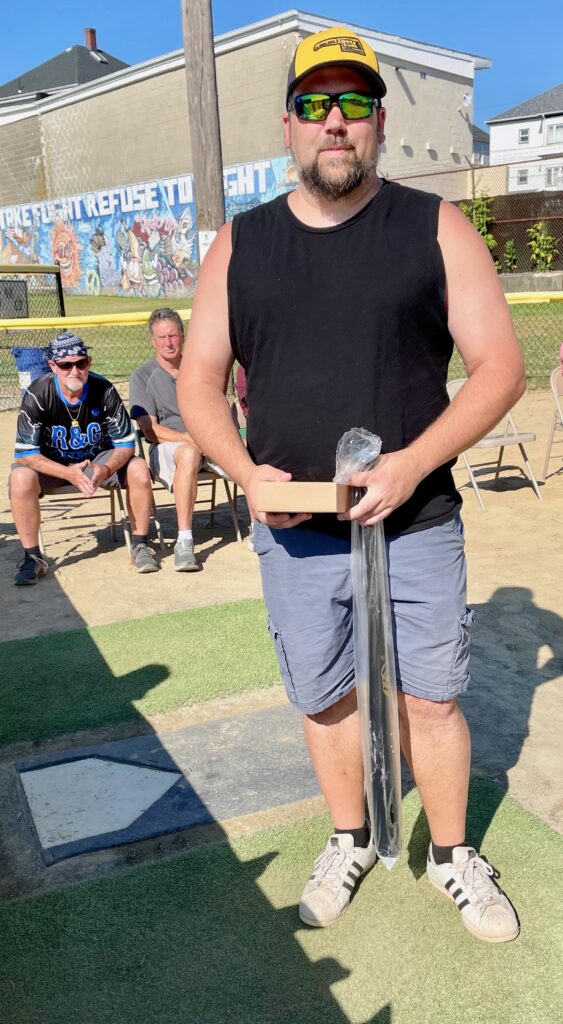 Manager Ray Missildine with
Director Jack Hackett. Ray is
the Manager of the TEAM
; AXIS BATS-ONE of the Top
Teams in the SCSL/AXIS NIGHT LEAGUE.
In 2022 Team was 18-6.Played
Great Softball on Defense and Offense.
The Team also was VICTORIOUS in
Tourney Play. A Great Bunch
of Nice Guys come to Play
and ENJOY THE GAME.
Team is a PLUS for the League.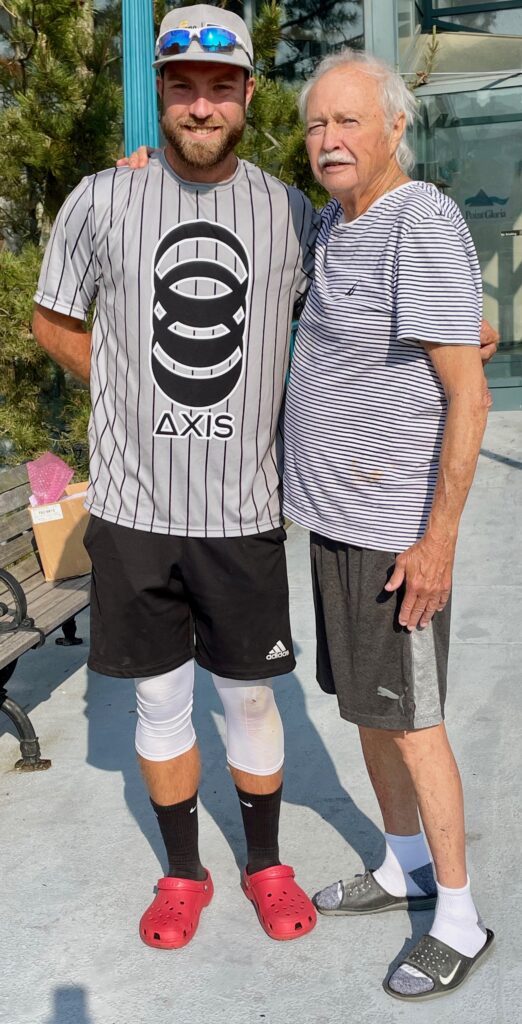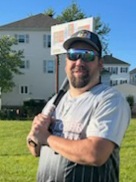 Manager Chris LaFontaine-Manager of the Team Butcher Shop.
Chris Has been in the League for many, many Seasons.
Team has won Various Awards-Champs-Sportsmanship, etc.
His Biggest and Most Meant Award was his INDUCTION into
the SCSL HALL OF FAME (2022)-WELL DESERVED.THIS SEASON
He has become A LEAGUE OFFICER (2023) -GREAT- A PLUS FOR THE LEAGUE.
Chris loves playing the Game, as a PLAYER and MANAGER HE
gives 100% HUSTLE. His TEAM PLAYERS Enjoy being his
TEAMMATE. WIN OR LOSE THEY HAVE FUN.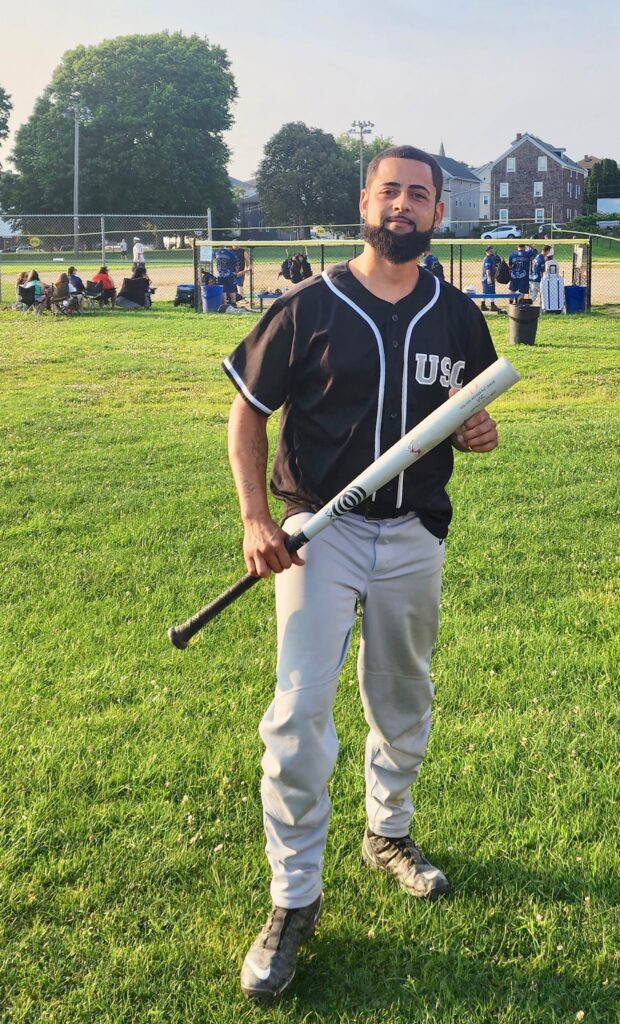 Manager Russell Tavares-HIS SCSL/AXIS NIGHT
TEAM IS (USC)-UNIQUE STYLES CONSTRUCTION.
TEAMS FIRST SEASON IN THE LEAGUE-PLAYERS
MOSTLY OUT OF THE NEW BEDFORD AREA. RUSS
STATES THEY ARE ENJOYING THE WOODEN BAT
LEAGUE-VERY COMPETITIVE. PLAYERS GIVE 100% HUSTLE
WIN OR LOSE. DIRECTOR JACK HACKETT IS HAPPY THE TEAM
JOINED THE LEAGUE.
MANAGING A TEAM
IS ALOT OF WORK
BUT ENJOYABLE!!!
HEY GUYS, LISTEN UP.
THIS IS THE LINEUP FOR
TODAY'S GAME. LET'S WIN IT.
TODAY IS OUR DAY
LET'S GET A VICTORY.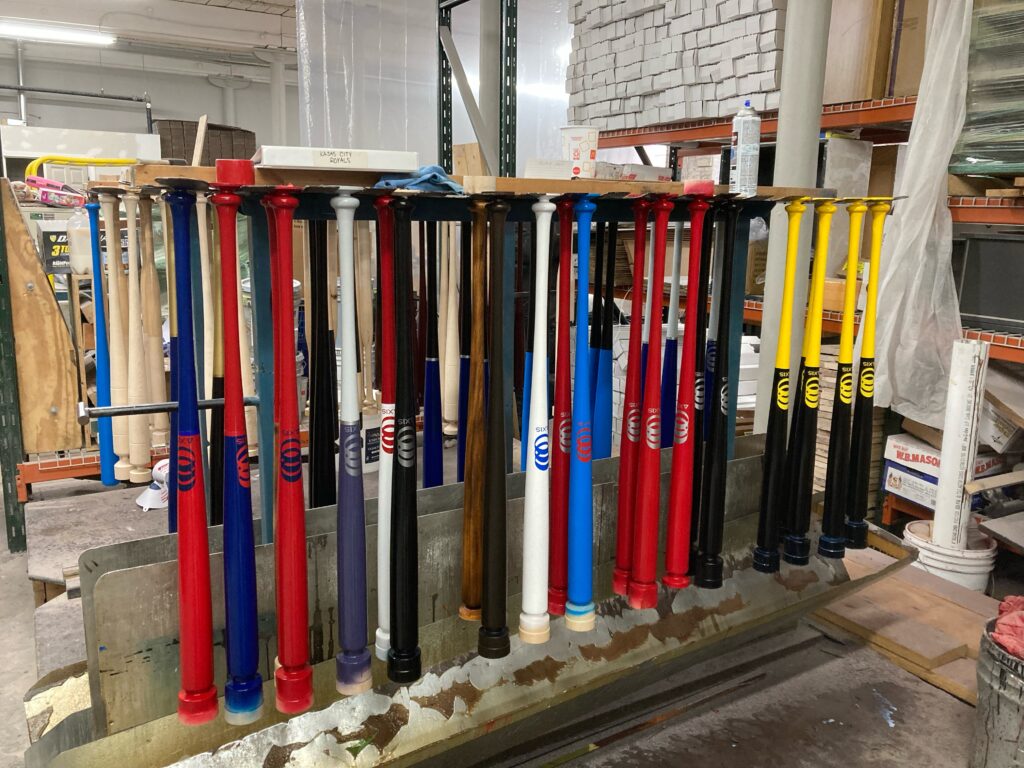 WOODEN BAT LEAGUES
NIGHT & SUNDAY MORNING
GAMES ARE MUCH MORE
COMPETITIVE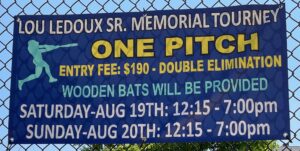 HONORING OWNER
LOU LEDOUX SR. OF
AXIS BAT CO.
IT IS A ONE-PITCH
TOURNEY. ANY TEAM CAN WIN.
PUT YOUR TEAM IN IT - HAVE SOME FUN.
THE AWARDS ARE OUTSTANDING.
2 ENGRAVED BATS-4 TEAM TROPHIES-
4 MVP AWARDS
SPONSORING IS HIS SON AND NOW OWNER
OF AXIS BASEBALL & SOFTBALL BATS LOU LEDOUX.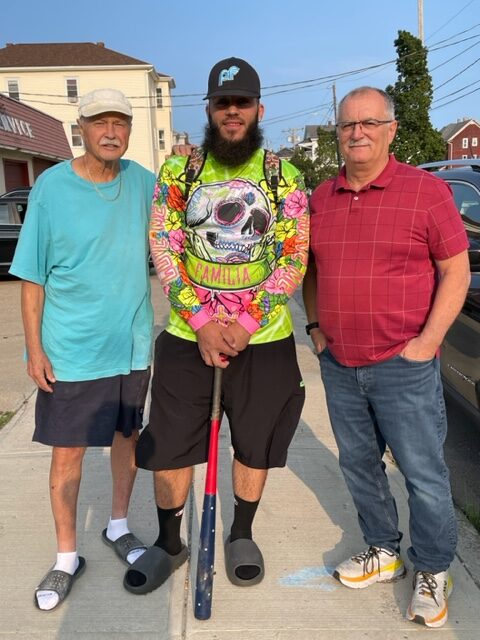 LEAGUE OFFICERS JACK HACKETT AND BILL
SANTOS AND MIB UMPIRES WITH RYAN"MOOSE"
FRAZIER (COLORFUL JERSEY). GOOD NEWS -
MOOSE WHO WAS AN MIB GAME OFFICIAL
A FEW SEASONS AGO HAS TOLD JACK AND BILL
HE WOULD LIKE TO RETURNN TO UMPIRING THE
GAMES IN 2024;
HE IS WELCOMED, HE DID A GOOD JOB WHEN
HE UMPIRED.
MOOSE IS ONE OF THE TOP PLAYERS IN
THE AREA ON OFFENSE AND DEFENSE.
HE iS A SCSL HALL OF FAMER ALONG WITH
HIS DAD.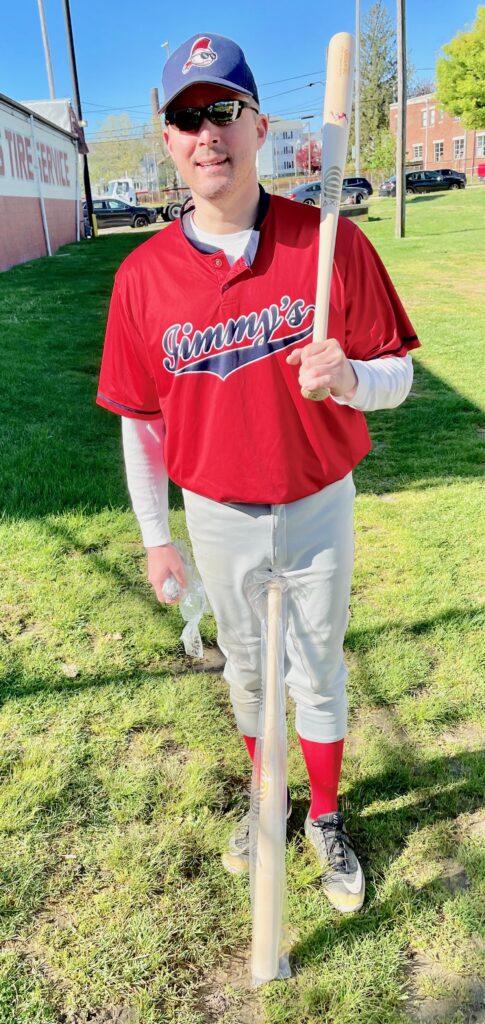 MANAGER & LEAGUE OFFICER
***** ERIK THOMPSEN *******
Erik is now the Manager of the Team-
Horsemen in the Sunday Morning
Wooden Bat League.His Teams have
Won Many Team Awards (Jimmy's Used Tires).
Erik Also Plays Night & Fall League
He is a Top Defensive And Offensive Player.
Inducted into the SCSL Hall Of Fame in 2020.
WELL DESERVED. HE IS A TRUE GENTLEMEN.,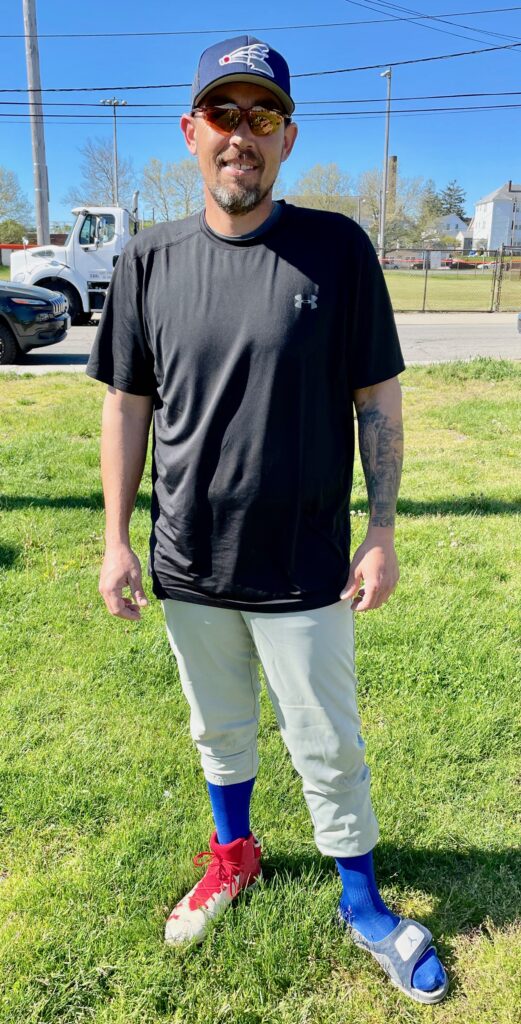 MANAGER ANGELO RAPOSO
TEAM- SOX-SUNDAY MORNING SCSL/AXIS
WOODEN BAT LEAGUE. THIS IS ANGELO'S
FIRST SEASON OF MANAGING. TAKING OVER
THE TEAM DETAILED REFLECTION. THIS TEAM
HAS BEEN IN THE LEAGUE FOR 4 SEASONS. EACH
SEASON THEY CAPTURE THE UMPIRE'S
SPORTSMANSHIP AWARD.
TRUE GENTLEMEN ON AND OFF THE FIELd.
THE TEAM HAS STRUGGLED, BUT THEIR
ATTITUDE IS-DON'T GIVE UP-PLAY THE GAME
-WIN OR LOSE-ENJOY
THE COMRADE WITH YOUR TEAMMATES.
ANGELO IS THE DRIVING FORCE BEHIND THIS.
HE IS A WELCOME ADDITION TO THE SCSL/AXIS LEAGUE.
Director Jack Hackett