HELLO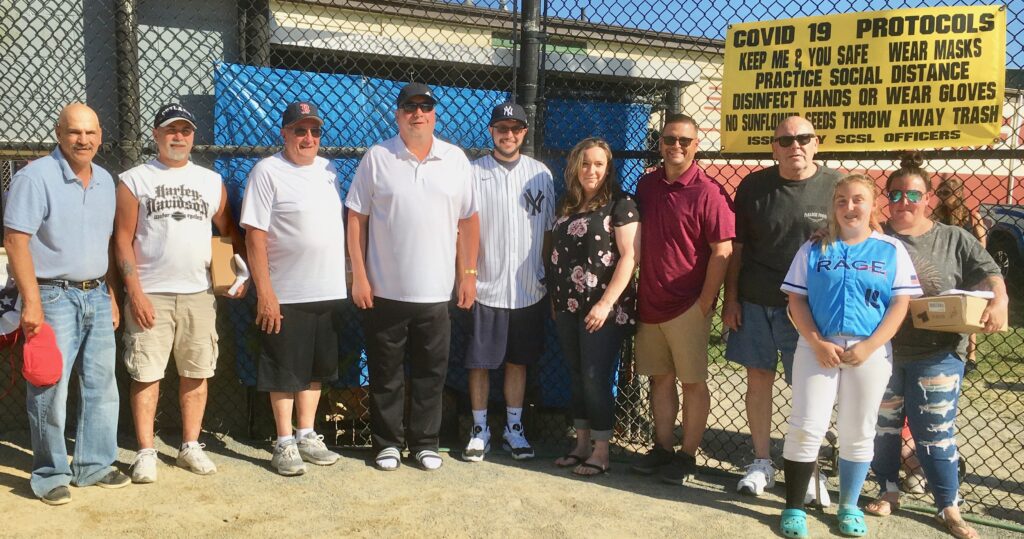 THE 2021 -( INDUCTEES TO THE SCSL "HALL" OF "FAME
************ HONOR WELL DESERVED *****************
Dave Botelho , Jeff Camara , Al "Scoop' Costa, Bruce Vancour, Tim Forcier, Renee and Barry Petrin, Jay'Boomer' Machado, Representing Glen Machado(Postmortem) Daughter Megan DeMello and Grand-Daughter Abby DeMello
THE HIGHLIGHT OF THIS SCSL AWARD CEREMONY IS THE 9 NEW INDUCTEES INTO
THE 2021 SCSL HALL OF FAME
I WOULD LIKE TO ASK THE AUDIENCE TO HOLD THEIR APPLAUSE UNTIL ALL
THE RECIPIENTS ARE INDUCTED.
OUR FIRST INDUCTEE AL COSTA HAS BEEN INVOLVED IN SLOW PITCH SOFTBALL FOR ABOUT 30 SEASONS. FIRST OF ALL HE IS ONLY KNOWN AS "SCOOP". THAT SHOULD TELL YOU HIS FAVORITE POSTION WAS FIRSTBASE_WHERE HE SCOOPED ALL THROWS TO HIM. GREAT ON DEFENSE AND GOT THE BIG HIT WHEN NEEDED.HE STARTED PLAYING THE GAME IN SOMERSET (TEAM PATRIOTS).THEN THE SCSL WITH GLENNS AND SAWYERS. THEN HE ENDED UP IN THE TIVERTON LEAGUE WITH BENJAMINS FOR 10 SEASON AS THE TEAMS CAPTAIN. THEN MYSELF UMPIRING IN TIVERTON RECRUITED AL TO PLAY SEVERAL SEASONS FOR THE OVER "40" TEAM STADIUM SPORTS.HE PLANNING TO PLAY UNTIL "70". I MANAGED FOR OVER 40 SEASONS AND SCOOP WAS ONE OF MY FAVORITE PLAYERS AND TEAMMATE. ALL THE TEAMS HE PLAYED FOR WON CHAMPIONSHIPS. HIS TEAMMATES LOVED PLAYING WITH HIM, HE ACTUALLY BECAME THE PEACEMAKER ON ALL THE TEAMS. ALSO WHAT WAS GREAT HE LOVED HAVING A FEW BEERS AFTER THE GAMES WITH HIS FELLOW PLAYERS AND THE OPPOSING TEAM.
***THUS IT IS AN HONOR TO WELCOME AL SCOOP" COSTA ****
.INTO THE SCSL HALL OF FAME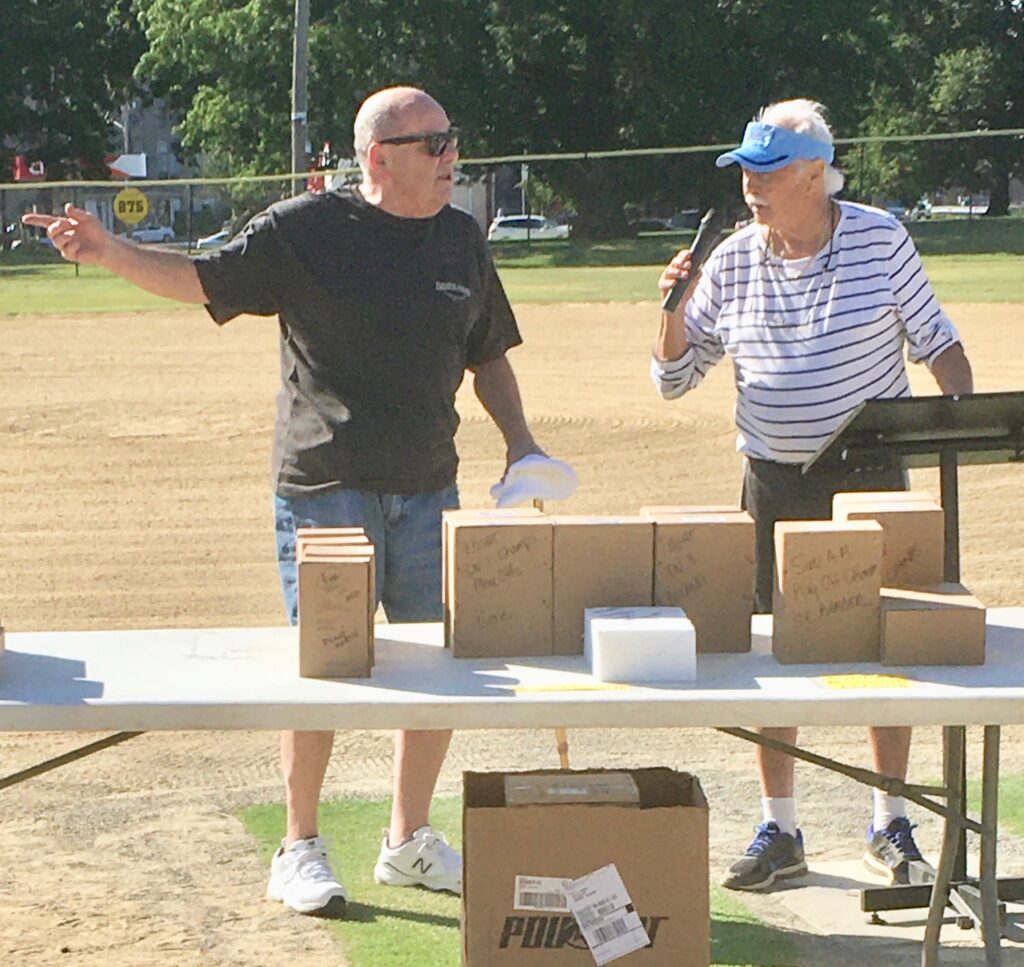 THE NEXT 2021 SCSL HALL OF FAMER
JAY " BOOMER" MACHADO
HE STARTED PLAYING IN THE SCSL IN THE LATE 70"S. AS HIS MIDDLE NAME TELLS YOU HE WAS AN OUTSTANDING POWER HITTER. HOME RUNS HE SURE COULD HIT. JAY PLAYED FIRST BASE-TOP DEFENSIVEPLAYER. HE PLAYED FOR ROGERS CONEY ISLAND,GIANTS,BUT HIS BIGGEST AND BEST TEAM WAS THE NOMADS. IN 1982 HE LED HIS TEAM TO A 25-0 RECORD (UNDEFEATED). IN 57 SEASONS ONLY 2 TEAMS HAVE GONE UNDEFEATED. HE WAS ALSO THE LEAGUES MVP. HIS NOMAD TEAM WENT ON TO WIN MANY TRAVELING TOURNAMENT AND HE WAS ALWAYS VOTED THE MVP. A TREMENDOUS TEAMMATE AND HE LOVED PLAYING THE GAME. HE FLEW UP FROM FLORIDA TO BE HERE NOT ONLY FOR HIS AWARD BUT FOR THE INDUCTION OF HIS LOVING BROTHER GLEN MACHADO (WHO PAST AWAY AT A YOUNG AGE)
THUS IT IS AN HONOR TO WELCOME JAY "BOOMER" MACHADO
INTO THE SCSL HALL OF FAME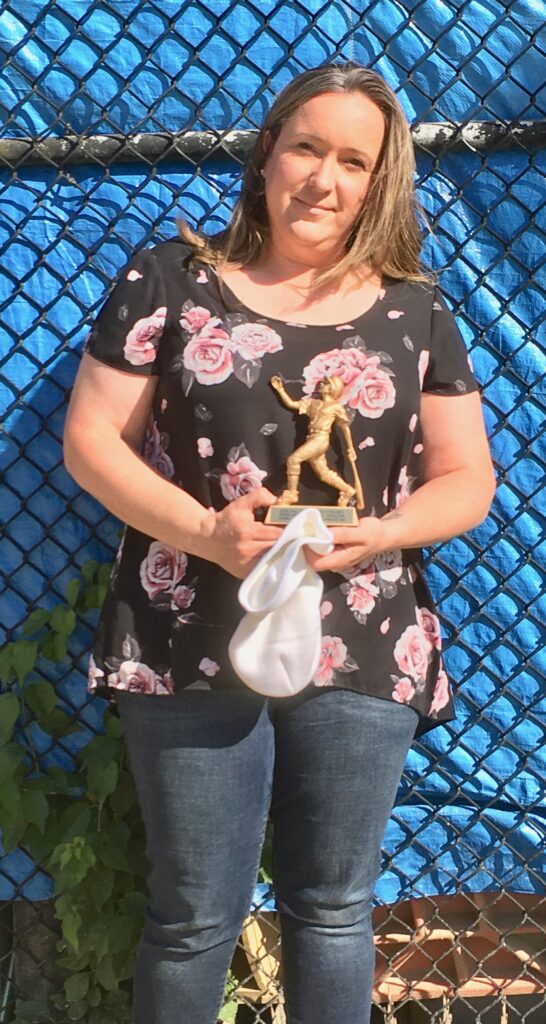 THE NEXT 2021 SCSL HALL OF FAME INDUCTEE IS
RENEE"ROBERTS" PETRIN
RENEE PLAYED CO-ED AND THE LADIES TEAM THE STINGERS (TOP TEAM IN MA.) WON NUMEROUS TOURNAMENTS. SHE PLAYED THE OUTFIELD.PLAYED FOR 15 SEASONS WAS SELECTED MVP IN REGIONAL TOURNEYS IN 2002 AND 2011. ALSO SELECTED ALL TOURNEY TEAM PLAYER IN 2002 AND 2011. WON COACHES AWARD IN 2001. MGR, WAS ROGER LAFERREIR ONE OF THE FOUNDERS OF THE SCSL IN 1063.SHE LOVED PLAYING THE GAME AND BEING WITH HER TEAMMATES. SHE WAS A PLUS TO THE GAME OF SOFTBALL. A VERY NICE PERSON,
IT IS AN HONOR TO WELCOME RENEE" ROBERTS" PETRIN
INTO THE SCSL HALL OF FAME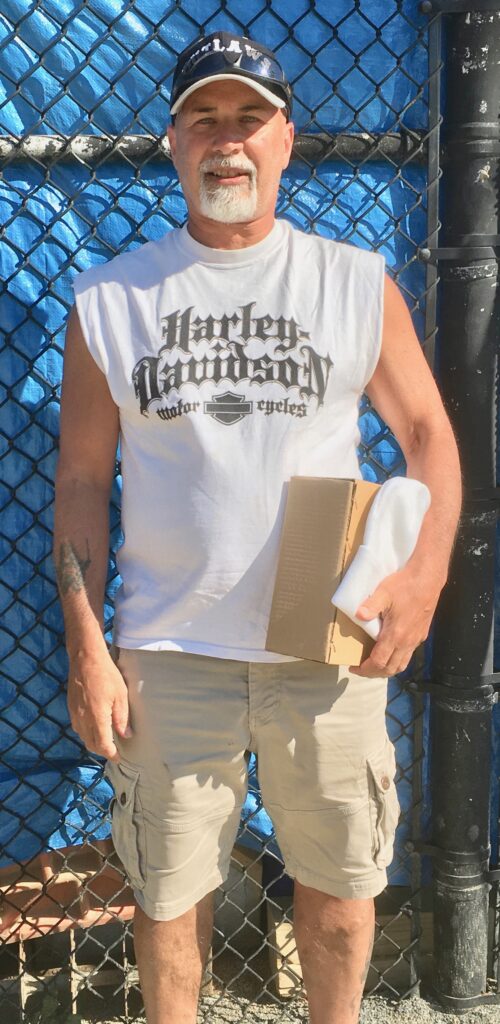 THE NEXT 2021 SCSL HALL OF FAME INDUCTEE IS
JEFF CAMARA
JEFF STARTE PLAYING WHEN HE WAS 17yrs.old-PLAYED FOR 33 SEASONS.HE LOVED EVERY BIT OF IT. HE PLAYED IN SOMERSET, BRISTOL AND SCSL IN FALL RIVER.TEAMS REGAL FLOORS, SOMERSET LODGE AND STADIUM SPORTS.PLAYED THE INFIELD, STRONG DEFENSIVE PLAYER AND A GREAT HITTER. IF NEEDED HE PLAYED OTHER POSITIONS AND HE WAS GOOD AT THOSE POSITIONS. HIGHLIGHT OF HIS CAREER WAS PLAYING FOR THEWON 4 STAT CO-ED TEAM THE OUTLAWS. WON 4 STATE TOURNEYS. MGR. ED SOUSA. HE ALSO WAS INVOLVED IN WINNING 2 MENS STATE TOURNAMENTS. HE WAS A SPARK PLUG ON ALL THOSE TEAMS . HE GAVE A 100% EFFORT. A GREAT TEAMMATE , PLAYERS LOVED HIS ALL OUT HUSTLE ON THE PLAYING FIELD. HE ENJOYED MAKING NEW FRIENDS WITH THE OPPOSING PLAYERS. HE WAS SO HAPPY WHEN HIS SON STARTED TO PLAY THE GAME. HE GOT A CHANCE TO PLAY ALONG SIDE HIM. HIGHLIGHT FOR ANY DAD. I WOULD LIKE TO SA AS ONE OF HIS MGRS. IT WAS GREAT TO HAVE HIM AS A TEAMMATE AND A GOOD FRIEND.
THUS IT IS AN HONOR TO WELCOME JEFF CAMARA INTO THE SCSL HALL OF FAME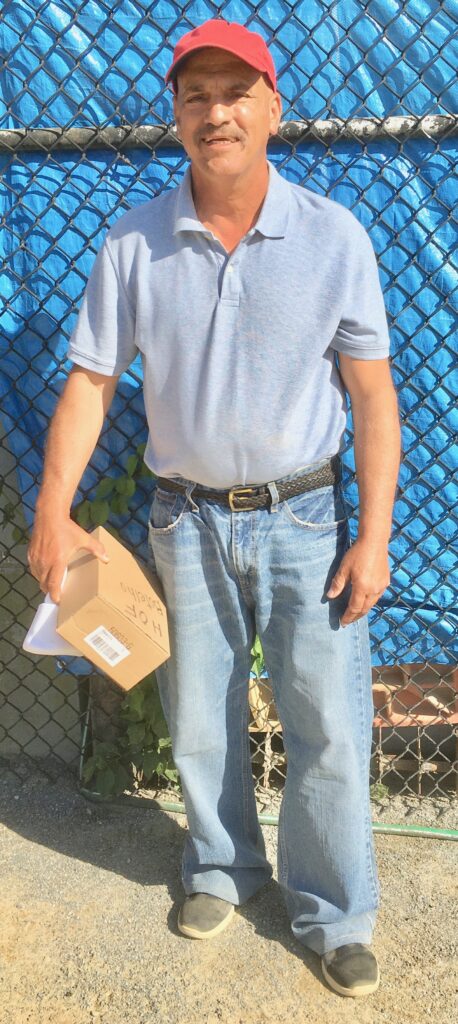 THE NEXT 2021 SCSL HALL OF FAME INDUCTEE IS
DAVE BOTELHO
DAVE PLAYED SOFTBALL FOR 28 SEASONS,HE WAS A SHORTSTOP. ONE SEASON HE WON THE GOLDEN GLOVE AWARD AND TWICE DEFENSIVE PLAYER OF THE SEASON. HE PLAYED IN THE NEW BEDFORD AREA LEAGUES. IN 1992-1993-1994 HIS TEAMS WON VARIOUS LEAGUE CHAMPIONSHIPS. THE TEAMS HE PLAYED FOR LEBEAU'S TAVERN , PIRATES , AND MEDERIA CLUB.HE WILL ALSO ENTER THE SCSL HALL OF FAME AS A LEAGUE OFFICER (A VERY GOOD ONE) AND AS A MEN-IN-BLUE USA GAME OFFICIAL. HE UMPIRES TIVERTON, SCSL, HIGH SCHOOL AND RECREATIONAL LEAGUES. RETIRED AS A PLAYER HE NOW LOVES UMPIRING AND GIVES A 100% HUSTLE.
THUS IT IS AN HONOR TO WELCOME DAVE BOTELHO INTO THE SCSL HALL OF FAME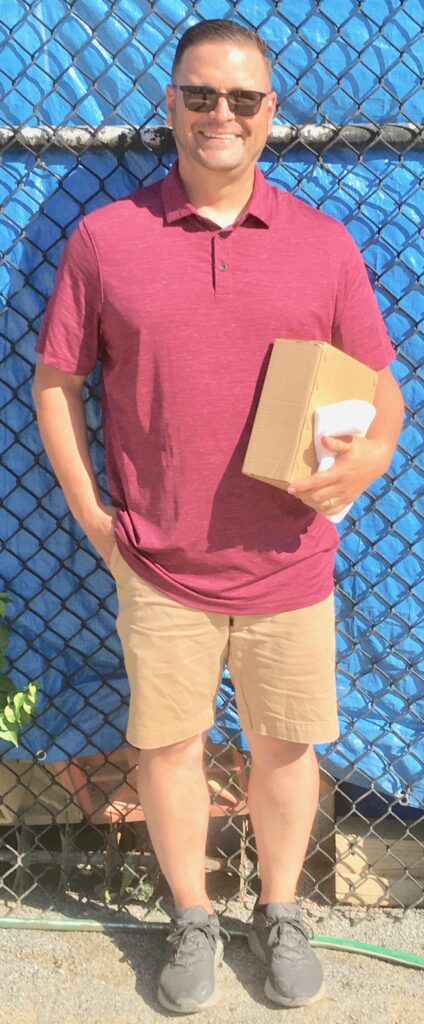 THE NEXT 2021 SCSL HALL OF FAME INDUCTEE IS
BARRY PETRIN
HE STARTED PLAY IN THE SCSL IN THE 80'S PLAYING FOR HIS DAD GEORGE PETRIN (WHO WAS A LEAGUE DIRECTOR AND TEAM MGR). TEAM WAS THE TIC TOC CAFE. HE HAS PLAYED THE GAME FOR MANY SEASONS.HE HAS ALSO PLAYED IN THE SOMERSET LEAGUE. HE DID SOME USA UMPIRING.
A TOP NOTCH DEFENSIVE PLAYER AND CAN CRACK THE LONG BALL. ALSO GREAT SPEED RUNNING THE BASES. A GREAT TEAMMATE AND A TRUE SPORTSMEN ON AND OFF THE FIELD. A REAL NICE GUY. HE PLAYED ALSO CO-ED FOR MGR. PETER SZADY. IT WAS A GREAT TEAM. IT WAS DURING CO-ED PLAY THAT HE MET HIS WIFE RENEE ROBERTS. BARRY, HIS WIFE AND DAD — ALL INDUCTED INTO THE SCSL HALL OF FAME —WOW, THUS IT IS AN HONOR TO WELCOME BARRY PETRIN & WIFE INTO THE SCSL HALL OF FAME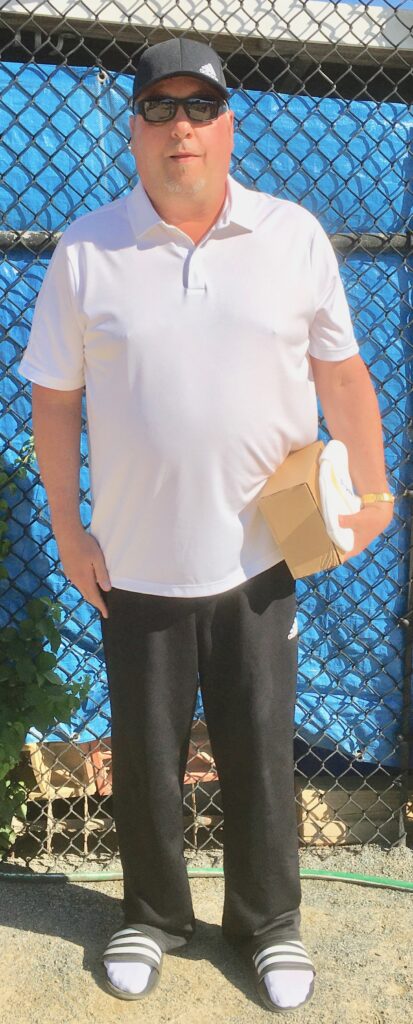 THE NEXT 2021 SCSL HALL OF FAME INDUCTEE iS
BRUCE VANCOUR
BRUCE HAS BEEN INVOLVED WITH THE GAME OF SLOW PITCH SOFTBALL SINCE 1983 (38 SEASONS HE PLAYED FOR 16 Seasons-HE WAS CAPTAIN OF SOME OF THE TEAMS AND MGR. 3 TEAMS- ACUSHNET CO., REDWOOD SALOON AND CAPPYS IN THE NB. WORKMEN'S LEAGUE. WHEN HE RETIRED FROM PLAYING HE WENT INTo UMPIRING IN 2004 FOR USSSA AND USA. HE UMPIRES IN VARIOUS LEAGUES TIVERTON, SCSL, SOMERSET AND TAUNTON.2021 WILL BE BRUCE"S 18th. SEASON IN BEING A GAME OFFICIAL. AS UMPIRE/CHIEF OF THE SCSL I WAS VERY IMPRESS ON THE GREAT JOB HE DOES CALLING THE GAME, HUSTLING AND MOST IMPORTANT CONTROLLING THE GAME - A JOB WELL DONE BY HIM. I WAS AGAIN IMPRESS THE OTHER NIGHT WHEN I WAS AT THE FIELD TO PAY THE UMPIRES. HE PARKED,OPEN THE TRUNK TOOK OUT HIS UMPIRING SHOES AND POLISHED THEM. BEING A VERY GOOD GAME OFFICIAL STARTS WITH APPEARANCE, LOOK LIKE AND UMPIRE ***** BRUCE KNOWS THAT.
THUS IT IS AN HONOR TO WELCOME BRUCE VANCOUR INTO THE SCSL HALL OF FAME.
**********************************************************************************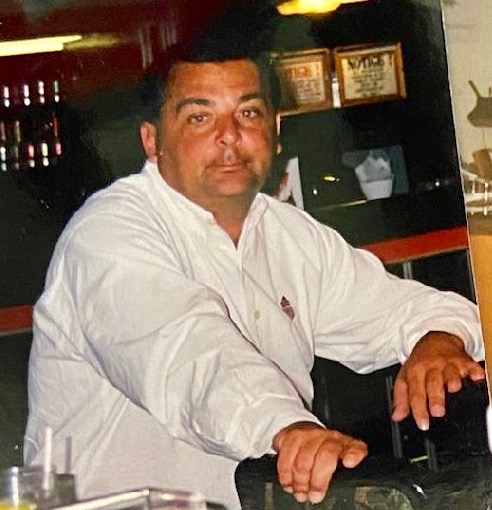 THE NEXT 2021 SCSL HALL OF FAME INDUCTEE IS
GLEN MACHADO (POSTMORTEM)
THE SCSL SOFTBALL FAMILY LOST GLEN AT A VERY YOUNG AGE. HE ENJOYED PLAYING THE GAME OF SLOW PITCH SOFTBALL. HE LIKED TO PITCH BUT COULD PLAY ALL THE OTHER POSITIONS. GREAT ON DEFENSE AND A VERY GOOD HITTER, ESPECIALLY WHEN A TEAM NEEDED IT. HE LOVED PLAYING WITH HIS BROTHER JAY, HAD 2 GREAT BALLPLAYERS ON THE SAME TEAM. AS STATED THEY WON MANY LEAGUE CHAMPIONSHIPS AND OF COURSE THEY AND THEIR TEAMMATES LOVED WINNING THE AREA TOURNAMENTS. GLEN WAS ALSO AN OUTSTANDING BASKETBALL PLAYER AT DURFEE HIGH SCHOOL COACHED BY SKIP KARAM.
HE IS MISSED BY ALL WHO HAD KNOWN HIM,
BUT WILL NOT BE FORGOTTEN BY FAMILY,
FRIENDS AND TEAMMATES.
RIP.
THUS IT IS AN HONOR TO HAVE HIS DAUGHTER MEGAN DEMELLO AND GRAND DAUGHTER ABBY DEMELLO 
 ACCEPT GLEN'S AWARD AND THUS WELCOME HIM INTO THE SCSL HALL OF FAME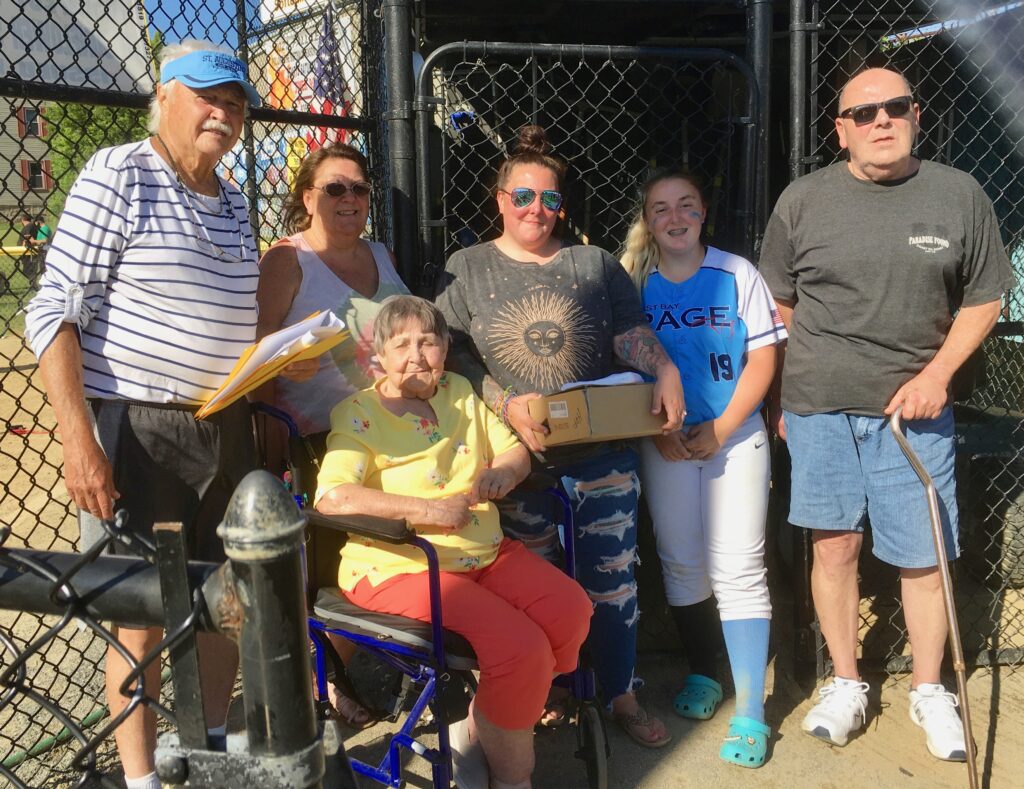 ATTENDING THE 2021 HALL OF FAME INDUCTEES' CEREMONY
WAS GLEN MACHADO'S LOVING FAMILY
GLEN'S MOTHER, BROTHER , DAUGHTER AND GRAND-DAUGHTER
********************************************************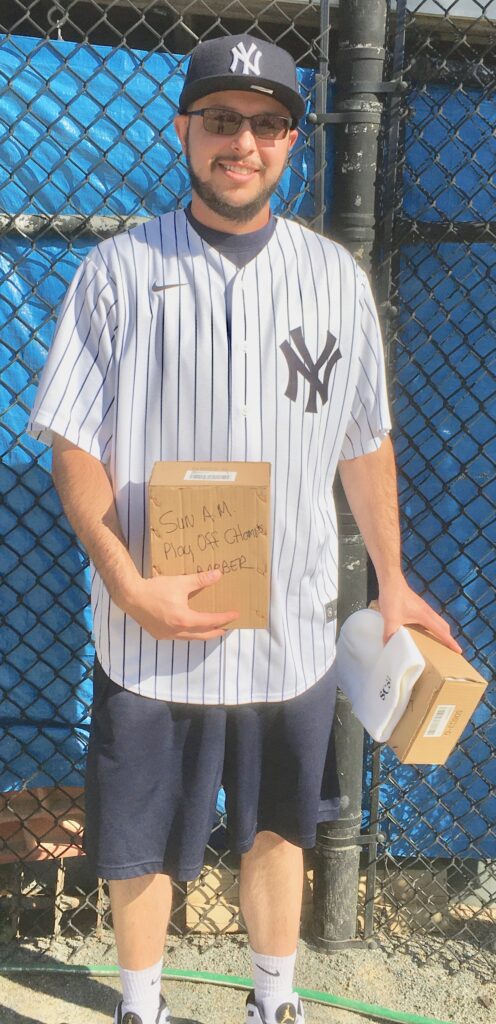 THE NEXT 2021 SCSL HALL OF FAME INDUCTION IS
TIM FORCIER
EACH SEASON THE HALL OF FAME COMMITTEE SELECTS ONE YOUNG PLAYER FROM THE SCSL LEAGUES THAT HAS BEEN A PLUS FOR THE PARTICULAR LEAGUE DURING THE 7 SEASONS.IN 2021 THE PLAYER WAS TIM FORCIER. HE DID PLAY A LITTLE NIGHT LEAGUE WITH DAVE'S PIZZA ,ICE HOUSE AND THE REGULATORS. HE LOVES PLAYING THE GAME ,BUT BECAUSE OF WORK HE HAS TO PLAY IN THE SCSL SUNDAY MORNING LEAGUE. THE TEAM HE PLAYS FOR AND MANAGER'S IS STRAIGHT EDGE BARBER SHOP. EVERY SEASON THEY WIN EITHER THE LEAGUE CHAMPIONSHIP OR THE PLAYOFF CHAMPIONSHIP. TIM PLAYS THE INFIELD, A GOOD DEFENSIVE PLAYER AND A VERY GOOD HITTER. ONE OF THE TOP PLAYERS ON SUNDAY. ALSO A TRUE GENTLEMEN ON AND OFF THE FIELD. HE DESERVES THE MVP OF HIS TEAM , BUT HE GIVES IT TO A FEW OF HIS TEAMMATES.
THUS IT IS AN HONOR TO WELCOME TIM FORCIE INTO THE SCSL HALL OF FAME
SCSL 2018 HALL OF FAME INDUCTEES.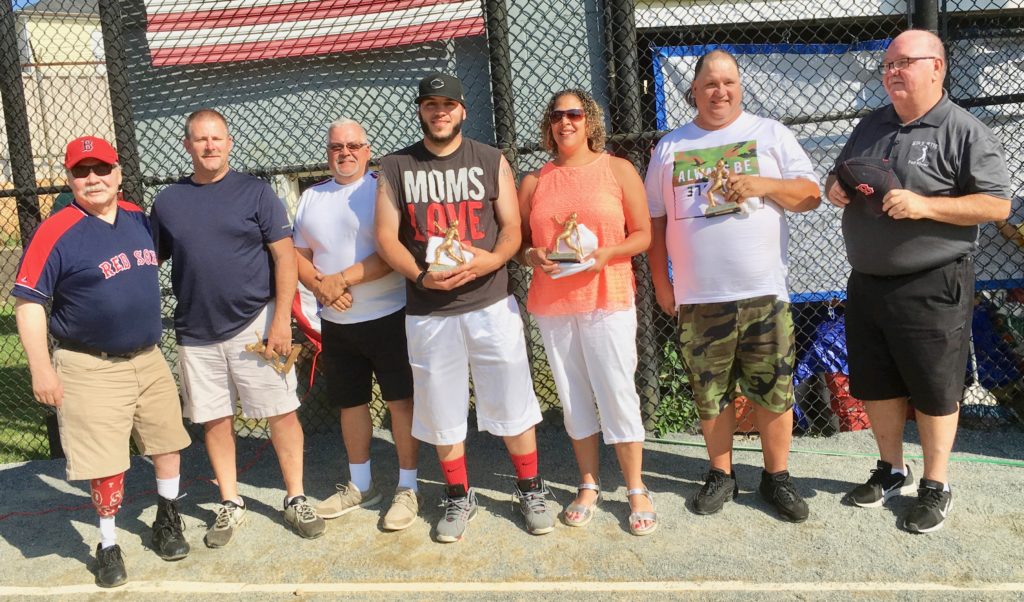 2019 FALL RIVER SCHOLARSHIP CITY SLOW PITCH SOFTBALL LEAGUES HALL OF FAME INDUCTEES. TOM MARCOUX ,DAVE OLIVEIRA ,JOE RICARDO, RYAN "MOOSE" FRAZIER, KERRI"RODRIGUES"BARTIE , DARRELL FINCH , JERRY "GRIZ" POTVIN.
MISSING FROM THE PHOTO TOM SILVA.
MARCOUX AND POTVIN WERE REPRESENTING THE JOHN CORBISHLEY FAMILY,
HE WAS INDUCTED POSTHUMOUSLY.
ARMAND REBELLO, TIM LIMA, JEREMY ELLIS,
SCOTT MAITOZA, NATALIE P. HACKETT, CARL THORTON
THE 9 INDUCTEES INTO THE 2021
" SCSL HALL OF FAME "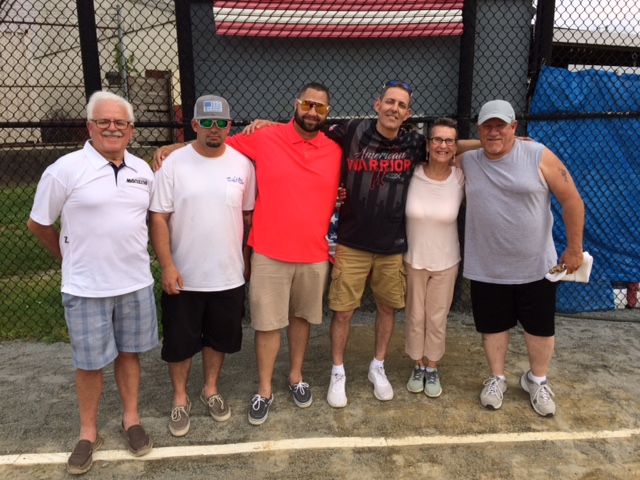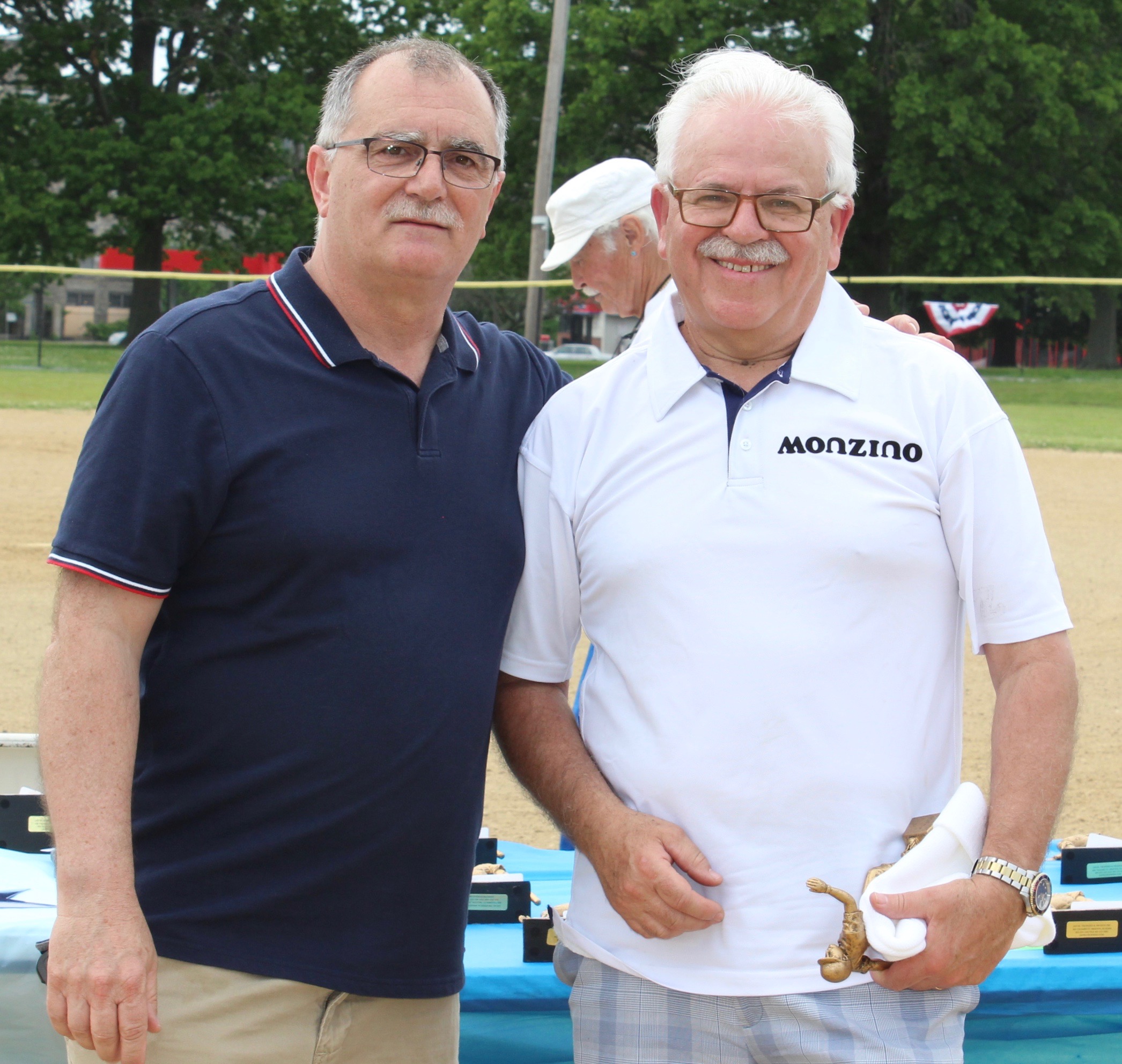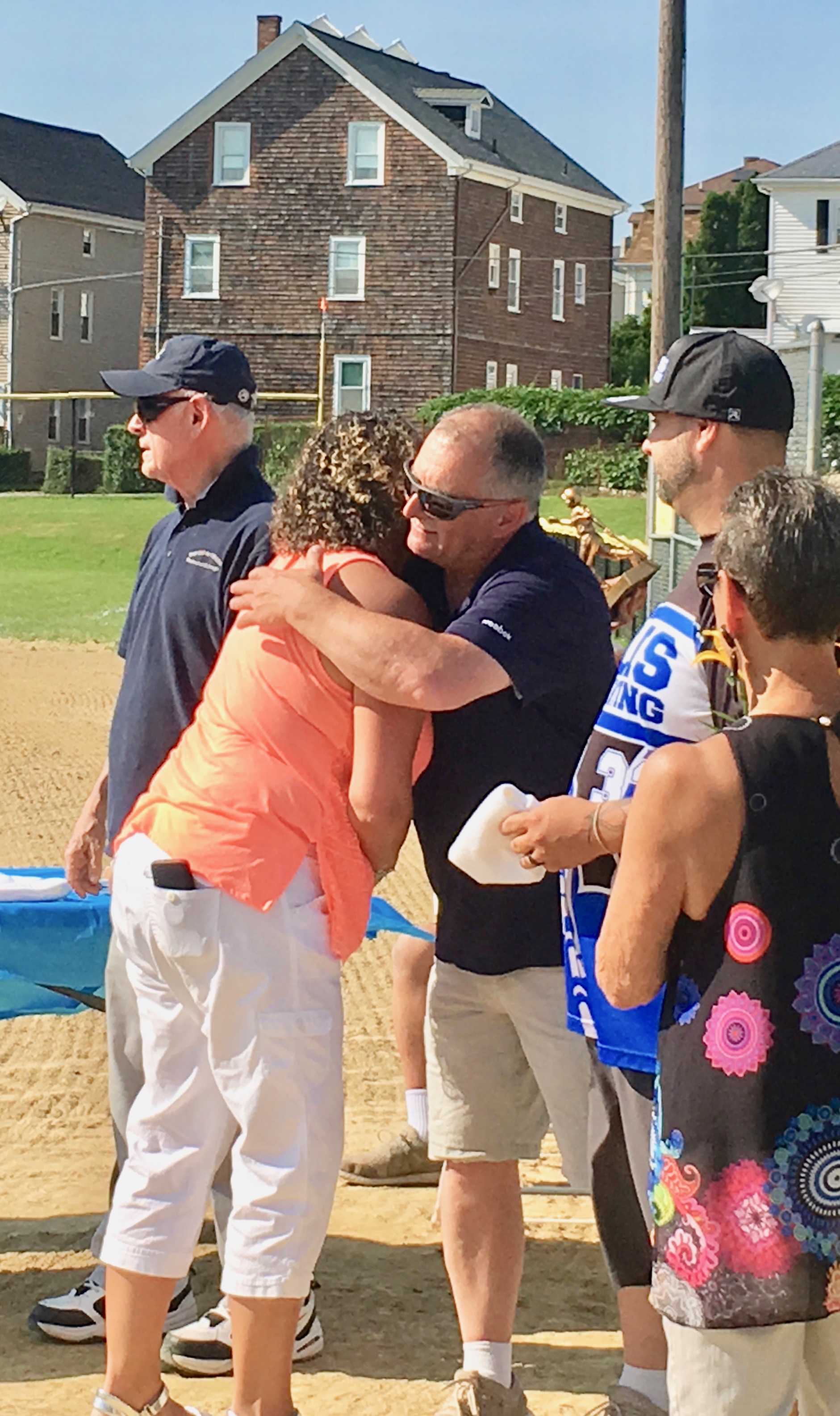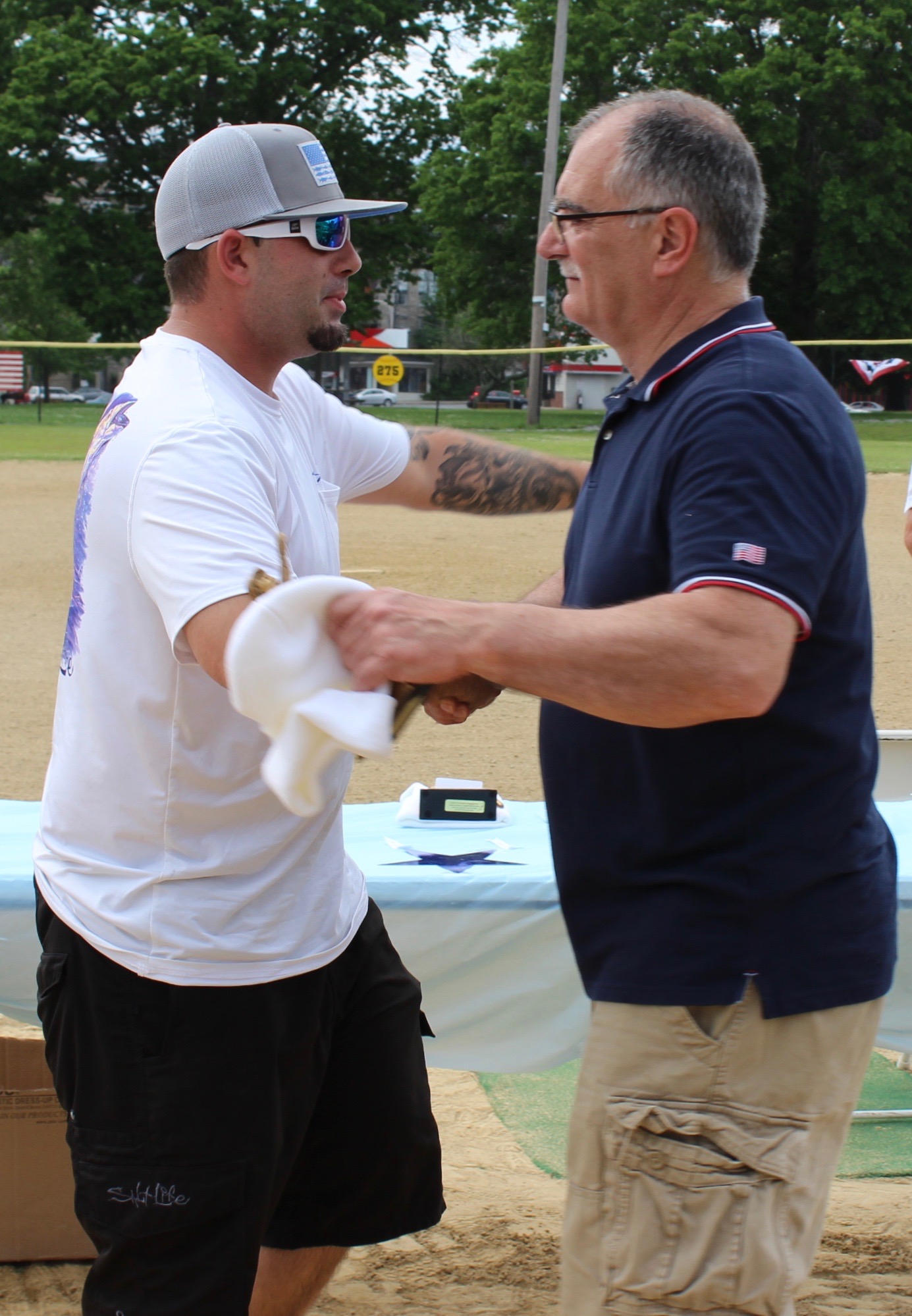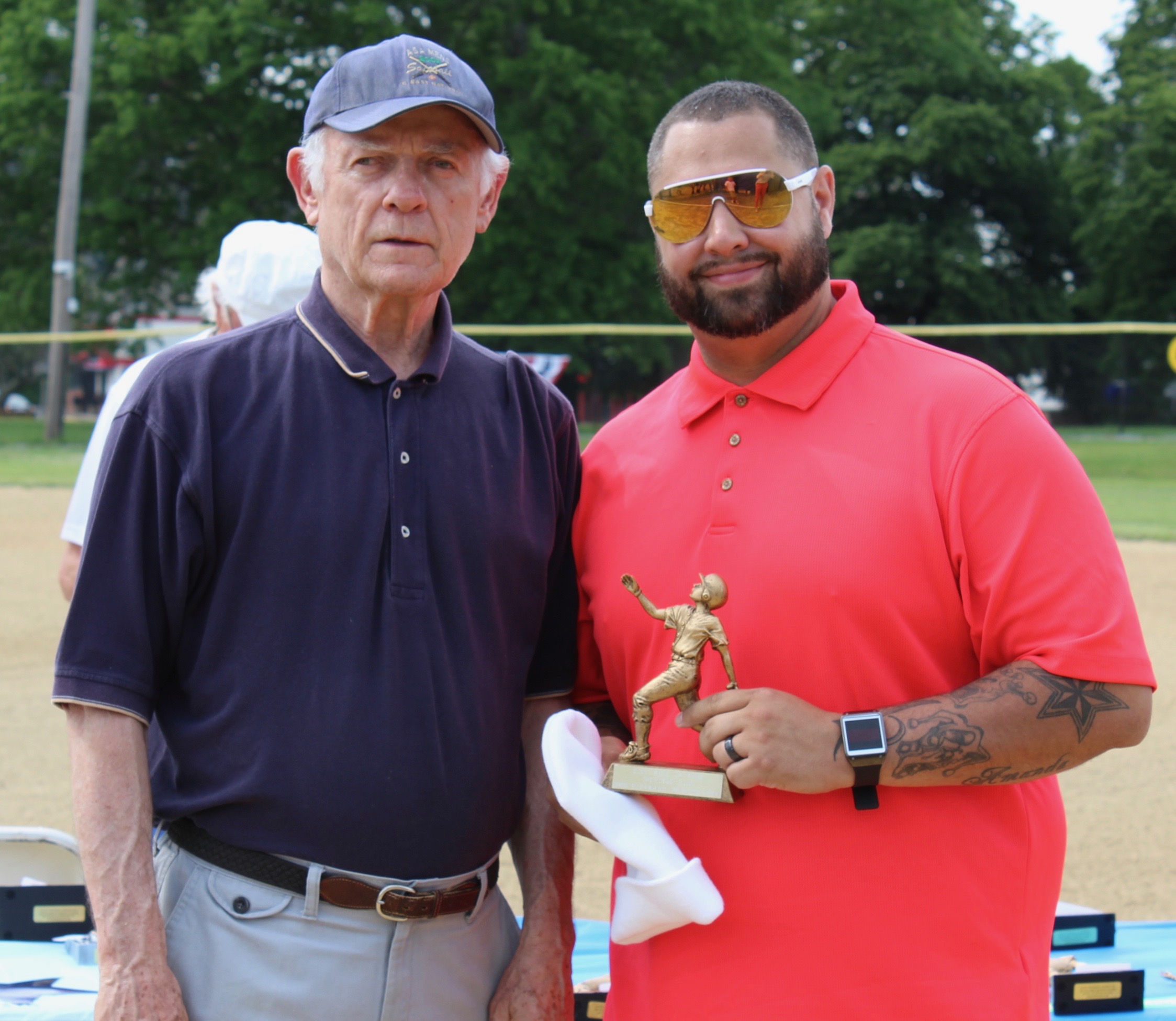 At the 2018 SCSL Award Ceremony held on Saturday - JUNE 2nd.
IT WAS A GREAT HONOR TO WELCOME THE ABOVE INDUCTEES
INTO THE SCSL HALL OF FAME "A WELL DESERVED HONOR"
THANK YOU TO BILL SANTOS AND BOB HACKETT FOR THEIR ASSISTANCE
IN PRESENTING THE AWARDS.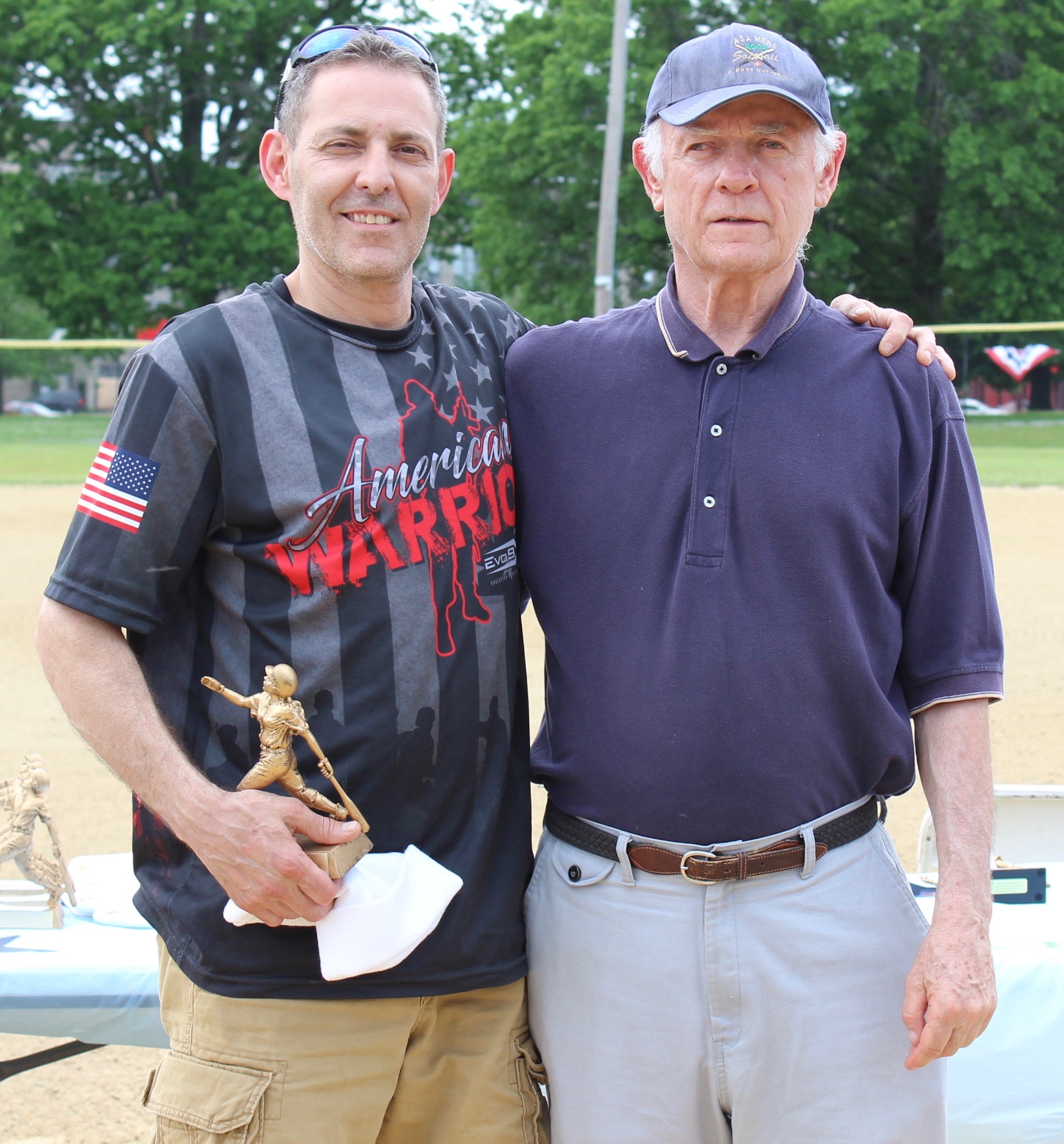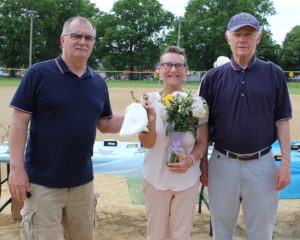 Officer Bill Santos,
****Inductee****
Natalie Hackett,
Officer Bob Hackett
***NATALIE WELL DESERVED FOR ALL YOU DO***
**CONGRATULATIONS **
My Wife Natalie has been involved as my Partner in Organizing the SCSL , being the Treasurer and doing the Field Work Improvements for many (27 ) Softball Seasons. Every morning during the season she is at the field getting it ready for Game Time. She puts a 100% effort into making the Field named after Her Loving Husband the BEST SOFTBALL FIELD and LEAGUE in the FALL RIVER AREA . A lot of people state where would Softball in the City be without Jack Hackett-- Well the TRUTH is where would it be without HIS WIFE.
"Outstanding- BallPlayers-Umpires-Officers -Mgrs-Fans"
SCSL HALL OF FAME INDUCTEES-Established in 1977
1977– ** Ted Darcy, **Ray Laferriere, **Ray"Moe"Massey, **Fred Fernandes.
1978  Alex Almeida,** Tom Duclos,**Morris"Skeeter"St.Pierre, Norman Bazinet Sr.
1979 **Norman"Jose"Folster, Roger Laferriere – ** Robert Massey, Frank Lake.
1980  Jack Driscoll, **John Kardosz, **Manny"Rabby"Raposa ,Ron Rapoza.
1981– ** Bert Goulet
1982– **Art "Rigger"Machado, Greg Motta **Jim Garside
1983- ** Fernando Martins(League Officer)
1984 1985 No Inductees-Not Enough Votes Acquired.
1986- Paul "Tank"Galvin, Frank Bigos, Jack Hackett
1987  Tony Rego, Paul Leit, Tom Cournoyer, Doug Castonguay
1988  Fred Polk , ** Wayne Orton, ** Doug Carvalho
1989 ** Ken Golding ,  ** Bob Bergeron,  Ron Mello
1990– ** Bob Mello( League Officer), Steve Conroy– , ** Frank Smith     **Adrian"Buddy"Dauphin, ** John Reis, ** Ovila"Moose"Frazier
** Steve Courcier, George Petrin(League Officer), Bob Hackett(League Officer)  ,Dave  Liversedge(League Officer)
1991 & 1992 –No Inductees-Not Enough Votes
1993 Jim McMahon , Ken Garant , Bill Walkden,  Bob Pierce (OF)
1994  Richie Mello , Bill Santos
1995  Frank Ferraz, Ed Fitta, John"Moose'Morris
1996  Joe Argo, Joe Monteiro, Jim Swanson
1997  Bob Ollila, Steve Mercier
1998  Al Pinel,  ** Gary Marino,  Steve"Dibsey'Medeiros-
1999  ** Lenny Sherman, ** LLoyd'Skip"Sherman, Steve Klex
2000  Russ Boulay, John Martini, **John"Pappy'Tacovelli
2001  Lou Goncalo, Steve Winarski, Joe Carvalho
2002  Jeff Mitchell, Norman Bazinet Jr., ** Grayton Waite, Ernie Bacon
2003  Frank Hobbs, Doug Janelle, Jim Raposa
2004- **Jerry Lima, Norman Fontaine, Gilbert Cunha, Gerry Potvin, Rick Ramos
2005  **Patrick Ahaesy, Mark Ferreira, Bill Bouchard
2006 Tony Dechaine, Bill Gaudreau, Ed Greene Sr., Tom Marcoux
2007  Carl Ferreira, Jim Zitano, Bob Pierce(P)
2008  Joe Silva, Bob Lacroix
2009  USA Umpire Fran Desmarais
2010  Laurie Nunes (First Lady Inducted SCSL Co-ed League.)
2011  Ronnie Hedge, Brian Bishop
2012  USA UMPIRE ** Arthur Henderson
2013  Manny Papoula, **Ken Medeiros, Mert Caton,  Mark Dickinson, Manny Novo
2014  Bill Berlo, Roger Gaydou, Pater Lachapelle , Mark Medeiros
2015   Cathie Karl Noversa, Kelly Roy Sale, Roger Lepage,   ** Roger Levesque
2016.  Mike"Turtle" Rego, Ed Souza , Joe Teixeira , Keith McElroy
2017-1018: Robbie Afonso,, Jeremy Ellis, Natalie P. Hackett, Tim Lima,
            Scott Maitoza, Armand Rebello , Robert "Skip"Tallman, Carl Thornton
2019 – Kerri "Rodrigues" Bartie , **John Corbishley, Darrell Finch,
               Ryan "Moose" Frazier, **Dave Oliveira, Joe Ricardo, Tom Silva
2020;  Paul Hackett, Tom LePage, John"Murph" Murphy , Peter Szady,
                 Erik Thompsen , Joe Aguiar
2021: Al SCOOP" COSTA, JAY"BOOMER" MACHADO, RENEE"ROBRTS" PETRIN,
          JEFF CAMARA, DAVE BOTELHO, BARRY PETRIN, BRUCE VANCOUR,
          ** GLEN MACHADO(POSTMORTEM), TIM FORCIER
 2022: TONY ARRUDA, DALE LaCOMBE Sr., ** DAVID"ROCKY"LaCOMBE,
                          DON DISANTI,  CHRIS LaFONTAINE, JUSTIN CARVALHO ,
                                                RICHARD 'CHEEKS" PACHECO,
2023  MARK SILVA, ED WALKER, TONY PERREIRA, DUANE MARTIN,
STEVE "HOLLYWOOD" PEREIRA, COLE THATCHER, FRANK SOUZA.
DAVID " BEAU" BEAUSOLEIL (POSTMORTEM)
AT THE JACK HACKETT SOFTBALL FIELD.